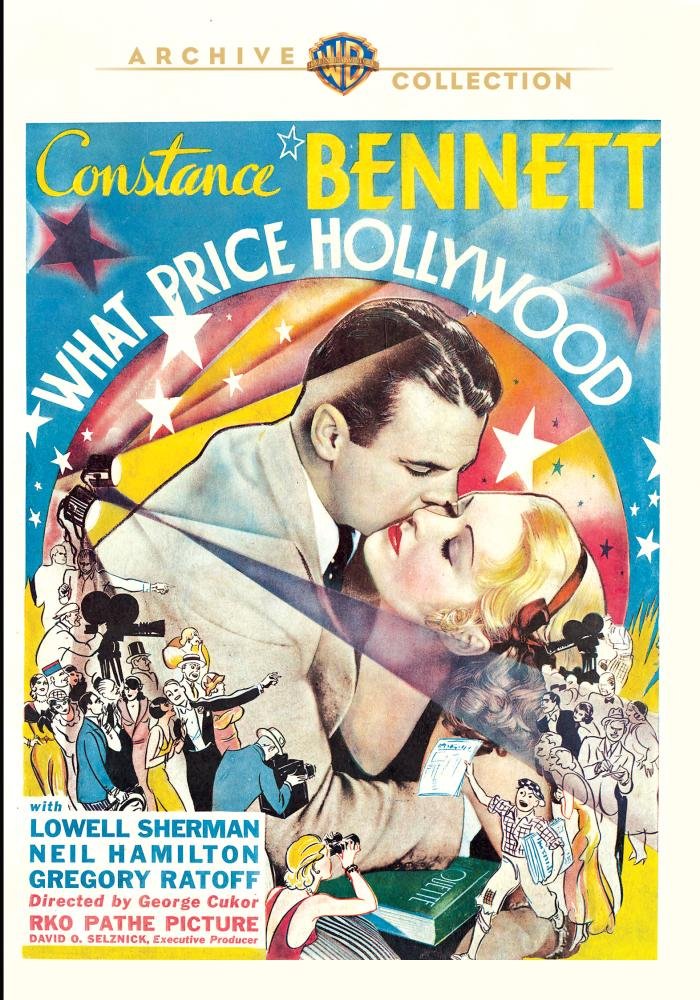 We've all heard the many tales of terror reaching from the furthest depths of the various circles of Hell that make up a certain section of the greater metropolitan Los Angeles area, and even as far back as 1932, the offscreen drama and intrigue were already present and in full swing. The pre-Code RKO ditty What Price Hollywood? presents us with a lurid look at the high cost of living it up as one rises into the illustrious nighttime sky to play amongst the stars. And while the people and events depicted therein are works of fiction, it is worth nothing that storywriter Adela Rogers St. Johns loosely based them all on real individuals and incidents.
Here, the marvelous Constance Bennett starts out as a Mary Evans, Brown Derby waitress who has high aspirations of becoming a star. And Fate comes-a-knockin' one night when a famous director with a keen eye for beauty and an even bigger passion for the bottle (Lowell Sherman, who delivers a grand supporting role based on the tragic life of the now-obscure director, Tom Forman) comes in intoxicated and leaves with a new starlet-to-be. Despite his remorse over such an outlandish decision the next morning in an unfortunate state of sobriety, he keeps his promise – mostly because the now jobless Mary holds him to it (and rightfully so)!
Mary's initial screen test is a hoot, however, indicates a lack of talent, but after a decidedly rocky start, she is soon on her way to the top (unlike the untalented clowns we praise today, Mary actually improves), and she falls for a polo player (a young Neil Hamilton – yes, Commissioner Gordon gets the lady for a change!) who has absolutely no interest in being in the public eye. This, of course, makes for an uneasy relationship. As our heroine continues to win the hearts of her admiring countrymen, her personal life becomes more of a disaster, culminating in a divorce, a death, and a despondent Oscar winner.
Yes, it is a lot like A Star Is Born, isn't it? In fact, when the original version of that better-known title was first being put into production five years later, What Price Hollywood? director George Cukor was asked to direct, but declined on how similar the stories were (even though he later directed the famous Judy Garland remake twenty years after that). RKO even considered suing, but decided not to (apparently, Ms. St. Johns had no thoughts on the matter) – a decision that was probably based on the fact that What Price Hollywood? ultimately failed to make a profit (insert "What Price, Hollywood?" joke here).
Rarely seen outside of late-night TV airings, What Price Hollywood? makes its home video debut courtesy the fine folks at the Warner Archive Collection, who present the title as a barebones affair, but with a fine presentation of a forgotten forewarning to those with stars in their eyes just the same. And seeing classic Tinseltown in all its splendid, vintage splendor is always a treat unto itself.