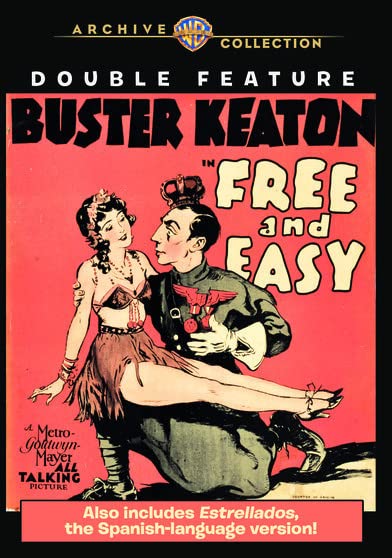 Although MGM's 1930 pre-Code musical comedy Free and Easy wasn't silent comedian Buster Keaton's first talking motion picture, it was the first film wherein audiences were introduced to his gravelly voice – which the suits at the studio were, for reasons unknown to this day, completely OK with asking him to sing with. While dancing. Because that's what one of the greatest comic daredevils ever does best: sing and dance. Oh, and why not have him speak phonetic Spanish, too? That's not in any way silly, is it? But then, that's just the way they did things back then, kids.
Yes, it's obvious from the get-go that Free and Easy far removed Mr. Keaton from the familiar formula of filmmaking the icon is so revered for today (and was then, for that matter). Cast as a top-billed second-banana in a story that was already mediocre to begin with, the Free and Easy finds one of my childhood heroes as Elmer J. Butts (really), a gas station manager in a small Kansas town who is assigned the task of manager to local beauty contest winner Elvira Plunkett (the lovely Anita Page) as she embarks to Hollywood for a screen test. Accompanying the shy manager and the naive lass is the girl's control-freak-of-a-mother (as played to the hilt by Trixie Friganza).
Even before they hit Tinseltown, the threesome – especially young Miss Plunkett – are besieged by Hollywood vultures, mainly famous actor Larry Mitchell (Robert Montgomery), who has a bad case of lust on the mind. As the adults do their very best to protect the starry-eyed beauty, Elmer manages to stumble onto stage whether it be in a cinema or on an actual set during production and make a laughing stock of himself. Naturally, this lands him a job as a rising comedian on the MGM lot. But of course, all our hero wants to do is settle down with young Elvira – making way for one the saddest "happy" endings ever.
Had it have been someone less noted for their physical humor cast in the part, Free and Easy would probably be a little more charming, as some of the extraneous bits and pieces of the story (i.e. seeing how Hollywood looked/worked at the time, cameos by big names of the era as themselves, such as Cecil B. DeMille and Lionel Barrymore) are indeed quite fun to see. (Heck, MGM even remade the tale twice as the years went by.) Alas, there are a couple of scenes where Keaton truly gets a chance to dive into his more slapstick side, but no room is left for his improvisational skills, and they are incorporated into dull and dreary musical segments to boot.
And as for Buster singing? Oh, brother. Look, there's a reason he just parades around in an Indian outfit (and his trademark pork pie hat, which is sorely lacking here) in How to Stuff a Wild Bikini – a film that outranks Free and Easy by a substantial margin!
But what about Buster Keaton speaking Spanish? Yes, it really does happen. Though Free and Easy had previously been released on DVD in the TCM Archives Collection, this Warner Archive unveiling marks the home video debut of Estrellados – the alternate Spanish-language version that was shot at nights with a different crew and supporting cast. Back before dubbing was so much as an idea, studios would shoot "parallel productions" for foreign language markets, and the end-results would often feature more footage than their American counterparts (the 1931 Spanish-language version of Dracula, for example, stayed true to the original script, even using the intended – creepier – camera angles in some cases).
As was the custom for most American actors who weren't accustomed to speaking on film as it was, let alone in a foreign tongue, Keaton's dialogue was written phonetically on pieces of furniture or off-set on blackboards. And that included oddity is that truly what makes this DVD release truly worth looking at.