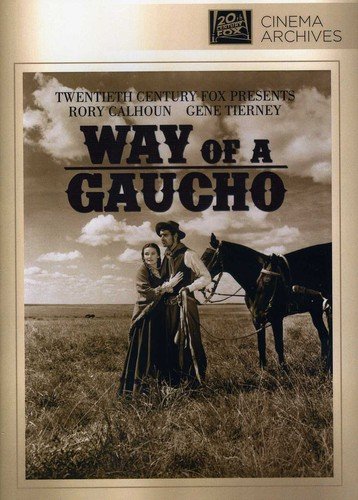 Studio made-on-demand programs like the Warner Archive and MGM's Limited Edition Collection have been something of a mixed bag for cinephiles — one on hand, it's allowed a significant number of obscure and/or uncommercial films to get a release they likely wouldn't have otherwise; on the other hand, it's offered a dumping ground for studios to shunt a lot of deserving titles into unceremoniously, with hefty price tags and underwhelming transfers as a bonus.
Following Warner, MGM, and Sony is Twentieth Century Fox, who's jumped into the MOD game with their own line, Fox Cinema Archives. Included in the first wave of titles are a few films deserving better, and one of them is 1952's Way of a Gaucho, a beautiful, unconventional Technicolor western directed by French auteur Jacques Tourneur, known for atmospheric noirs and horror films like Out of the Past and Cat People.
Way of a Gaucho is similarly atmospheric — thanks partially to the breathtaking Argentinian location photography, but also because of the unusual rhythms of Tourneur's direction that tend to emphasize the moments in between rather than big action set pieces. Rory Calhoun stars as Martin, a gaucho who finds himself in trouble with the law after he murders a man who insulted his adopted brother and patron, Don Miguel Aleondo (Hugh Marlowe). In a bygone era, Martin's actions would've been a perfectly acceptable honor killing, but times are changing and Martin finds himself on the outside looking in.
Put in prison for his crimes, Martin is given an option to allay his sentence if he joins the local militia, but it's not long before the rigid institution clashes with his independent spirit, and he deserts. In the wild lands of the Argentinian pampas, he saves the beautiful Teresa Chavez (Gene Tierney) from a band of Indians, but love's constraining influence over Martin might end up being his downfall.
The Fox Cinema Archives DVD-R disc presents the film in its original 1.33:1 full frame aspect ratio, but the transfer leaves a lot to be desired. Softness is pervasive, coating nearly every figure in a waxy, gauzy layer that often looks like video noise. It appears the Technicolor elements have undergone some not insignificant decay, and it would likely take a good deal of restoration to bring the image back to original quality. Additionally, there are some weird wavy horizontal lines (but not interlacing) that are clearly visible whenever the shot fades to black, and can afflict the image from time to time. Overall, it's a watchable transfer that occasionally achieves a sharp(ish), clean look, but it's hardly an ideal presentation. The disc comes with no extras.