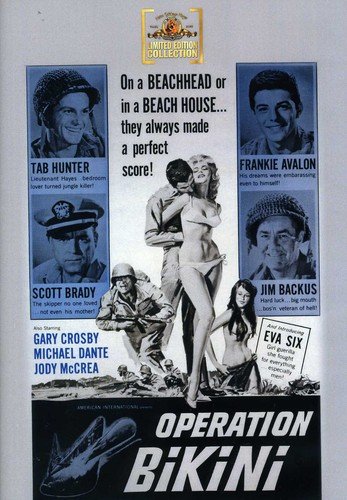 Released only five months before he was to become a cult icon in the epic Beach Party films, singer/actor Frankie Avalon found himself in one of his first co-starring roles in this American-International Picture release. True to AIP form, the advertising campaign was about as misleading as could be — depicting the film as more of a romantic comedy than anything. But, with a hot young recording star cast just below the already established Tab Hunter, and a supporting cast consisting of Scott Brady, Jim Backus, Michael Dante, and Eva Six, it would have been pretty hard for Operation Bikini to become a washout.
And that was probably for the best, too, since this World War II drama really isn't that great of a title. The story here finds a US submarine (commanded by Brady and Dante) being assigned the unenviable task of picking up an underwater demolition team (UDT) and delivering them to the remnants of a sunken American vessel near the Japanese-infested Bikini Atoll in order to destroy the ship and its radar system before the enemy gets hold of it. After a rather sluggish first half, the film sends its UDT on its merry way, landing them right in the thick of a band of guerrillas and the lovely Ms. Six (who is unconvincingly cast as a Pacific Islander).
Sadly, Six's time onscreen lasts about as long as the average filmgoer's interest in the film, as this is just another b-movie about WWII. Granted, it's a rather nicely-done one (thanks to a lot of stock footage), but there is nothing outwardly distinctive about it other than its cast. As expected, Frankie gets to belt out a couple of songs via dream sequences (the only way to keep the believability factor up, I guess) which are in partially in color. His future Beach Party franchise co-star — Jody McCrea — also stars, as do Bing Crosby's son, Gary, and Aki Aleong.
The movie boasts the average AIP crew (Les Baxter on music, Anthony Carras directing, Lou Rusoff producing), and, interestingly, casts a then-largely-unknown William Shatner as the ominous narrator for the film's really weird and wildly-exploitative conclusion that focuses on two girls in bikinis frolicking on the beach! MGM brings us this lost forerunner to the more-delightful Frankie Avalon days of AIP to DVD via its Limited Edition Collection of manufactured-on-demand releases. The film is presented in an anamorphic 1.66:1 ratio, and the overall quality is quite nice. There are no special features included with this one, kids, but any Frankie/AIP fans will no doubt enjoy adding it to their movie collection no matter how generic and unremarkable it is.