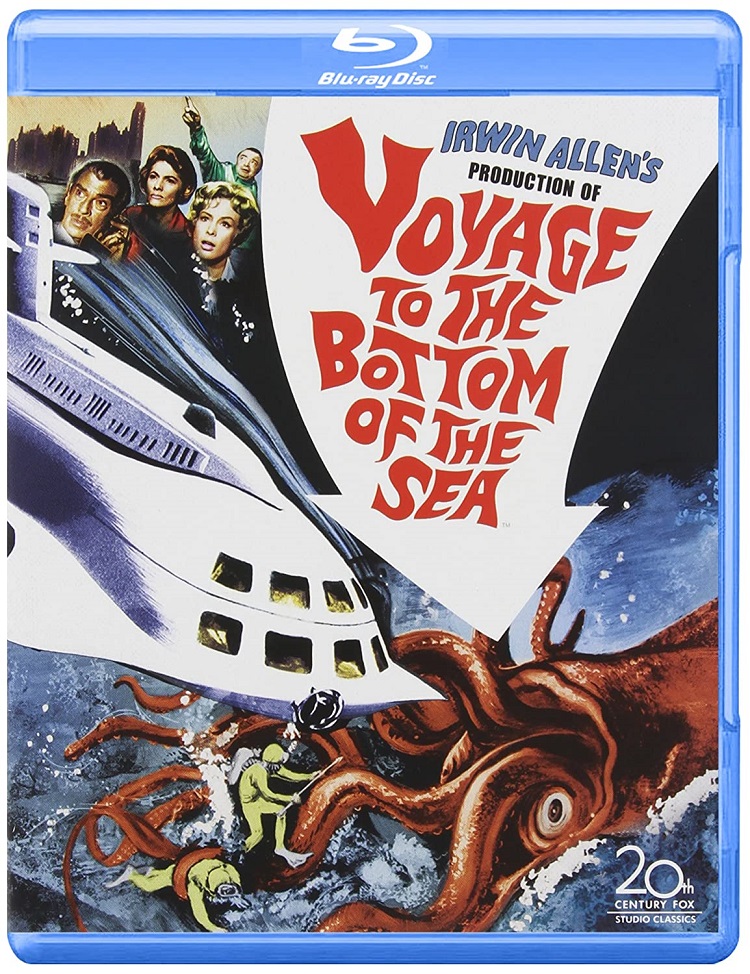 Before he became well known throughout the world as the "Master of Disaster" – to wit he created and directed a number of memorable (as well as some highly forgettable) star-studded disaster films and television movies in the '70s and '80s – Irwin Allen was one of the most prolific science-fiction producers during the '60s, responsible for such TV greats as Lost in Space, Land of the Giants, and Voyage to the Bottom of the Sea. The latter item – which was actually the producer's longest-running series – started out several years earlier as a lavish sci-fi adventure with an apocalyptic overtone so epic, it surely must have inspired Roland Emmerich's entire sordid career.
Allen's filmic version of Voyage to the Bottom of the Sea begins happily enough, wherein we meet our cast of heroes and potential villains aboard the newly-commissioned Seaview submarine – designed, built, and helmed by the great Walter Pidgeon (who else could accomplish such a feat?). Like most of Allen's work just over a decade later, all that cheeriness ends soon enough when a meteor shower penetrates the Van Allen radiation belt, knocking out communication worldwide, and threatening to engulf the entire globe in flames! Melding minds with the one and only Peter Lorre, the two come up with a plan to launch an atomic missile from the bottom of the Mariana Trench at the shower – which they're convinced will remove the peril once and for all.
Sadly, the panicked human race above doesn't agree with their theory, and the nations of the world soon have orders to destroy our heroes in their undersea vessel. That is, providing none of the equally-panicked crewmembers aboard the Seaview don't sabotage the mission before they get a chance to complete it! All this and a mellow title song sung by Frankie Avalon himself, who also co-stars along with Robert Sterling, Joan Fontaine, Barbara Eden, and Michael Ansara. Regis Toomey, Henry Daniell, and the great Howard McNear (Floyd the Barber) also appear – as do barely-convincing sea monsters and a shark that looked a great deal to me like that remarkable leg-eating fish we saw five years later in another epic Fox production, Batman with Adam West and Burt Ward (and you know the moment I refer to – or at least you should).
Speaking of recycling, Mr. Allen – ever the thrifty and persuasive fellow – convinced ABC to start up his follow-up series solely so he wouldn't have to trash the elaborate submarine set that cost one-fourth of the film's entire 1.58 million-dollar budget. What a guy.
Previously issued on just about every other home video format known to mankind, Voyage to the Bottom of the Sea joins other 20th Century Fox sci-fi classics Fantastic Voyage and The Fly (1958) on Blu-ray. Boasting a far-better image than all of its predecessors combined, this sleek 1080p/MPEG-4 AVC transfer presents the movie with all the bells and whistles – which, in true Irwin Allen fashion, have been completely recycled from the earlier "Global Warming Edition" SD-DVD. Those items include the eco-friendly featurette Science Fiction: Fantasy to Reality, which has a strong focus on global warming (so my Republican friends, beware), an interview with Barbara Eden, isolated soundtrack (in Dolby Digital 2.0), a theatrical trailer, and an audio commentary with author Tim Colliver – who reveals to us all that, sure enough, that was the same damn phony-looking shark in both movies.
Damn, I'm good. But so is this wacky sci-fi classic.