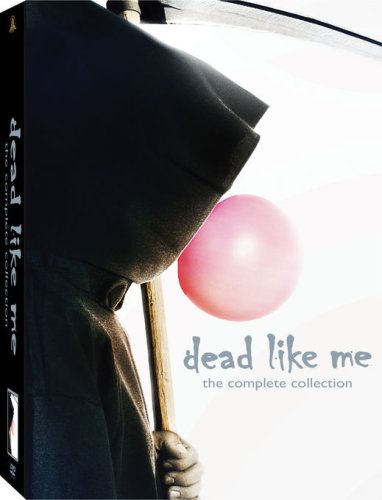 I really thought that the first week of December would find us with loads of great new releases. I really thought wrong. I guess with Black Friday and Cyber Monday over by the release date they figure our wallets are empty and they needn't bother much with this week. Looking over the next few weeks of releases as we inch towards Christmas, I see there are some much bigger releases coming so I guess they are hoping our wallets get a little fuller as the month goes on.
This week"s pick is a boxed set of a short-lived Showtime series that was created in 2002. Created by the perpetually interesting Bryan Fuller, Dead Like Me was a comedy-drama about grim reapers. In this version, reapers are actually the souls of normal people who have now been tasked with removing the souls of those about to die and escorting them until they move into their afterlife.
Like a lot of Fuller's shows, it was quirky and weird, funny and sad. A total joy to watch. It focused on a crew of reapers working in Seattle and in a lot of ways it was similar to many workplace shows featuring a rag-tag bunch of odd ball characters, just that in this one they were all dead. The show was given a heft of weight by the wonderful Mandy Patinkin, who played the boss and gave each episode its center. Unfortunately, Bryan Fuller left after five episodes citing creative differences and while the show continued on for two seasons, it never quite recovered from his departure. In 2009, a TV-movie was created sans Patinkin and really it's best we don't even talk about it.
This DVD set includes all episodes from both seasons and the movie plus a bunch of deleted scenes and outtakes. Each season has previously been released and as far as I can tell there isn't anything new here that's worth purchasing it again if you've already have those. But I don't and this is a very nicely priced set of a really wonderful show, and that's why it is my Pick of the Week.
Also out that looks interesting:
The Rutles Anthology (Blu-ray): This set includes the original, and hilarious The Rutles – All You Need is Cash satirical movie and the 2002 sequel Can't Buy Me Lunch. I've only seen the first one, years ago, but I remember it being crazy funny and a spot on satire of The Beatles and everything that came with them. It has been remastered and includes a new commentary with Eric Idle.
The Wolverine: I've never been much for superhero movies. There's just something about most of them that just doesn't do it for me. At least until recently. The Dark Knight Trilogy was a step in the right direction and thanks to a friend (who loaned me a bunch of X-Men comics) I've started to get into the whole mutant thing. The graphic novel of which this new Wolverine movie is based is quite good and though all the other X-Men movies have only been slightly above average in my book, I'm ready to give this one an open-minded shot.
The Simpsons: Season 16: For far longer than the show deserved, I was a diehard fan. But too many years and far too many terrible episodes have soured them for me. Now and again, I catch the new ones on TV and just shake my head in disgust. Season 16 mostly falls into that category, but the old fan in me just can't stop from giving this set a nod.
Nashville (Criterion Blu-ray): Though this is one of Robert Altman's most celebrated films, and I've never been able to get into it. Every time I try, I can never quite make it to the end.
Mary Hartman, Mary Hartman: The Complete Series: Someone told me this is a great series. I've never seen a single second of it.