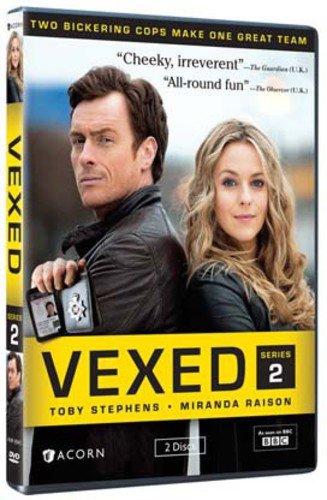 After only one season, co-star Lucy Punch is gone. While that wouldn't be a big deal for a show with a large ensemble cast (see any CSI or Law & Order), this buddy cop comedy/drama series really only has two stars. The massive change in the core chemistry of the show is akin to what would have happened if Moonlighting had replaced Cybill Shepard, or for you younger readers, if Bones replaced Emily Deschanel. New co-star Miranda Raison is pleasant, easy on the eyes, and game to help the show, but she's not Lucy Punch.
To further compound problems, the writers seem to have changed as well, or at least left their A-game material at home for this series, as the banter between the two leads lacks any spark and the episodic mysteries are not particularly engaging. In one glaring example of their carelessness, two of the six episodes (presented back to back) hinge on twists involving closeted homosexuals.
Lacking a formidable partner, Jack (Toby Stephens) is thrust into the starring role, but even his abrasive character has been softened. Where he was previously an unrepentant and randy male chauvinist pig, here he's painted as such a buffoon that he falls in love (!) with an aggressively dominant woman who forces him into a willingly subservient role (!!), giving him a taste of his typical treatment of women. It's played for laughs, but completely disrespects the core character and further weakens the dissipated show.
For her part as detective, Miranda Raison comes off as highly intelligent but far too tolerant of Jack's juvenile antics, such as blatantly staring at a suspect's ample cleavage, or almost making out with another comely suspect. Where Punch would have glared at Jack and had words with him later, Raison just rolls her eyes and/or smirks, as if to say "oh, that scamp". Luckily, she doesn't seem to be taking a fancy to Jack, but her dismissive acceptance of his foolishness means that we're left with a boring enabler instead of a barbed comic foil.
The mysteries are largely unmemorable but include a murder at a car dealership, the death of a headmaster at a private school, and the death of a contestant on a cooking show run by an abrasive Gordon Ramsay-type judge.
The DVD box set includes the six hour-long episodes spread across two discs, but contains no bonus features aside from a behind the scenes photo gallery. Series 2 has not aired on TV in the US, so this DVD release represents the first legal US viewing opportunity.