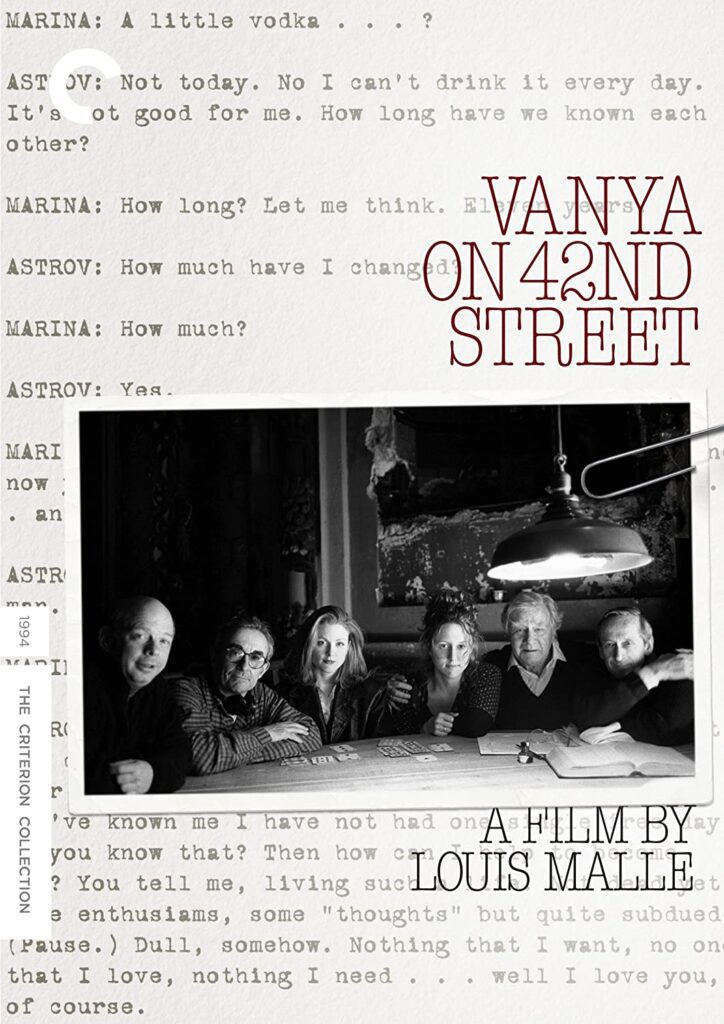 Seemingly random individuals are filmed roaming the streets of New York's Broadway area before separately converging on a dilapidated theater. Inside, they converse casually with each other before launching into a performance for a handful of invited guests. At first, it's not even clear that a play has started, as there's no curtain, stage lighting, or even discernible shift from the casual conversation into scripted play. Thus begins director Louis Malle's film of theater director Andre Gregory's informal staging of David Mamet's adaptation of Anton Chekhov's play, Uncle Vanya. Got all that?
Gregory's novel approach to the project was to assemble a group of performers to sporadically rehearse a play that would never open, utilizing the multiyear exercise as nothing more than a study of creative process. Eventually, he allowed private guests entry to a series of extremely limited performances at the crumbling playhouse, with those guests numbering in the single to low double digits per show. The spare, minimalist staging and intimate nature allowed guests unrivaled access and proximity to the play, with viewers literally seated at the same table as performers at times. Those private guests would have been the only viewers the production ever had if not for Malle's film.
In spite of the experimental, private, and multiyear nature of Gregory's project, he was able to attract and retain a recognizable professional cast headlined by a young Julianne Moore along with Wallace Shawn (Uncle Vanya), Brooke Smith, and George Gaynes among others. The biggest joy of the project is just watching those performers play off each other, with Moore and Shawn getting the most mileage out of their roles. That joy is telegraphed through Gregory's eyes as he looks on in bemused delight throughout the film.
The actual play is more a case of enjoying the trip than the destination, as there's little plot or resolution. Mamet's adaptation of Chekhov's original uses modern English but retains the Russian settings and 19th century era, making for some confusion when the characters mention things such as waiting for their horses to pull around to the door so they can travel to Leningrad. What little story there is involves a dysfunctional family convening at Uncle Vanya's rural estate, where his urban professor brother (Gaynes) and dramatically younger wife Elena (Moore) arrive and eventually announce that they intend to sell the farm to support their elegant city lifestyle, a plan that is vehemently opposed by Vanya. Meanwhile, Vanya's homely daughter pines for the hunky local doctor, and Vanya and the doctor pine for Elena before everyone goes their separate ways again.
The low-key theatrical nature of the production results in little to be gained by Blu-ray presentation, but the new, restored digital transfer is crisp and clear throughout and arrives with an uncompressed 2.0 mono soundtrack. The most striking and dated aspect of the film is the opening footage shot in the then-seedy Times Square area, revealing the Broadway district still filled with XXX theaters and shady characters that have disappeared as the area transformed into its current status as a mostly wholesome tourist trap. Aside from that, the film takes place entirely inside the timeless theater, making it just as relevant today as when it was filmed. The bonus features lack variety, but the centerpiece segment features intriguing new interviews with Gregory and all principal cast members including Moore and 94-year-old Gaynes where they reminisce about the play's lengthy gestation and its small but influential guest list.
Vanya on 42nd Street is now available on Criterion Blu-ray and DVD.