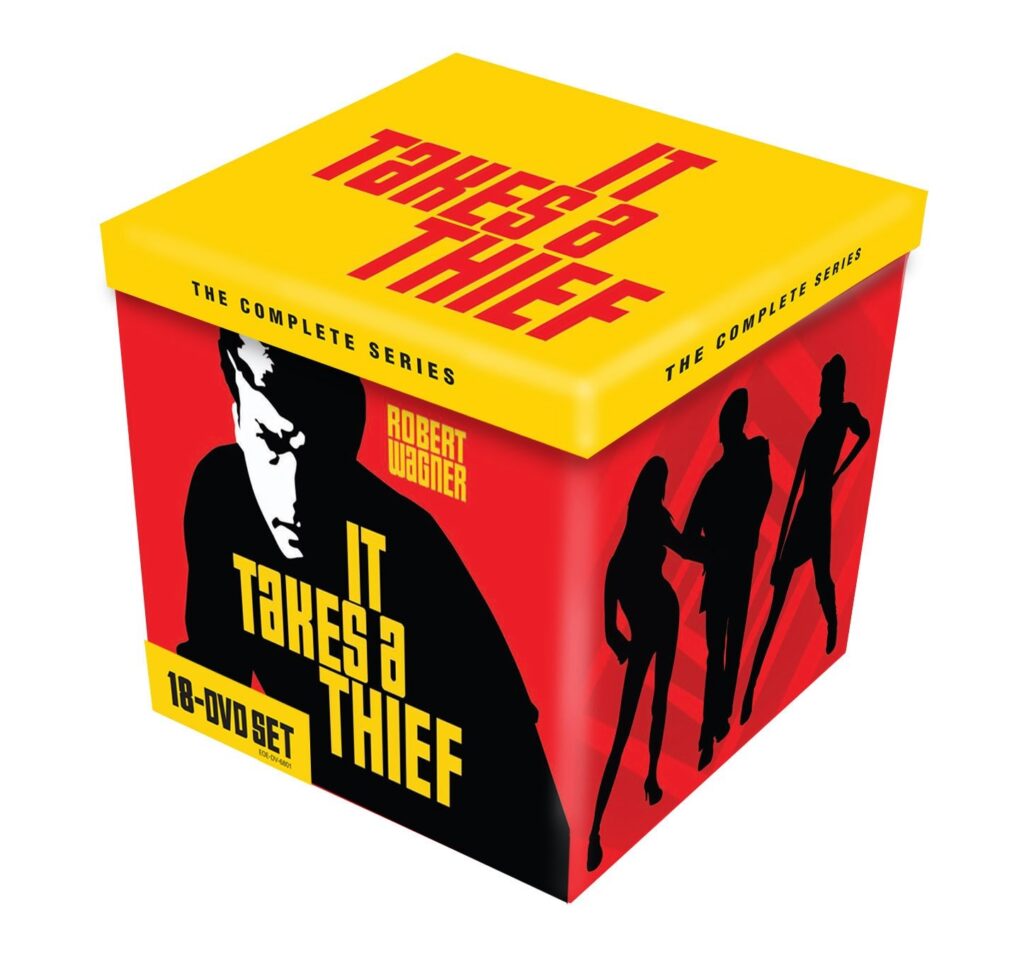 Created by Ronald Kibbee, It Takes a Thief, which ran for three seasons on ABC from 1968-70, is an action-adventure series that blends Alfred Hitchcock's To Catch a Thief with the exploits of Ian Fleming's James Bond. Robert Wagner stars as Alexander Mundy, considered one of the greatest thieves in the world. However, when he is introduced in the series premiere, "A Thief is a Thief is a Thief," he is in prison, but won't be behind bars for long. Not because he has a escape plan, which he does, but because he is offered a release in exchange for putting his illicit skills to use for the U.S government agency known as the SIA. Mundy accepts and becomes an espionage agent, taking assignments and risking his life all over the world.
In the first two seasons, Mundy's supervisor is Noah Bain (Malachi Thorne). Due to Thorne leaving the series when told he wouldn't be included in the production's move to Italy for the third season, Edward Binn was brought in to play Bain's replacement Wallie Powers. The series features a number of actors, some well known at the time and others who soon would be, during its run. Hollywood aficionados will be delighted to discover the appearances of people like Bette Davis, Joseph Cotton, and Peter Sellers as well as Leslie Nielsen, Susan Saint James, and Jessica Walter. The most notable cast member is Fred Astaire, who came on board during the third season in the recurring role of Mundy's father Alister, who was also a thief.
It Takes a Thief is certainly a product of its time as Mundy easily prevails over the bad guys with his intellect and deceit and the ladies with his charm and good looks. Those looking for stories and characters with some depth need look elsewhere than this adolescent male fantasy, but those looking for mindless entertainment it is the perfect choice because an amusing diversion is all it strives to be.
Fans of should be delighted to own The Complete Series, which comes in a collectible box. The 18-disc set offers all 66 episodes along with the extended version of the pilot, released theatrically overseas as Magnificent Thief. Two bonus features have created for this set. "The King of Thieves: Interview with Robert Wagner" (30 min) finds the actor talking about the show's history, what went on behind the scenes, and even the origins of another Wagner-starring series, Hart to Hart. "A Matter of Larceny: Interview with Glen A. Larson" (28 min) finds the writer/producer, best known for creating Battlestar Galactica, discuss breaking into the business and working on Thief. Also included are a limited edition Senitype, which is a reproduction of a 35mm film frame; a collectible booklet with retrospective essay by Dean Briefly, who lavishes more praise than the series deserves; and an exclusive four-piece coaster set.