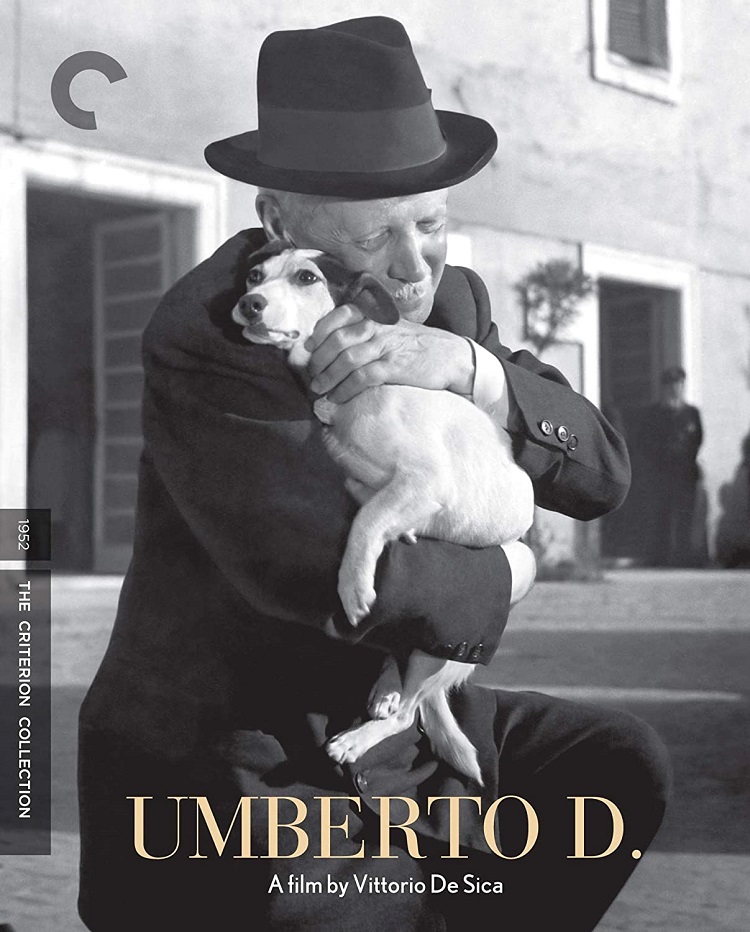 One of the last great films from the Italian neorealism movement, Vittorio De Sica's Umberto D. focuses on the struggles of the elderly in post-WWII Italy as seen through a few days in the life of retired pensioner Umberto Domenico Ferrari (Carlo Battisti in his only performance as an actor). How a society deals with its older citizens says a lot about it, and this story is as topical over 60 years later as it was when it was released in 1952.
The film opens with a march on the ministry building by pensioners demanding a raise in their benefits. One member of the group is Umberto. He needs more money because he owes 15,000 lire in back rent to the landlady (Lina Gennari) of the ant-infested hotel he has lived at for 20 years. To recoup her losses, she rents out his room to young lovers at hourly rates and threatens to kick him out at the end of the month.
Umberto's situation is dire, made all the more difficult being on his own. He determines, "to pay my debts, I'd have to go a month without food." His health doesn't appear much better as his coughing is cause for concern. The closest thing Umberto appears to have to a family is his dog, Filke. At least, the hotel maid, Maria (Maria Pia Casilio), treats him kindly. She has problems of her own, pregnant but not sure who of two soldiers is the father.
Umberto doesn't seem cut out for the world anymore. He gets himself entered into hospital briefly, but the doctor determines his condition isn't bad enough to keep him. He seeks to borrow money from a friend and even tries his hand at begging before stopping out of shame.
The only thing that keeps him going is his love for Filke. When Maria visits Umberto at the hospital and tells him that Filke is outside, he springs to his feet and rushes to the window to catch a glimpse of him. His heart is broken when he returns from the hospital and learns that the landlady let Filke out. When he seeks a new owner for Filke, it's obvious he's no longer concerned about where he'll being staying after the end of the month.
Umberto's story is very powerful because it could be a glimpse into the viewer's future since loneliness and an inability to take care of oneself seem inevitable outcomes. The film has an overall bleak tone but there are thankfully a few joyful moments between Umberto and Filke like oases in a desert of sadness. Once the set-up is presented, the story hits expected, believable plot points; however, the climax offers a welcome surprise.
Criterion presents the video with a 1080p/MPEG-4 AVC encoded transfer displayed at an aspect ratio of 1.37:1. The liner notes reveal, "this high-definition digital transfer was created on a Spirit Datacine from the original nitrate camera negative. Thousands of instances of dirt, debris, scratches, splices, warps, jitter, and flicker were manually removed using MTI's DRS and Pixel Farm's PFClean, while Digital Vision's Phoenix was used for small dirt, grain, and noise reduction." The image comes through in brilliant blacks and whites, creating great contrast. Fine details are evident in the textures of the clothing and the beads of a fever sweat on Umberto's brow. Depth can be seen in the long room of the hospital ward. There are slight scratches that get worse when Umberto meets an acquaintance in the street. Initial moments of jitter, flicker, and soft focus increasingly appear as the film progresses.
"The original monaural soundtrack was remastered at 24-bit from a 35mm optical track print. Clicks, thumps, hiss, and hum were manually removed using Pro Tools HD. Crackle was attenuated using AudioCube's integrated workstation." Although it has an expected limited dynamic range, the track sounds clean for its age and the dialogue is clear in conveying the characters' emotions.
I was surprised for such a notable film to see Criterion present only two few extras. "That's Life: Vittorio De Sica" (1080i, 55 min) is a 2001 Italian television documentary that offers a career retrospective. De Sica says, Umberto D. "is the creation I love the most." Maria Pia Casilio (1080i, 12 min) was interviewed in 2003. She reveals she was 15 when she was hired and had never seen a movie before that. She also talks about being directed by De Sica.
Umberto D. reveals the complexities of life through a simple story and demonstrates that a film's size is not indicative of the great power of emotion contains. It is a classic of world cinema I highly recommend. But don't take the word of De Sica or myself. Ingmar Bergman is on record saying it's his favorite film also.