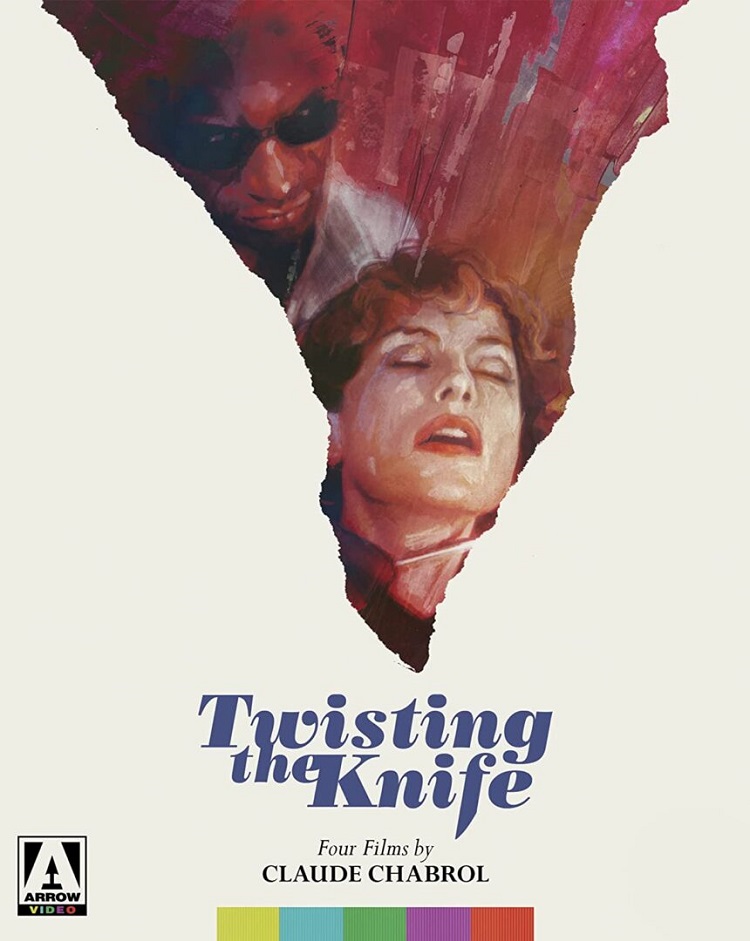 Following quickly on the heels of Arrow Video's five-film Chabrol box set, this second box set is smaller but contains more consistently entertaining films. While all four films are independent projects with no recurring characters, they carry a unifying theme of deceitful women up to no good. They also represent a full block of Chabrol's late career, his entire feature film output from the years 1997-2003.
The Swindle finds Chabrol reteaming with frequent leading lady Isabelle Huppert in a funny lark about two small-time grifters getting in over their heads in a major score. Huppert plays opposite Michel Serrault as con artists who may or may not be scamming each other. The film feels a bit like Dirty Rotten Scoundrels as the grifting and dialogue are playful, giving Chabrol the chance to express his mischievous side.
The Color of Lies takes a darker turn as Chabrol explores the mystery surrounding the murder of a 10-year-old girl in a small town. The last person to see her alive is her piano teacher, making him and his wife subjects of police attention. The wife utilizes deceit to help protect her man while also carrying out an affair with a visiting media star. Chabrol effectively simmers this intriguing potboiler, but the lack of top-tier actors leaves the final product slightly undercooked.
Nightcap brings Huppert back as the lead, this time in a twisted familial drama about two families who may have had their babies accidentally switched at birth. When the now adult daughter learns of the story, she seeks out the other couple and forges a relationship with them and their son, bonding over her burgeoning pianist career with the world-famous pianist who may be her father. Unfortunately, his wife is played by Huppert, and she's nowhere near as welcoming as she first appears. Huppert excels at playing the duplicitous character, and Chabrol keeps us guessing about how it will all play out.
The Flower of Evil follows three generations of a wealthy family as they deal with the fallout when one of them runs for mayor and rekindles an old murder scandal. Chabrol can't quite juggle the plot lines of the three generations, never settling on the primary focus of his story, leaving the results somewhat fractured but enticing enough to see through to the end. This one also suffers from a lack of recognizable star power, although the thoroughly charming Melanie Doutey makes her mark as the representative of the youngest generation.
Chabrol proves his versatility with this burst of late career activity, shifting from restrained comedy to harrowing murder to two films about complicated family dynamics. His deft hand kept me thoroughly invested in the first three films, with only the final entry failing to hit the mark for me. One small detractor is his continuing loyalty to his son to provide his musical scores, as Matthieu Chabrol's orchestral music continues to be meandering nonsense that adds nothing but annoyance to the films, just as in the first box set. On the upside, Chabrol's camera seems to be more kinetic here than in the previous set, with generous pans and zooms that enhance the limited action.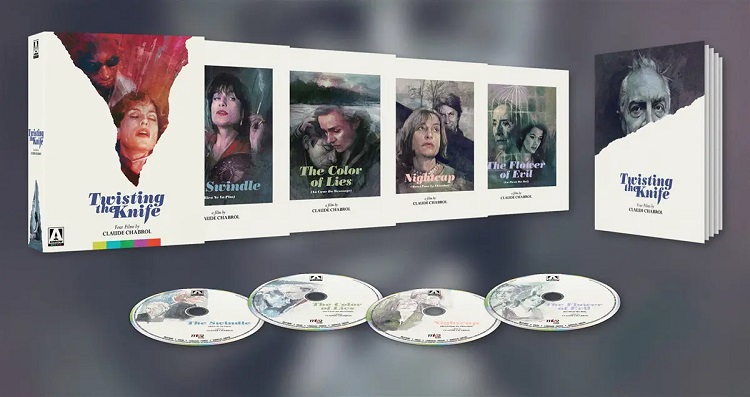 The new box set features new 4K restorations of all but The Color of Lies, with original lossless PCM French stereo audio on all films and DTS-HD 5.1 on Nightcap and The Flower of Evil. The surround sound is a nice addition, but largely irrelevant on stories that are primarily chamber dramas. All four films look remarkably clean and appear to retain their original color grading, exactly as expected.
Bonus features are extensive, with both archival footage and new visual essays. Commentary tracks are also a mixture, with new tracks by film critics and archival select scene commentary by Chabrol himself. Three of the films offer behind the scenes footage, making for a great insight into Chabrol's process as we see him noodling out his vision on set. Elsewhere, archival interviews with Huppert are included on both of her films, and Chabrol's stepdaughter and assistant director provides a lengthy new appreciation of her stepfather's work. The box set is rounded out with an 80-page collector's booklet of new writings about the films and Chabrol's career by an assortment of critics.