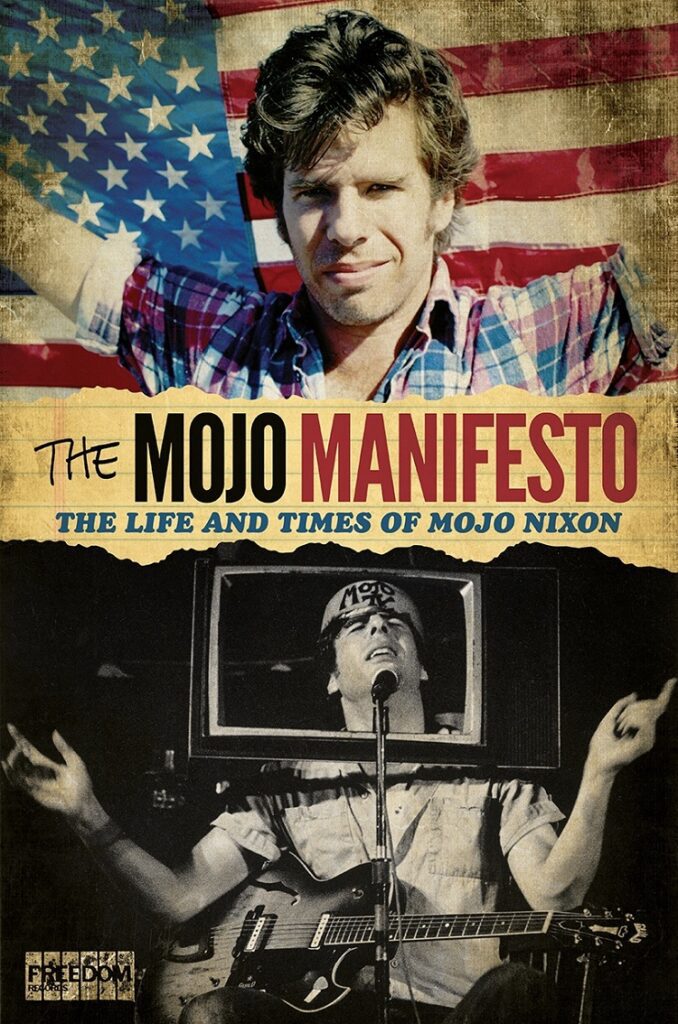 If you were watching MTV in the late '80s, not only was Elvis everywhere thanks to Mojo Nixon, but so was Mojo Nixon. Appearing in short bumpers for the channel, being called out in the Dead Milkmen's hit "Punk Rock Girl," and spreading his gospel of cow punky rock-n-roll to audiences all over.
But Mojo Nixon was not birthed by MTV. To his fans, he was already a larger-than-life character and music act that was finally being shared with a larger audience. And the new documentary The Mojo Manifesto: The Life and Times of Mojo Nixon not only chronicles this time in Nixon's life, but the road to and away from this time in his career. It is also a documentary about the man and his persona. But then again, it's hard to know if you can separate the man from the persona. 
Born Neill Kirby McMillan, Jr. in Danville, Virginia, Nixon became interested in politics and history at an early age as he watched his father fight for equality during the Civil Rights movement. After high school, Nixon began attending college in the hopes of becoming a lawyer, but life and music had other plans for him and he transformed from Neill to Mojo and has been Mojo ever since. Mojo Nixon is a cult icon who holds tight to his beliefs and has no problem rocking the boat or even sinking it at times.
The Mojo Manifesto is directed and edited by Matt Eskey. The doc is a collection of photos, archival footage, and interviews with Nixon, his family, his #1 fan Jason Lutrull, and some of Nixon's notable bandmates including Dave Alvin, John Doe, and Jello Biafra.
The documentary is told in a non-linear form, starting at Chapter 5 and then eventually getting back to Chapter 1. And while folks in the know about Nixon and his antics might see it as more Mojo mayhem, it's confusing and I don't think it serves the story well. If you want to start at the "end" or at a specific time in his life and circle back, then perhaps numbered chapters isn't the way to go. So, this might be a doc more for folks already in the Nixon fandom and not experiencing him for the first time.
The Mojo Manifesto:The Life and Times of Mojo Nixon is out now and has a runtime of 85 minutes.