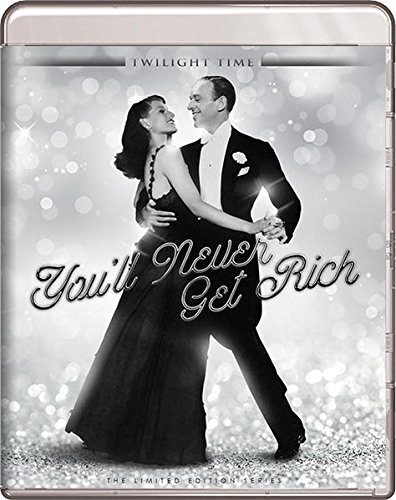 Luck. Timing. Fate. Coincidence. Good or bad, they're all on display here in this quartet of catalog classics now available on Blu-ray from Twilight Time, beginning with a once-timeless expression which the essential oil and mustache wax-obsessed entrepreneurial youth of today could do with a reminder of: You'll Never Get Rich. Granted, times have changed just slightly since this black-and-white wartime musical comedy first premiered in 1941 ‒ beginning with the more than immediately noticeable observation that they just don't make black-and-white wartime musical comedies anymore for some reason.
Featuring songs by the legendary Cole Porter himself, You'll Never Get Rich finds a recently Ginger-less Fred Astaire teaming up with a young Rita Hayworth, who was nearing the conclusion of her early career as a song-and-dance girl in lighthearted Tinseltown filmfare. Fortunately, the pairing proved to be triumphant enough to give both leads a second chance in the moving pictures, and You'll Never Get Rich itself has since gone down in history as being the perfect sort of film to watch when you want to feel like a million.
Storywise, Sidney (The Hound of the Baskervilles) Lanfield's musical wartime rom-com finds Fred as a mild-mannered theater manager/choreographer with a lot of trouble on his hands. It all starts with his womanizing married business partner, Robert Benchley (grandfather of some guy who later wrote a little-known novel under the ridiculous title of Jaws), whose unsuccessful attempts to woo Rita result in Fred taking the fall. And, as if that wasn't bad enough, Rita's jealous Army Captain suitor (John Hubbard) turns out to be stationed at the same camp Fred goes to when he gets drafted!
Also starring in this fine screwball musical gem are Frieda Inescort, Osa Massen, and three of the finest supporting comics ever: slow burn virtuoso Donald MacBride, early George W. prototype Guinn "Big Boy" Williams, and doubletalk maestro Cliff Nazarro ‒ all of whom only add to the element of delight. And there's truly no better way to take You'll Never Get Rich in than via Twilight Time's breathtakingly gorgeous 1080p MPEG-4 AVC transfer, which is as flawless as Fred Astaire's dance moves, Rita Hayworth's beauty, or Donald MacBride's ability to get annoyed and shoot someone the stink eye.
An equally dynamic 1.0 DTS-HD Master Audio soundtrack accompanies this two-time Oscar-nominated classic, which is clear enough that you should only really need to access the optional English (SDH) subtitles shortly before you come to the realization Cliff Nazarro is really speaking nothing but gibberish most of the time. Special features are limited for this Limited Edition release from Twilight Time, and consist of an isolated score/effects track in 2.0 DTS-HD Master Audio, the original theatrical trailer (which is presented here in High-Def), and a collectible booklet containing liner notes by film historian Julie Kirgo.
While most people tend to take the eponymous message of the latter film as gospel, there are a number of folks out there determined to change their luck any way they can by taking full advantage of fate, timing, and coincidence. Take the iconic partnership of Jack Lemmon and Walter Matthau for example, who are determined to cash-in big in Billy Wilder's The Fortune Cookie. Like Fred and Rita in You'll Never Get Rich, this dark comedy from 1966 presents us with the first time the future stars of the Grumpy Old Men films appeared on-screen together, which is reason enough to check this one out right there!
Written by Wilder and frequent collaborator I.A.L. Diamond, The Fortune Cookie opens with sports cameraman Lemmon being rundown by Cleveland Browns hero nicknamed "Boom Boom" (actor Ron Rich, at the beginning of a very limited film career). Though uninjured, Jack's scheming, ambulance-chasing brother-in-law attorney ‒ naturally played by Walter Matthau ‒ has other ideas. Namely, faking an injury and conning the insurance company into a nice big fat paycheck the two can retire on (thus paving the way for the time-honored American tradition of suing one another).
But how successful will they be, especially once Boom Boom develops a weird thing called "sympathy" (sp?) for Jack and the insurance companies start sending in the finest doctors they can afford ‒ including a standout cameo by Marx Brothers nemesis Sig Ruman, whom the great Mr. Wilder gives a magnificent introduction to in what would prove to be his last big role. But Wilder keeps an eye on more than just his fellow refugees from Nazi Germany ‒ he also addresses the issue of alcoholism, racial division, and, in a much less noticeable light, the slightly taboo (for the time) topic of completely womanless bromances.
Also starring in this very moving picture where Jack Lemmon performs a wheelchair ballet to "You'd Be So Nice to Come Home To" in one take are Judi West as Jack's money grubbing ex-wife, Cliff Osmand as a sloppy private investigator, and Lurene Tuttle as Lemmon's overemotional mum. Even '50s and '60s cult movie scientist Les Tremayne gets a nice meaty supporting role here, and if you look close, you'll spot young versions of Ned Glass (who had appeared with Matthau and Audrey Hepburn in Charade three years earlier) and Father Mulcahy himself, the late William Christopher (in his film debut).
Apart from a few instances where it seems as if a secondary visual source was employed, MGM's High-Def transfer for this, Billy Wilder's final box office score, is nothing short of stellar. Joseph LaShelle's god-given eye for black-and-white Panavision cinematography is a crispy treat unto itself in this lovely offering from Twilight Time, which is accompanied by a well-balanced 1.0 DTS-HD MA soundtrack and optional English (SDH) subtitles. Special features for this release are similar to the previous title, and consist of an isolated score/effects track in 2.0 DTS-HD MA, theatrical trailer, and liner notes by Julie Kirgo.
In the event you cannot dance or sue your way into vast riches, there's always the option of outright theft. And that's where How to Steal a Million, another film from 1966 (although this time in color) comes into play. One of the last efforts from prolific Ben-Hur director William Wyler, this Parisian-set heist comedy from that epitomic era of Euro crime capers brings us another unique pairing in two cinematic titans: Audrey Hepburn (who had previously worked with Fred Astaire, Billy Wilder, and Walter Matthau, thus giving you all of the movie trivia connection points you could possibly need!) and Peter O'Toole.
Making as jetset of a scene as can be, How to Steal a Million finds well-to-do Audrey Hepburn as Nicole, the nervous offspring of famous French art collector Charles Bonnet (Hugh Griffith, in a delightful supporting role), whose many fine possessions are actually fakes. But the times are-a-changin' for even the most masterful of art forgers thanks to the modern technology of the mid '60s, which has Nicole up in arms ‒ especially when dear papa lends his genuine imitation Cellini Venus statuette (which Nicole's grandfather had sculpted, using her grandmother as the model) to the celebrated Kléber-Lafayette Museum.
The exhibit garners the interest of two very interested parties, including an American business tycoon (the great Eli Wallach) determined to add the figure to his collection by hook or by crook, and an actual crook! After Simon Dermott (the late great Peter O'Toole) breaks into the Bonnet manor to examine one of Charles' "masterpieces," he discovers something much more valuable in nervous Nicole. But when the fear of discovery becomes too great, Nicole decides it's time to make use of her newfound high society thief's skills, leading to a memorable night at the museum in what is surely one of the silliest art heists ever committed to film.
Charles Boyer, Fernand Gravey, Marcel Dalio, Jacques Marin (also in Charade), and comedian Moustache also appear in this hit, which is presented in a beautiful HD makeover from 20th Century Fox for this Twilight Time release. The transfer is as gorgeous as its leads and the striking works of art which surrounding them combined. Stereo and Mono DTS-HD MA soundtracks delivers dialogue, effects, and music perfectly. Speaking of music, How to Steal a Million sports an early score by John Williams, whose work is highlighted in the isolated 2.0 DTS-HD MA track. Optional English (SDH) subtitles are also available.
Additional special features for this Twilight Time Blu-ray have been ported over from the older 2004 Standard-Definition DVD release (which this presentation blows out of the water), and include an audio commentary with Eli Wallach and Catherine Wyler (daughter of our auteur, ladies and gentlemen), a vintage A&E Biography episode on Ms. Hepburn, and a theatrical trailer. Twilight Time's Blu-ray does not feature the teaser trailer and TV spots present on the old SD-DVD, so I can only assume someone hid in the closet one night and stole them. Fortunately, they did not steal Julie Kirgo's wonderful liner notes.
Wrapping up this wave of Twilight Time Blu-ray releases (originally made available to the public in April 2017) is the only film here to not feature some sort of nod to wealth in its title. And that could be partly due to the fact that the protagonist of Woody Allen's Another Woman (1988) already has a bit of moolah. Sadly, however, philosophy professor Marion Post (Gena Rowlands) wouldn't have much else to offer anyone if she actually let them get that close. For, despite her academic success and noted social stance, Marion is utterly clueless when it comes to understanding feelings ‒ whether they belong to her, or someone else.
Determined to get away from home to work on her new book, Marion settles into a sublet apartment, only to discover the vent brings with it more than hot and cold air: it also pours in the whispered personal lives of patients belonging to the therapist down the hall. After eavesdropping into the private worlds of others, Marion becomes particularly intrigued with a mystery woman (Mia Farrow) with a troubled psyche. This, in turn, beckons Marion to question her own mental health, leading to a very compelling drama co-starring Ian Holm, Blythe Danner, Betty Buckley, Martha Plimpton, John Houseman, and David Ogden Stiers.
The great Gene Hackman makes his only appearance in a Woody Allen film here. But he is just one of many marvelous actors to appear in this well-written ode to Bergman's Wild Strawberries, which is quite beautiful to behold in this crisp and clear transfer that is a far cry from the 2001 MGM DVD. The DTS-HD MA Mono Stereo soundtrack delivers admirably. English (SDH) subtitles, an isolated (DTS-HD MA 2.0) score, trailer, and Julie Kirgo's liner notes are also included.
All four titles reviewed here are limited to 3,000 pressings apiece, and are currently waiting for you to maybe get rich off of while supplies last. Good luck ‒ and enjoy!