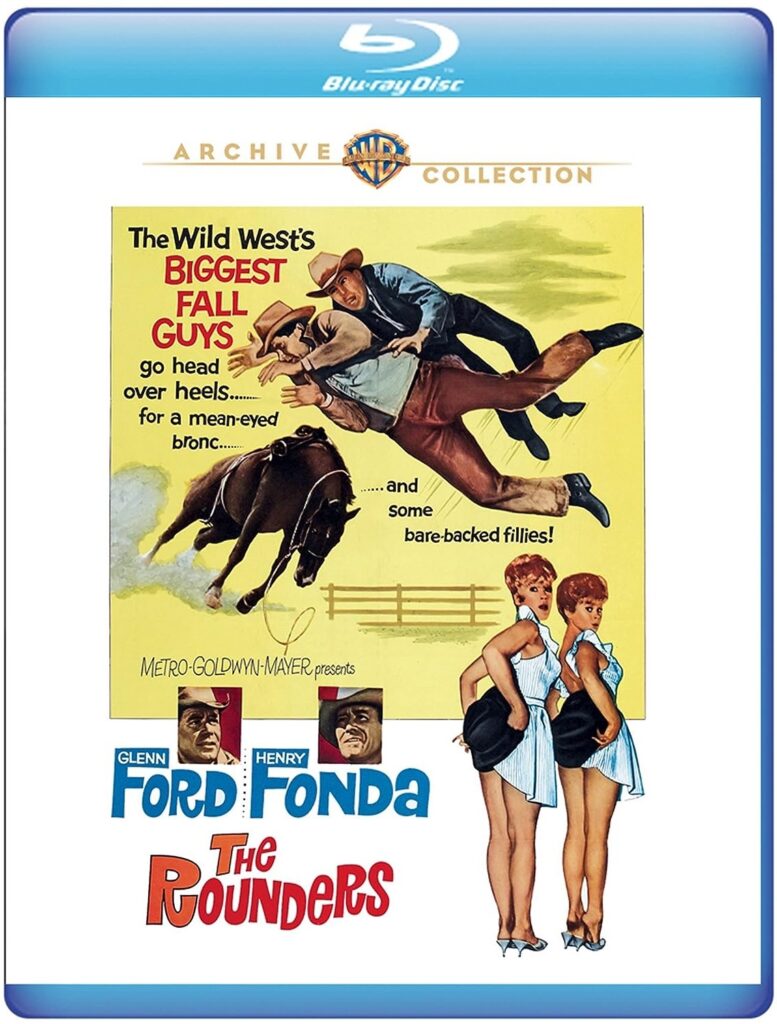 The Rounders is the sort of film that made a bigger impression on the public than anyone had anticipated. Originally released on the tail end of a double feature ‒ a spot generally reserved for movies nobody expected much from ‒ the 1965 cowboy comedy starring the unbeatable pairing of western icons Glenn Ford and Henry Fonda garnered enough attention to launch a prequel TV series starring Ron Hayes and Patrick Wayne. But whereas the television version was doomed to failure (as was just about any project starring Ron Hayes or Patrick Wayne), this adaptation of Max Evans' 1960 novel has since become a true classic.
Although set in contemporary times, our chief protagonists ‒ aging cowboys Ben Jones (Glenn Ford, the fastest draw in Hollywood, though he has little use for weaponry here) and "Howdy" Lewis (Henry Fonda) ‒ don't have much to do with the ever-changing world around them. While they're both still fully capable of consuming mass amounts of whiskey and raising hell, they spend most of their time working for a shady rancher named Jim Ed Love (Chill Wills, who reprised his role for the short-lived TV offshoot). As The Rounders opens, sneaky Mr. Love finagles the bronco bustin' boys into breaking in one truly stubborn wild stallion.
When Ben and Howdy aren't risking life and limb to the intelligent, pertinaciously dangerous roan, they take time out to schmooze the ladies, including the lonely daughters of a local moonshiner (Edgar Buchanan), brought to life by character actresses Joan Freeman and Kathleen Freeman. They also pair up with their big city burlesque bimbo dancer equivalents, as played by Sue Ane Langdon and Hope Holiday after the ladies' car breaks down. Interestingly, Ms. Holiday would go on to produce a number of low-budget movies in the '80s, including several Leo Fong oddities and perennial MST3K favorite Space Mutiny.
Honestly, not a whole lot "happens" in The Rounders. It's a straightforward buddy picture about two simple men who, though well versed at breaking in steeds, just can't seem to break even. Which is what made the film a hit, of course, paving the way for a slew road trip movies that would regularly grace theater screens throughout the late '60s and '70s. In fact, two key players from that subsequent film genre ‒ Warren Oates (who is already cast as a psychopath here!), and Henry's famous actor son, Peter Fonda ‒ pop up here in uncredited bit parts. Peter Ford, Glenn's less-than-famous son, also makes a cameo.
Also appearing in this fun off-road adventure are such seasoned characters as Denver Pyle (The Dukes of Hazzard), Barton MacLane, and the one and only Doodles Weaver ‒ who receives one of his few big credits here, despite only appearing on-screen for a few minutes. Burt Kennedy, who also helmed Return of the Seven, as well as two of James Garner's best-known western comedies, Support Your Local Sheriff! and Support Your Local Gunfighter, writes and directs this underrated comedy which was filmed on location in beautiful Arizona. Paul Vogel's excellent cinematography is accompanied by a cutesy score by Jailhouse Rock composer Jeff Alexander.
Throughout the bulk of that awkward pan-and-scan VHS era which turned many a youngling like myself into a cinephile, The Rounders proved to be rather elusive. In fact, to this day, I still regularly recall an old timer who would stop in at the video store I used to manage to see if I had managed to find a copy for him (which I never could). In 2010, the Warner Archive Collection released a widescreen DVD-R, which made many a fan happy. Now, a few short years down the road, the WAC has given us a restored High-Def Blu-ray release of this sleeper favorite, but I cannot say I'm 100% satisfied with the presentation.
While the image ‒ courtesy a recently-struck interpositive scanned at 2k ‒ presents us with a robust and relatively unsullied look at this charming little cowboy comedy, somebody appears to have dropped the ball in the color grading department. While a few scenes look quite normal, skin and earth tones are too far on the pink side throughout, which may distract (it not annoy) the more tech-savvy oriented folk out there. The included trailer (the sole special feature here) has not been heavily restored or color corrected, and looks more natural. Accompanying the feature film is an above-average DTS-HD MA Mono Stereo mix and optional English (SDH) subtitles.
My personal dissatisfaction with hues aside, the Warner Archive Collection's release of The Rounders is well worth lassoing in. It's the kind of movie that will surely liven up a dull afternoon, and if you grew up in a rural community like I did, it will more than likely bring with it a certain sense of childhood nostalgia. Plus, this is the only film Glenn Ford and Henry Fonda appeared in together as lead characters (the other being the star-studded 1976 World War II disaster-style epic Midway starring Charlton Heston, which they only had supporting roles in), so it's well worth its weight in gold for that alone.
Highly Recommended.