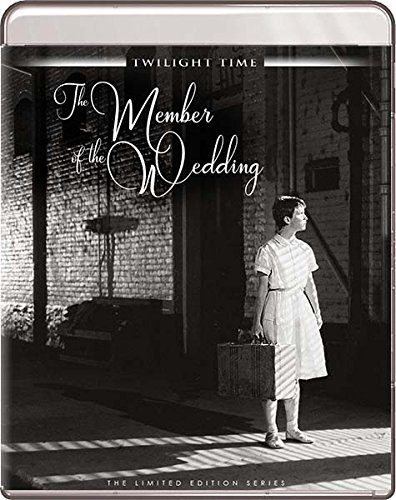 Despite all of society's best attempts at grooming us to be normal, well-behaved, completely functional human beings, there are just some people who, as Linda Ronstadt once repeatedly declared, are no good. And this wave of releases from Twilight Time ‒ initially unleashed unto collectors in June ‒ certainly highlights many peculiar elements from various walks of life, who all seem to fit the bill(s) for party poopers, poor sports, sorry losers, and bad romances. We begin with one of the grandest party poopers of all, Frankie Addams: a socially inept and unfetteringly awkward twelve-year-old tomboy in the Deep South, who ‒ as if things weren't already cumbersome enough for her ‒ has to experience the previously unexplained phenomenon of puberty.
Originally penned over the course of five years by Southern icon Carson McCullers, The Member of the Wedding became a hit on Broadway when McCullers adapted it for the stage in the early '50s. Snatching up the film rights, producer Stanley Kramer and director Fred Zinnemann brought us this poignant, perfectly captured vision in 1952, retaining its three lead performers from the successful Broadway run: Ethel Waters as housekeeper Berenice Sadie Brown; a very vocal 27-year-old Julie Harris as Frankie Addams; and doomed actor Brandon De Wilde as an early Ralphie Parker prototype named John Henry.
Living in a small Southern community which is synonymous with hell, Frankie spends most of her time yelling and thinking out loud a lot, being teased by the local kids and her young cousin John Henry alike, somehow never incurring the back of her devoted housekeeper's hand in the process. Left with an ambivalent feeling of love and loss when her older brother (Arthur Franz) has the gall to get married and go on a honeymoon without her, Frankie's changing hormonal patterns soon find her yelling more and behaving much like most of the women who fall in love with me. Former child star Dick(ie) Moore has a brief bit as an inebriated soldier who tries to give young Frankie the reverse order of his name, and an unknown Hugh Beaumont plays a minister.
Twilight Time's beautiful High-Definition release of this classic coming-of-age drama (which looks and feels like a musical that had all of the singing and dancing excised at the last minute) features a DTS-HD MA 2.0 Mono audio track, which comes through with nary a hitch. An optional DTS-HD MA 2.0 Stereo soundtrack presents Alex North's isolated score. Two audio commentaries are also on-board: the first with Suzanne Vega, Derek Botelho, and David Del Valle; the second with Carson McCullers biographer Virginia Spencer Carr. An introduction by Stanley Kramer's widow, Karen, who is also featured ‒ along with Kevin Spacey ‒ in one of two featurettes. A trailer and liner notes by Julie Kirgo conclude the bonus goodies for this one.
Moving on with party poopers and into the fray of poor sports, we find ourselves at the beginning of Hammer's stellar 1959 adaptation of Sir Arthur Conan Doyle's The Hound of the Baskervilles. For it is here, in the opening prologue, we witness a grand way to spoil a party: the humiliation and flogging of a servant by poor sport Sir Hugo Baskerville, who chases after the poor man's busty daughter with his pack of beagles. This, of course, brings a deadly curse upon his family. Flash-forward to modern times (well, the 1880s), we find Sherlock Holmes (as played by the late great Peter Cushing) and Dr. Watson (André Morell) asked to keep an eye on the forthcoming latest heir to the Baskerville estate, Sir Henry (the late great Christopher Lee).
Directed by the great Terence Fisher, this was strangely the only time Hammer Films made a Sherlock Holmes feature, though its lead stars both played the iconic character several times over on large and small screens alike (Christopher Lee, for the record, was the only actor to have ever played Sherlock Holmes, Mycroft Holmes, and Professor Moriarty). And it's a pity, too, since Fisher's hit gothic shocker still has a lot of life in it after nearly 60 years. Peter Cushing is at his manic best here, and the magnificent André Morell (recently seen in HD via the finale of another Twilight Time release, 10 Rillington Place) makes for one of filmdom's smoothest Watsons. Marla Landi, Francis de Wolff, Ewen Solon, David Oxley also star; Miles Malleson is the comic relief bishop.
Twilight Time's Blu-ray comes to us straight from the MGM/UA vaults, and is a vast improvement over the 2002 non-anamorphic DVD we were forced to be content with. Several special features from that Standard-Def nightmare have made their way to this release, most notably an archival interview with Christopher Lee, who also returns to read two excerpts from the original Sir Arthur Conan Doyle source material. The original theatrical trailer for the US release of the film also returns ‒ in color this time! New extras consist of two audio commentaries (the first with David Del Valle and Steven Peros; the other features Paul Scrabo, Lee Pfeiffer, and Hank Reineke), an interview with mask-maker Margaret Robinson, an isolated score, and Julie Kirgo's liner notes.
Skipping the '60s altogether and jumping straight into the drug culture of the early '70s, we are now ready to experience the panic that came with it. No, it's not the sort of panic you find at the disco. Nor is it on the streets of London (or even Birmingham, for that matter): it's The Panic in Needle Park, kids! Released in 1971, Jerry Schatzberg's gritty look at the world of heroin users in Manhattan was one of several movies to present viewers of the time with a startling bit of realism ‒ particularly during the cringe worthy scenes of people injecting their veins with junk. Oddly enough, The Panic in Needle Park is generally classified as a romantic drama, as it depicts the strained relationship between two young (and very dysfunctional) losers with a bad romance in NYC.
And just who are these two youngsters throwing their lives away by riding "the horse"? Well, there's a very green fellow by the name of Al Pacino (perhaps you have heard of him) to start with, who stars as Bobby: a minor drug pusher who has aspirations of being a drug lord (a wish Pacino would get in several other movies soon thereafter). Bobby falls for a young woman named Helen (Kitty Winn, whose career hasn't been as successful as Al's, but she was one of the few people to appear in The Exorcist who made the mistake of returning for Exorcist II: The Heretic), who has just had a very unclean abortion at the bequest of her boyfriend Marco (a small part played by another future cinematic legend, the late Raul Julia). Look fast and you'll also see a young Paul Sorvino!
Hard to watch, yet almost impossible to look away from, the cinéma vérité method of filmmaking keeps focus on the bad romance betwixt its two leads, who go from bad to worse (alas, poor Rocky, we hardly knew ye). The intended music score was snipped from the final cut of the film (making what we see even harsher on the ol' orbs), but that didn't stop Twilight Time from digging out Ned Rorem's unused compositions, which are included in an isolated DTS-HD MA 2.0 form. A DTS-HD MA 2.0 mono track accompanies the lush 1080p transfer from the 20th Century Fox vault, and two recycled extras and a trailer from a previous SD-DVD release are included, as are notes about the unused score and Julie Kirgo's own (liner) notes about the feature film itself.
One of filmdom's greatest examples of poor sports has been re-issued from Twilight Time. Yes, boys and girls, Rollerball has returned for an Encore Edition, after the first pressing of the 1975 cult classic starring James Caan sold out a month after it was initially released in 2014. Norman Jewison's dystopian look at a future society ruled by greedy, heartless corporations, which keep the ignorant masses in-check by overloading their televisions with a deadly sport (stop me when all of this starts to sound too much like the current reality we're struggling in). This re-pressing presents us with what is essentially the same release as before (which I previously covered), albeit with different artwork and revised liner notes by Julie Kirgo. Get it before it sells out again, folks.
Whereas most every title mentioned thus far has included one or more of the connecting motifs here ‒ party poopers, poor sports, sore losers, and bad romances ‒ our next feature, 1975's Inserts is one of the few to feature the whole shebang. Perhaps "bang" isn't the best choice of words there, since this seldom-seen debut from writer/director John Byrum (The Razor's Edge) centers around a small group of pornographers in 1930 (yes, believe it or not Millennials, they were making porn back then, too!). Highlighting this mid '70s oddity (which is shot in real time on a single set, much like a play) is an ensemble the likes of cinema has never seen since: Richard Dreyfuss, Jessica Harper (Phantom of the Paradise), Bob Hoskins, Veronica Cartwright, and Stephen Davies.
Inserts was filmed in the UK as early as 1974 and released stateside in the beginning of 1976 (to almost zero reception), well after its star Richard Dreyfuss had appeared in Jaws (Dreyfuss also served as a production associate on the film, and later headed off a petition twenty years later to change the film's original X rating to an NC-17). The film finds Dreyfuss as an acclaimed silent film director (known as the Boy Wonder) who now leads a secluded life of alcoholism, agoraphobia, and emotionally induced impotence in a mansion which is due to be tore down for a forthcoming freeway any day now. Left behind by the industry for his artistic temperament, Boy Wonder now shoots silent stag loops in the "comfort" of his own home.
Cast as the Boy Wonder's lead actress, Harlene, a sizzled-out Veronica Cartwright gives what is quite possibly her most unique and unsung performance here as a former starlet hooked on heroin. Stephen Davies, fresh from the RADA, is an idiot mortician who goes "straight for pay" (as they might call it today). Bob Hoskins is the mastermind behind the stag movies, and newbie Jessica Harper is the latter's supposed girlfriend, who finds much fascination in Boy Wonder's work. Both actresses and Mr. Davies are unashamed to bare all for us in this production, which makes its digital debut via this Twilight Time release which includes an isolated DTS-HD MA 2.0 score and the film's theatrical trailer as its supplemental features, along with Julie Kirgo's liner notes.
Our sixth and final film also features an arsenal of party poopers, poor sports, sore losers, bad romances, and generous portions of skin ‒ albeit in different doses. Much like Inserts 1993's Romeo is Bleeding bombed at the box office. I only ever saw the trailer shortly before the movie briefly appeared and quickly vanished from cinemas in '93. But after surviving the multitude of shit Hollywood has brought us since then, I really can't see what the problem was. I guess, perhaps Romeo just needed enough time to nurse his wounds, as Peter (Zorro, the Gay Blade) Medak's crime drama seems like a perfectly good neo-noir thriller movie when viewed today. Plus we get to see Lena Olin nekkid, so what's there not to like?
Possibly raising the bar for many of the crime thrillers that followed (to say nothing of noir video games), Romeo is Bleeding finds Gary Oldman, back when he still had a career, as an ambitious New York City police sergeant with a gentle wife (Annabella Sciorra) and naïve mistress (Juliette Harris) who figures the best way to get ahead is to play along with the bad guys. Naturally, it goes awry, especially when his actions result in fellow officers getting shot dead by a psychotic Russian assassin, played by an irresistible Lena Olin ‒ whom our idiot protagonist falls far too hard for, which paves the way for one very wild ride co-starring Roy Scheider (as a mob king!), Michael Wincott, David Proval, James Cromwell, Ron Perlman, and a cameo by Dennis Farina.
Twilight Time rescues this mostly ignored thriller (which even Jon Bon Jovi disliked, so much so, he pulled his song "Always" from being included in the final cut) from a life of bargain bin DVD releases with a better-than-average 1080p transfer courtesy MGM/UA. The feature film is accompanied by a lovely DTS-HD MA 2.0 audio track, and also includes Mark Isham's isolated score as another DTS-HD MA 2.0 selection (which also features some sound effects). The only other extra here ‒ apart from Julie Kirgo's tangible liner notes, that is ‒ is a trailer. All six of these Blu-ray releases are limited to 3,000 pressings apiece.