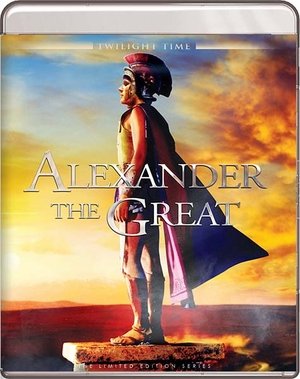 From the rise and fall of great lands to the genesis of new ones, and a few odd points in-between, Twilight Time has all bases of great storytelling covered in this assortment of features from their March 2016 lineup. Here, we pay our respects to filmic adaptations of true historical accounts of the lives (and sometimes deaths) of the grandiose, the humble, and the downright dangerous. We being in a time and place far removed from contemporary society (though the political situation hasn't changed all that much, when you think about it), with a tale of some minor footnote of a feller from the history books known as Alejandro the Funky. Or was that Alexander the Great? I should have prefaced this article by mentioning I went to a public high school in a small hick community where all of the money went to new equipment for the athletics department.
The mid 1950s in American film is replete of marvelous examples of the extensive, explorative efforts Hollywood went to in order to prevent people from staying at home to watch broadcasts of old Hopalong Cassidy pictures on the television. This was the era that originated ‒ or at least cemented ‒ the concepts of various crowd-alluring gimmicks such as widescreen aspect ratios (hello, Cinerama, you sexy bitch), Stereoscopic 3D, and "improvements" in stereo surround sound (though nothing will ever truly top Sensurround, sorry). Despite the fact the Hays Office was still overseeing everything the industry was doing, all in the name of keeping us from becoming a bunch of godless, Commie-lovin' heathens, filmmakers still promised us all the sex and violence we could ever hope to see on-screen ‒ even though we all knew it wasn't really going to happen.
And with the amount of sex and violence commonly attributed to the tale of Alexander the Great, there was certainly an awful lot which Hollywood could not show us back when this movie was first released in 1956. So get used to togas with undergarments, implied (heterosexual) fornication, and tame moments of brutal barbarity, kids. Here, the one and only Richard Burton, fresh from recent flop Prince of Players, sports one of filmdom's worst hairdos ever in a part even Charlton Heston refused. Overacting his way through an entire 141-minute farce of a flick like only he could do, United Artists' Alexander the Great is not only a powerful testament to Burton's abilities, but to why so many magnificent epics have ultimately failed to be as monumental to film history as their inspirational sources were to real history.
Of course, it's not Richard Burton's fault Alexander the Great was not-so-great. Between writer/producer/director Robert Rossen's questionable decisions (such as having 29-year-old Burton play 32-year-old Alexander, but the teenage version of the character, too!) and UA executives chopping out 40 minutes of material (I can only assume they took out all of the interesting parts) the film was doomed to die young ‒ so I guess they got at least that part of history right! But at least you get to see the likes of Claire Bloom, Frederic March as Philip II, Danielle Darrieux, Barry Jones (as that bugger for the bottle, Aristotle), Stanley Baker, and even Peter Cushing (Christopher Lee did some voiceover work for the film, too, making this an unofficial entry in the Cushing/Lee legacy) in togas, and lots of Spanish extras with 1950s hairstyles.
Twilight Time's Blu-ray for Alexander the Great presents an attractive transfer, which squeezes up the original 2.55:1 CinemaScope aspect ratio a bit to somewhere in the vicinity of 2.35:1. The DTS-HD 2.0 audio track is accompanied by English (SDH) subtitles (just in case Mr. Burton's whispering is too low for your audible sensors; he graduated from the same school of dramaturgy elocution as Richard Harris and Peter O'Toole, as parodied in a memorable SCTV skit, The Man Who Would Be King of the Popes). An isolated Mario Nascimbene score in DTS-HD 2.0 is the first of several special features here, followed by a nice new interview with Ms. Claire Bloom herself, in which the actress discusses this film among other works from her notable past. The original theatrical trailer concludes this release of a classic historical bungle.
Moving onto a different form of historical bungle, we find ourselves in the midst of a classic conspiracy which kept many a mind guessing for several decades. Whereas Alexander the Great centered on one man assorting a vast kingdom for himself, Anastasia (also from 1956) finds the sole survivor of a collapsed empire trying to find a name for herself. Alas, scientific advancements would eventually reveal Anna Anderson ‒ played here by the great Ingrid Bergman ‒ had several names, including her birth name of Franziska Schanzkowska, and the moniker of the person she claimed to be, the Grand Duchess Anastasia of Russia. The answer to Anna's mysterious riddle would not be answered for another fifty years, once DNA testing came into play (a similar disappointment befell me when I learned I was related to my family), forever sullying Ms. Anderson's fable.
Of course, when there's money involved ‒ especially great big servings of it ‒ people are going to find a way to try to get it. And with the $3.52 million budget 20 Century Fox was spending on Anastasia, actors and actresses from all over the world were crawling out of the woodwork to make another grand historical epic based on a successful play, all in the hopes they wouldn't lose anymore money to people watching old Hopalong Cassidy oaters at home. Perhaps the most notable casting selection here was the return of Ingrid Bergman, making her "official" comeback to American film (winning an Oscar in the process) after she had been blacklisted for falling in love with foreign filmmaker Roberto Rossellini and having his baby out of wedlock. While Hollywood's racism is still very much alive, shows like Teen Mom indicate they're really making headway in other departments!
Another cast member making a significant comeback here was Helen Hayes, the First Lady of the American Theater herself, who had put her career on-hold for several years following the death of her daughter, who died at the tender age of 19, and the faltering health of her husband. And while stories suggest her casting was actually due to a misconceived typo (British actress Helen Haye was supposed to have been the one hired, reportedly), it only helped cement the emotion as Hayes' Dowager Empress Marie Feodorovona ‒ paternal grandmother of Anastasia ‒ begins to believe Bergman really is her little lost darling. Of course, it's that sexy Russian-born second-billed stud Yul Brynner who casts his shadow over a majority of the scenes in this well-received production as the man who organizes the whole sham. Plus, this Anastasia is completely devoid of singing cartoon animals. Win-win.
Co-stars Akim Tamiroff, Martita Hunt, Sacha Pitoëff, and Felix Aylmer are among the many recognizable funny faces also throw their weight around quite well. Marcelle Maurette's play receives an admirable treatment from director Anatole Litvak (Sorry, Wrong Number; The Night of the Generals). Twilight Time's 1080p transfer ‒ on loan from the Fox archives ‒ starts off a bit jittery, but is overall quite fantastic. Two DTS-HD MA selections are offered up for the feature film ‒ one in 5.1, the other in 2.0 ‒ with an isolated DTS-HD MA 2.0 score highlighting Alfred Newman's music. Several vintage Fox Movietone Newsreel clips, an audio commentary, and a theatrical trailer were previously featured on the 2003 Fox DVD. Twilight Time sweetens the pot by adding in a rare vocal version of the film's theme song, and a new audio commentary featuring David Del Valle and Julie Kirgo.
Well, two 1956 historical flicks in, here I am on the threshold of a grand exit from the '50s and into 1960 for an Exodus with Anatomy of a Murder and Bunny Lake is Missing director Otto Preminger. Here, the distinguished filmmaker brings us a lengthy (clocking in at 3 hours and 28 minutes in duration) epic inspired by a much more recent page in the history books. And while the creating of the State of Israel may officially be regarded as "old news" now, the notion of refugees whose plight to freedom becomes lost in the midst of a political farce is anything but foreign territory today. Adapted from Leon Uris' 1958 international best-seller by none other than Dalton Trumbo himself, Exodus opens with Eva Marie Saint as an American volunteer at an internment camp on the British-owned island of Cyprus where thousands of Jewish Holocaust survivors eagerly await freedom.
Alas, politics do not believe in freedom, as we soon learn. Since the British government won't permit their "guests" to migrate to Palestine, a Haganah rebel and veteran of Britain's Jewish Brigade ‒ as played by that hunky Paul Newman fellow ‒ decides to borrow a cargo vessel and take a few hundred illegal passengers on a voyage that, while much lengthier than the movie itself, doesn't progress further than Alexander the Great's box office appeal. Ralph Richardson, Sal Mineo, Lee J. Cobb, Peter Lawford, John Derek, Jill Haworth, Felix Aylmer (again), Martin Benson, and George Maharis are just some of the film's great big huge colossal cast. Twilight Time's 1080p transfer of the Super Panavision 70mm hit (the '60s also had their share of new cinematic inventions) features three DTS-HD MA audio tracks (!) in 5.1, 4.0, and 2.0, with an isolated DTS-HD MA 2.0 score and trailer as extras.
With our timeline brought up to the present (well, the present of the past, as it were), and our wave of cinematic epics cast off to sea, it is time for us to focus on something less groundbreaking, but just as magnificent. Consider the Lilies of the Field ‒ a seemingly simple 1963 drama from the less-than-simple mind of Ralph Nelson (Fate is the Hunter, Once a Thief). Made a year after Mr. Nelson escaped the confines of television with the big-screen version of Rod Serling's Requiem for a Heavyweight (1962), Lilies of the Field would prove to be the first of three collaborations the late director would make with the great Sidney Poitier (In the Heat of the Night, To Sir with Love, Guess Who's Coming to Dinner), cast here as a free-caring handyman drifter named Homer who encounters a different kind of odyssey.
Based on the semi-fictional novel by William Edmund Barrett and adapted by James Poe (whose work ranged from classics such as Cat on a Hot Tin Roof to the godawful A Slight Case of Larceny) When he has to make a pitstop for water in a barren desert community (Sidney, this is how horror movies start out, so proceed with caution), Homer finds himself in the company of a quaint quintet of nuns (Sidney, this is how porno movies start out, so proceed with caution) from East Germany. Their matriarch, Mother Maria (Lilia Skala, Charly, Flashdance) considers the arrival of this big strong man to be God's gift, and is soon trying to wrangle her newly-delivered help into doing a number of odd jobs around the premises, culminating with a chapel where the refugees from the other side of The Wall and local immigrants from below the border alike can worship.
While the previously mentioned films had larger-than-life characters making history, Lilies of the Field is famous for its down-to-earth characters and their ability to do what we no longer seem to be able to do: get over it, and get it together. Poitier would receive his first Oscar for his work here (his singing voice dubbed by Jester Hairston), which would forever change the way things had been in Hollywood, though it goes without saying the film's "major" Mexican character is played by whiter-than-white character actor Stanley Adams (best known today as the man who introduced the Star Trek universe to Tribbles). The 1080p transfer features a DTS-HD MA 1.0 soundtrack. Jerry Goldsmith's early score is featured as an isolated DTS-HD MA 2.0 track (with some sound effects). A trailer and audio commentary with Lem Dobbs and Twilight Time's Julie Kirgo and Nick Redman are also on-hand.
After witnessing what men and women are capable of doing when they work for the greater good, I regret I must conclude with a bleak reminder that there will always be some bad apples in the bunch. And when it comes to real life serial killer John Christie, the antagonist of 1971's 10 Rillington Place (not to be confused with 10 Cloverfield Lane), you have an apple who is not only bad, but rotten to the core. Here, the one and only Richard Attenborough, far from the gentle grandfatherly roles he would take on in Jurassic Park or that Miracle on 34th Street remake nobody saw, effectively portrays one of Great Britain's least-liked individuals (before the term "Brexit" was ever coined, that is). Establishing the grim tone of the film straight from the get-go, Attenborough's Christie promptly lures a woman into his lonely London flat and murders her ("If it says Attenborough, it's a gasser"?).
Burying the corpse in his backyard (it's in a residential part of London, so there's only about three square feet to work with), Christie's bad side goes dormant for a couple of years (or does it?) until a dysfunctional Tim and Beryl Evans ‒ as played by John Hurt and Judy Geeson ‒ move in upstairs with their little baby girl, and Beryl's beauty begins to entice Christie's murderous and necrophiliac impulses. Journalist Ludovic Kennedy's book receives a particularly chilling adaptation for the screen by Clive Exton (Agatha Christie's Poirot, Rosemary & Thyme). American filmmaker Richard Fleischer (who brough us such classics as Soylent Green and Fantastic Voyage, as well as that disaster Che!) directs. Previously released in the US as an improperly cropped MOD title from Sony, Twilight Time's Blu-ray is a marked improvement, boasting a marvelous new 1080p transfer.
The DTS-HD MA 1.0 audio comes through with nary a hitch, and John Dankworth's atmospheric score is included as an isolated DTS-HD MA 2.0 track. An audio commentary with actor John Hurt has been ported over from a UK DVD release, while a second commentary with actress Judy Geeson (as moderated and joined by Lem Dobbs and Nick Redman) was recorded specifically for this Region Free Blu-ray debut. The film's theatrical trailer is also included. Extensive, lovingly-penned liner notes by Julie Kirgo accompany all five of the aforementioned titles, and each release is limited to 3,000 pressings. All five films from various corners of film (and real) history are available while supplies last.