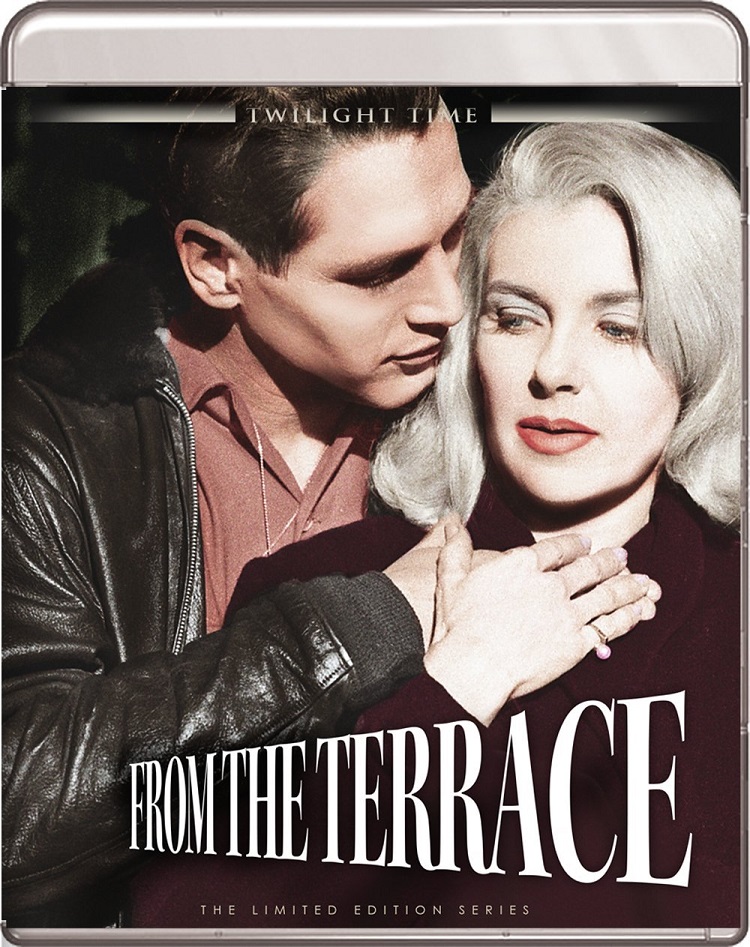 Whether you attended only one week of high school or an entire day in the food and beverage industry, you're more than highly likely to be aware of something called "drama." Generally, it's a toxic element of life, which many of us tend to ignore (or at least pretend to when you really, matter-of-factly thrive on it). But when it comes to the moving pictures, the drama has a tendency to be much more fulfilling. Not because it's healthier (though technically, it is, since we don't actually have to live it), but because there's a darn fine chance it has been masterfully crafted by professional filmmakers, and brought to life by seasoned, versatile performers. Yes, kids, the keyword for this round-up of Twilight Time is that very element we often find inescapable, uniquely spread across time (and even space!) throughout these six offerings from one of the home video industry's most niche labels.
We begin with a view From the Terrace ‒ 20th Century Fox's pairing of cinema icons Paul Newman and Joanne Woodward. The real life couple had been married to each other for two years by the time this John O'Hara adaptation from prolific director Mark Robson first cast its gritty light on the silver screen in 1960. Here, the late Mr. Newman (whom Millennials probably only vaguely associate with a brand of supermarket popcorn) stars as a World War II veteran who returns home to Philadelphia following his patriotic duties abroad, only to find his family's current situation could show up the current state of Dresden. His mother, as played with tear-swelling triumph by the great Myrna Loy, is currently waging a war with alcohol; a present bestowed upon her from her husband (Leon Ames, who had previously appeared with the lovely Ms. Loy in the final two Thin Man movies).
Newman's father himself is far too busy dealing with the untreated grief of losing a child years before to really take any notice, and this is just the beginning of the feature I'm describing here, kids. It gets even better, especially once Mr. Newman meets Ms. Woodward and sparks begin to fly ‒ in the totally wrong directions from completely different people, unfortunately. But hey, it's a drama, remember? Ina Balin, Elizabeth Allen, Patrick O'Neal, George Grizzard, and a young Barbara Eden also star. Twilight Time's HD presentation of this DeLuxe Color CinemaScope classic includes a fine 1080p transfer with DTS-HD MA 2.0 audio. A secondary DTS-HD MA 2.0 soundtrack sports an isolated score from Elmer Bernstein; additional (Standard Definition) special features are available in the form of a vintage Fox Movietone Newsreel and a theatrical trailer.
The aforementioned Elmer Bernstein returns to compose and conduct for the next feature in our queue, the sprawling 1966 epic from George Roy Hill, Hawaii. Now, if you thought the indirect lighting of gloom seen in the first film was sorrowful, just wait until you see what happens when it is cast upon the sunny skies and seas of the beautiful island paradise bearing the motto "Ua Mau ke Ea o ka Aina i ka Pono." When translated into the tongue of the white devils, "The Life of the Land is Perpetuated in Righteousness" seems more than just a tad ironic ‒ especially once you've seen this picture based (only in part) on James Michener's novel. For it is here that we witness religious hypocrisy in action (or inaction, if you will), as proud God-fearing Christian men send their ultra-conservative brethren bring God to those immoral brown-skinned Pagan heathens.
Leading the bumpy ride is holier-than-thou Max Von Sydow, at his awkward best as Reverend Hale, whose strict convictions ultimately lead to unhappiness and death for thousands of unfortunate souls. Julie Andrews is his lovelorn spouse whom we know is doomed from the get-go because she gets top-billing and is named Jerusha. Richard Harris is Andrews' lost sea-faring lover and one of the few "likable" anglo men in the tale. A young Gene Hackman and a scene-stealing Jocelyne LaGarde (in her one and only film) are among the many performers who make this dreary trip to Hawaii a memorable one. Twilight Time's Blu-ray presents the mid '60s dramatic epic in two cuts: the original general release version in 1080p, and a longer roadshow version (culled from LaserDisc) in 480i 4:3 widescreen. Both sport DTS-HD MA 2.0 isolated soundtracks; a theatrical trailer is also included.
Dramatic depictions of (real life) death, destruction, and disease in the name of Jehovah aren't necessarily well known to be the stuff happy endings are made of. Neither is 1969's The Happy Ending. Writer/producer/director Richard Brooks ‒ taking every advantage of his apparent "auteur" status ‒ sets out to leave a lasting impression via depression. For you see, The Happy Ending begins where most movies abandon us: that propitious moment where our two romantic leads ultimately unite and settle down to live happily ever after. After fifteen years of what most newspaper obituaries would describe as "marital bliss," Mary and Fred Wilson (Jean Simmons and John Forsythe, respectively) ‒ who are undoubtedly the future neighbors of a mischievous young lad named Dennis ‒ have reached a romantic stalemate in their domestic Christian union (thank you, Reverend Hale).
When she isn't busy trying to kill herself, Mary seeks solace at the bottom of vodka bottles, whilst Fred prefers to gallivant about with other, younger ladies (but hey, when you're as cool as John Forsythe, you have no choice). A spontaneous trip to the Bahamas (Hawaii had a measles outbreak) leads Mary to college-mate Shirley Jones, who has a steady supply of married men. That Bobby Darin guy sails in from beyond the sea to bag a cougar, and finds what he is after in proud Mary. Lloyd Bridges and recently rescued castaway Tina Louise also appear in the film best known for introducing lounge favorite "What Are You Doing the Rest of Your Life?" to the world. Michel Legrand's "legrandiose" score is included here as a DTS-HD MA 2.0 track, playing second fiddle to the main DTS-HD MA Mono audio selection. The 1080p presentation is accompanied by the film's original theatrical trailer.
If there is one element that most ‒ if not all ‒ of the previous moving pictures have lacked, it's a sense of discipline. And, much like the many dissatisfied and bored youngsters of small towns who believe joining the armed forces is the only way out of town and onto a better life, this can be rectified by joining one of the many branches of service. In this instance, we join the United States Navy, already in progress, with that salty seaman named Jack Nicholson at the helm. Written for the screen by Robert (Chinatown) Towne, Hal Ashby's 1973 dramedy The Last Detail finds Nicholson and the late Otis Young as two Navy lifers who are given the most interesting of tasks to fulfill: escorting a kleptomaniac Randy Quaid to one of the military's harshest prisons for stealing a measly $40 from a collection box ‒ a misdemeanor which he could not help but commit, but for which he will pay most dearly.
With several days at their disposal before they are due back, dear Jack ‒ who swears like a sailor throughout, appropriately enough ‒ devises a scheme to get the most bang out of their time away from base, eventually forming a weird friendship with their junior "disgracee." Clifton James, Carol Kane (who gets nekkid), Nancy Allen, Luana Anders, and a newb named Gilda Radner also appear as we venture forth across this odyssey, the memory of which is erased once Michael Moriarty makes a cameo appearance so powerful and demanding, even Jack Nicholson has to shut up and bow his head. Interestingly, during my days as a video store clerk, I had an old klepto ex-Navy feller with a nasty habit of stealing things, such as a copy of The Last Detail! Twilight Time's 1080p presentation includes a main DTS-HD MA Mono soundtrack, an optional isolated Johnny Mandel score, and theatrical trailer in accompaniment.
Director Hal Ashby, actor Randy Quaid, and editor Robert C. Jones return for our next feature, Bound for Glory from 1976. This time, Ashby casts David Carradine in an almost completely fictional account of the life of Depression Era folk music hero Woody Guthrie ‒ who not only penned "This Land is Your Land," but also a spiteful ditty about Donald Trump's racist slumlord father. Yes, hipsters, I did say "folk music," so strap your "gee-tar" to the back of your flannel shirt above those skinny jeans and settle in for a musical trip across acres and acres of dust and dirt. For this tale, our man Woody sets out from his life in a Dust Bowl (also see: Places in the Heart) and migrates to California ‒ where such Okie refugees are refused admittance because they are just a bunch of freeloader troublemakers (wait, which Trump is in power here?).
Joining the late Mr. Carradine in this folk music version of Kung Fu by way of Emperor of the North are Ronny Cox, Melinda Dillon, Gail Strickland, and the aforementioned Mr. Quaid (back in his reasonably sane days) as one of many refugees working for tyrannical farmers in a land where saying the word "union" will have you wishing you were sitting at one of Reverend Hale's sermons. Bernie Kopell, fresh from achieving immortality as Sigfried on Get Smart and only a few months away from sustaining it when cast as Dr. Bricker on The Love Boat, also appears (sans his familiar eyewear). Leonard Rosenman's music score and a heap of classic folk tunes get a chance for their own everlasting preservation via Twilight Time's isolated score (in DTS-HD MA 2.0), which is included along with a theatrical trailer as the disc's bonus goodies.
Lastly in our long epic journey all across the boundaries of time, we find ourselves in the only place we can travel to from there: space. It is, after all, the final frontier, so I really have no recourse but to end this piece on such a note (bad pun included at no additional charge). The film in question is something quite unusual for Twilight Time: a 3D CGI feature-length anime selection from Toei Animation entitled Space Pirate Captain Harlock. It is also known by the less-Engrish sounding Harlock: Space Pirate, which is the title Twilight Time's Blu-ray case sports, though the actual onscreen title says the former. The film was praised by James Cameron for its CGI, if that tells you anything right off the bat. If it doesn't, permit me to take a giant leap for mankind and officially declare this perplexing, nonsensical tax write-off as "all of a mediocre video game's cutaway sequences edited into one film."
As if its creators were trying to mimic the previously mentioned James Cameron to the very best of their ability, the 2013 feature film seems to be all about style with little to no substance. If you're into anime, you may want to watch the original TV series (or better still, pick up the manga that inspired the lot), although you can't say this two-disc set doesn't sport any bonus materials. In fact, it boasts so many extras (there's a Japanese and international cut of the film, both available in 2D and 3D, and a venerable heap of making-of and behind-the-scenes selections!), it practically appears to be overcompensating. Twilight Time manages to squeeze in an isolated score (for the Japanese cut of the film only) too, which highlights Tetsuya Takahashi's handiwork. This Harlock movie is also limited to 3,500 pressings, as opposed to the rest of the features in this lot, which are 3,000.
As with all of Twilight Time's releases, these six dramatic epics from various depths of time and space include excellent liner notes by Julie Kirgo, and are available while supplies last.