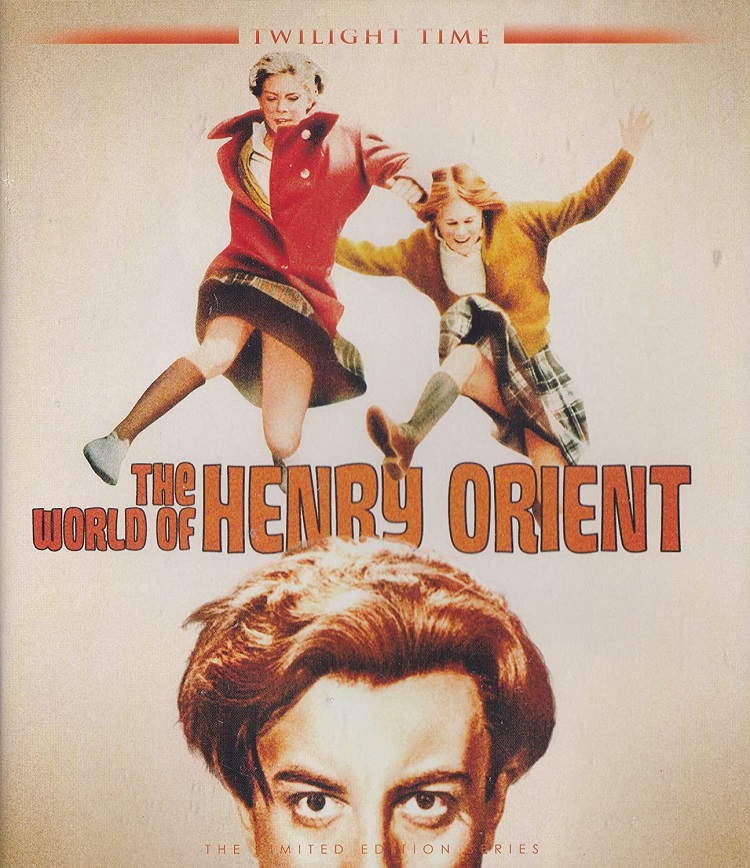 As if they were taking a cue from the late '80s new wave musician Robert Hazard himself, Twilight Time has lassoed up another wave of feature films from yesteryear that presents civilized human beings at various stages upon what he called the "Escalator of Life." From that awkward moment in our barely-pubescent years when we first begin to obsess over people we perceive ourselves to be in love with, to that moment in adulthood when we realize things just aren't the same as they used to be. You know, like a "Change Reaction." (Yes, that was a Robert Hazard song, too; I fully realize most of you have no clue who the man was, but just roll with these weird little fey punches of mine, boys and girls, or else it's going to be as bumpy of a ride as life itself.)
I suppose there's no better place to start on this journey than with a tale of adolescence. From director George Roy Hill – the same man who would later bring us The World According to Garp – we begin the beguine with a tale of two teenage lasses who are only too happy to discover The World of Henry Orient. Here, youthful Tippy Walker and Merrie Spaeth play two outcasts from a private school for young ladies in the posh world of New York City circa 1964. As their girlfriends care about the watches they wear and are talking about them (yes, I snuck a little Hall and Oates in), Val (Walker) and Gil (Spaeth) also see things from a slightly different perspective. They dart through the streets and the park like many adventurous little kids do, dreaming up goofy (childish) scenarios to play with – often dragging panicky adults who have lost their sense of imagination into their harmless games (which occasionally result in ambulances or police being called).
All that begins to change – as do the feelings the girls possess – once they meet a fellow named Henry Orient (Peter Sellers, at his subdued maddest): a pretentious avant-garde concert pianist from Brooklyn who sports a phony European accent (which comes and goes) to go along with his firm belief in his so-called abilities. After running into the pretentious hack several times accidentally – each time thwarting his attempts at bedding a married woman of high society (Paula Prentiss) – our two heroines begin to obsess over, make a bible of, and stalk the artiste of indeterminate talent, strapping rice paddy hats atop their heads as they worship their newfound idol, "Oriental Henry." Angela Lansbury is Miss Walker's high society mum (who is just the perfect match for the oversexed, under-talented Mr. Orient), Tom Bosley is Ms. Lansbury's miserable husband, and Al "Grandpa Munster" Lewis has a memorable bit part as a store owner who gets tangled up in the young ladies' games.
A highlight of the feature – wherein Henry Orient "performs" at a concert – has Mr. Sellers playing on a Steinway, the very kind of priceless piano that he would later destroy in an attempt to swat a bee in The Pink Panther Strikes Again. Toss in a number of upskirt shots by director Hill and you've got yourselves a keeper from the father and daughter screenwriting team of Nunnally and Nora Johnson (based on the novel by the latter). Elmer Bernstein provided his first comedic film score here, and the Twilight Time 1080p HD presentation (on loan from MGM) is quite impressive. A lossless DTS-HD MA Mono track comes through clear as day, and Mr. Bernstein's score is offered up as an isolated DTS-HD MA 2.0 track. Optional English (SDH) subtitles are included. The film's original theatrical trailer is also included, as is an audio commentary by film historian Jeff Bond along with Twilight Time's own resident cinematic scholars Nick Redman and Julie Kirgo (the latter of whom also provides the liner notes for this release).
Continuing with the notion that "Girls Just Want to Have Fun" (another song composed by Robert Hazard), we turn the chronological clock back just a scoach to the year 1959. It was a time when America was in charge. Businesses were booming. People drank martinis by the gallons and enjoyed three-pound steaks for breakfast. It truly was The Best of Everything for everyone. Why, even women were allowed to work! And not just as secretaries who fulfilled their corporate masters' carnal needs after hours, either: these sisters were doing it for themselves (in addition to sleeping with their bosses every now and then, because it was still the '50s, after all) long before the likes of Valley of the Dolls, Sex and the City, or even The Devil Wears Prada. Actually, truth be told, Rona Jaffe's first novel, The Best of Everything, really did serve as a prototype for those subsequent tales – giving us a peek into the seldom-seen lives of liberated ladies in a time before bras were being burned while sexual harassment lawsuits were getting filed.
Here, Hope Lange plays a young woman who comes to The Big Apple to start work at a publishing firm. (This being back in the day when pocketbooks were on the rise in popularity and sales.) And Miss Lange has high hopes (heh) of making a splash in the world of paper publications as well as in the land of love, where she is engaged to young Brett Halsey (the same year he starred in Return of the Fly). Alas, when Halsey writes himself out of the love story (on account of having the head, arm, and leg of a fly, presumably), Hope dives head first into her job and starts working her way up. The blonde also rooms with two other typists: brunette Diane Baker, who has problems finding a man that will respect her; and redheaded Suzy Parker, who is – naturally – crazy, and begins to stalk and rummage through the trash of theater director Louis Jourdan after he kicks her out of his life. The film includes taboo topics of the '50s such as premarital sex and abortion, along with women just having sex for the sheer sake of it. (A pity I can't find any of those dames today!)
Stephen Boyd is the bitter, boozing editor with whom Hope finds a soul to confess to – bringing the poor miserable bastard out of his own shell in the process; Robert Evans is the sleazy rich kid who takes full advantage of Miss Baker's naivety; and Brian Aherne is the old fart of an editor who pinches everything that moves. Martha Hyer has a prominently-billed part as another member of the team, though her part is less explored than some of the other supporting characters. But the award for supporting player definitely goes to Joan Crawford here. All but broke at the time and recently appointed board member of Pepsi-Cola (which she tried her best to endorse while promoting the film, only to be shot down every time), Miss Crawford took her first minor character part, which definitely helped to create a certain boss in The Devil Wears Prada decades later. As the evil editor who puts her secretaries through hell, Crawford positively steals the show in every scene she's in here (with a lot of her role being snipped out of the final cut).
Twilight Time brings Jean Negulesco's pre-lib classic to Blu-ray in a gorgeous 1080p HD transfer from the 20th Century Fox vaults. The CinemaScope title originally sported a Dolby Digital 5.1 remix on the 2005 Fox DVD, and that soundtrack has been given a new DTS-HD MA 5.1 redux for this Blu-ray presentation, with English (SDH) subtitles in accompaniment. The dynamic work of composer Alfred Newman (to say nothing of the bittersweet hit theme song by Mr. Johnny Mathis himself) can be appreciated in full on the disc's DTS-HD MA 2.0 isolated score track. Film historian Sylvia Stoddard and author Rona Jaffe are on-hand for an audio commentary, recorded back in 2005 (or whereabouts) before the latter's death in December of that year. While it certainly isn't the kind of track Donald Trump would appreciate, it's nevertheless fascinating to hear Ms. Jaffe's real life tales and how this adaptation of the movie veered away from her novel. A Fox Movietone clip and the original theatrical trailer (which includes clips of Ms. Crawford's deleted footage) are also included. Julie Kirgo's liner notes conclude the best this Everything has to offer.
At some point in life, we begin to confront the stark realization that we may have peaked somewhere along the line. For some, its in high school (and the bitter, vindictive bastard within me always laughs at those very sorts of people, as they were always the ones to pick on me). Other times, it's within our career – whether it be our chosen profession, or something we've just been stuck in a rut doing for the last couple of years because our older doughy brother has essentially been keeping us on a leash. For the younger sibling in Seattle's piano duet known as The Fabulous Baker Boys, this is exactly the case. Having repeatedly tickled the same ivory-inspired numbers out in one gin joint after another over the years with his older brother Frank (Beau Bridges), Jack Baker (Jeff Bridges) has grown increasingly despondent with his one true passion in life: music. He has also become decidedly bored with his other major passion in life, passion itself, having mastered the art of becoming entirely desensitized to the act of engaging in one night stands (trust me, boys, it is indeed possible).
But the times, they are-a-changin'. The 1990s are upon our protagonists, and the demand for lounge acts of their caliber has all but died, soon to be replaced entirely by Foreigner and Journey cover bands on New Year's Eve and DJs who will be playing the same Nelly song to drunken coeds every weekend for years to come. And so, facing the reality slightly, the Baker Boys take on a singer – to wit a gorgeous ex-escort with a sultry voice and plenty of sex appeal as well (aptly played by Michelle Pfeiffer, providing her own dynamic singing voice) enters the scene. While elder Baker brother Frank is pleased as punch – when he's not trying to control everyone, that is – with their new moneymaker shaker, Jack is, naturally, attracted to the damaged goods, which threatens to ruin everything. The great Dave Grusin provides Jeff Bridges' piano playing and the music (earning an Oscar nomination in the process), and Jennifer Tilly has a small part as a talentless waitress in this wonderful character drama from writer/director Steve Kloves.
The aforementioned Mr. Kloves is on-hand here to provide some insight into the making of The Fabulous Baker Boys in an included audio commentary, who is joined and moderated by Twilight Time's Nick Redman and Julie Kirgo. A secondary audio commentary is available from Director of Photography Michael Ballhaus, while Dave Grusin's wonderful isolated score (along with sound effects) is also featured as a bonus DTS-HD MA 2.0 option. The feature film itself sports a Fabulous DTS-HD MA 2.0 track, which accompanies a modest 1080p HD transfer (which is the best MGM had to offer, apparently, kids) in the original theatrical aspect ratio of 1.85:1. Over twenty minutes of deleted scenes, including that of Beau Bridges' fictional family and the drama they inadvertently create for poor Jack, are also offered up here, and will be a true treat to fans. Lastly, there's the original theatrical trailer for the film, and Ms. Julie Kirgo once again provides a set of well-written liner notes for this release.
Well then, now that we've covered growing up, reaching for the stars, and peaking, I suppose it's time to be the Debbie Downer that I truly am by nature and remind you that life really does stink sometimes. Quite a bit, in fact – and the numerous upheavals the universe hurls at us to disrupt our idea of how life should be often leave us to do little more than suck it up and start picking up the pieces. Take Tom Birkin, survivor of the Great War, for example. After being shell-shocked and battle scarred decades before anyone would ever coin the term "Post Traumatic Stress Disorder" to at least give him a credible psychological defense, Mr. Birkin (Colin Firth, in his first starring role) gets to spend A Month in the Country. Sent in via a bequest to uncover and restore a centuries-old mural hidden away in a small Yorkshire church, Birkin – after a less-than-warm reception – soon finds his stuttering vocals and knackered nerves settling down a bit as he attempts to unravel the mystery behind a nearly obscene religious painting few others seem to give a damn about.
Few others, that is, with the exception of a few local (bored) youths and the local vicar (Patrick Malahide) who doesn't want the mural rediscovered. But no one else is as excited as a fellow World War I survivor (and Birkin's future bestie) the equally haunted archeologist James Moon (Kenneth Branagh, in his first big motion picture part, too), who is in the area at the same bequest to find a lost grave within the confines of the churchyard. Natasha Richardson (in her second film role), Jim Carter, Richard "Slartibartfast" Vernon (who was also in The Pink Panther Strikes Again), and David Garth also appear (the latter two actors making their last major big-screen appearances). This well-made drama about healing – based on a novel by J.L. Carr and directed by Pat O'Connor – became a lost item itself shortly after its limited theatrical release, with all prints appearing to have mysteriously vanished within a short fifteen year span. Thanks to the bequest of fans, an uncut print was discovered in 2008, and was itself restored for clueless generations of the future to ponder just what the heck the point of this movie is supposed to be.
Twilight Time's presentation of A Month in the Country was taken from said restored print, which, until the original negative is unburied in a shallow Yorkshire churchyard grave some five centuries from now, is the best we can hope for. That said, the picture quality looks just fine, and the mono DTS-HD MA audio delivers admirably. As is usually the case with Twilight Time's releases of titles from the Protagonist Pictures banner, no subtitles are included (which can be a bit of a burden with some of the very remote village accents). Special features include an isolated score/effects track – highlighting the musical work of Howard Blake – in DTS-HD MA 2.0, as well as an audio commentary with Nick Redman and Julie Kirgo (who explain the film's strange disappearance among other things, such as the production and its literary roots). A theatrical trailer is also available to enjoy, and Ms. Kirgo – a very devoted fan of the feature – also pens the disc's loving liner notes.
Much like some damage to the human psyche may require A Month in the Country to recover, there are Places in the Heart which cry out for equally difficult restoration work following a major blow to the ol' ticker. Here, in this multiple award-winning masterpiece from 1984, a recently Oscar-winning Sally Field turns in another l'il gold statue-grabbing performance as a Depression-era wife and mother in Texas who has every worry in the world upon her shoulders. Her sheriff husband has met an unfortunate demise (before he could even eat, to make matters all the more frustrating), leaving her to tend to not only two children, but a fair-sized – and seemingly useless – plot of land. With the help of an outspoken drifter (Danny Glover) who purports to know all about cotton farming, Sally's field is soon at the mercy of Mother Nature during the Dust Bowl, while her entire farm is being financially stalked by the local bank manager (Lane Smith), who sticks her with his blind WWI vet brother-in-law (the wonderful John Malkovich) as a tenant.
Lindsay Crouse is Mrs. Field's whitebred sister, whose hubby – Ed Harris – is off cavorting with Amy Madigan, bride of Terry O'Quinn (anyone who hails from a small town knows how this sort of shit works). Ray Baker is Field's doomed law enforcement of a spouse. '30s western musician Cliff Bruner makes an appearance in the film as a member of a country swing group, which not only includes the great Bert Remsen, but a face that my entire youth spent watching low-budget horror and sci-fi movies recognized instantly: Bill Thurman. (Mr. Thurman was a staple in regional B movie oddities produced in the South during the '60s, most notably the cheapo AIP-TV offerings of Larry Buchanan, from (Attack of the) The Eye Creatures to the immortal Zontar, the Thing from Venus. He was also the catalyst for zoo animals running amok in Hanna-Barbera's live-action TV disaster movie, The Beasts Are on the Streets.) Writer/director Robert Benton (Kramer vs. Kramer, Bad Company) based his award-winning feature off of real life events from his youth in Waxahachie, Texas.
While the aforementioned filmmaker was apparently unavailable to express his thoughts for Twilight Time's unveiling of Places of the Heart on Blu-ray, it was nevertheless a true delight to see Ms. Sally Field herself contributing to the audio commentary for this 1080p HD presentation. Twilight Time's Nick Redman moderates the interview, which is a true highlight for fans of the feature. As for the feature itself, it looks simply magnificent here – boasting a spectacular High-Def transfer. Audio-wise, we have a stalwart DTS-HD MA 1.0 soundtrack that delivers dialogue, sound effects, and John Kander's music score admirably. Mr. Kander's music is also available as an isolated DTS-HD MA 2.0 track. The movie's original theatrical trailer and liner notes by Julie Kirgo wrap up this recommended release, which, like all of the Twilight Time releases covered in this article, is limited to 3,000 units per title.