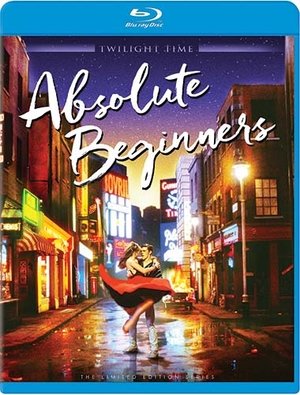 For all things in life, there is a beginning and an end. And somewhere in the middle of all that mess, there is usually a great big production number. Sometimes, we start out with a big bang. In other instances, we go out with a grand finale worthy of the ending from All That Jazz at the most, or – at the very least – Ed Wood's Plan 9 from Outer Space. Providing you're working on a really restrictive budget, that is. And while this lineup of Twilight Time releases sadly has no correlation to the magnificent offerings of Edward D. Wood, Jr., these titles absolutely do have other relatable parallels: restrictions, beginnings, and ends.
So let's start off with those absolute beginnings first, shall we? As anyone with even a modicum of musical appreciation or taste in their bloodstream can easily attest to, any single item in the entire universe is that much brighter and better by the mere mention of David Bowie. So a 1986 musical adaptation of a Colin MacInnes novel about life in post-World War II Britain that just happens to not only feature three songs by Mr. Bowie himself but a co-starring role, too can only be required viewing. And, even with my inherent quasi-aversion to comfortably sit through anything that looks terribly staged or involves people dancing whilst remaining fully clothed, I still found myself rarely waiting for my Tinder app to find new matches throughout Absolute Beginners.
Here, a charismatic Eddie O'Connell brings us a colorful, engaging tale as Colin – a young photographer for hire living in the less-fashionable (but far more happenin') part of London during a time when jazz ruled and the Fab Four were still waiting in the queue to get their bowlcuts. Colin is – rightfully – madly in love with a young woman from the same (poor) part of town named Crêpe Suzette (top-billed Patsy Kensit, giving it her all) who has higher aspirations in life than Colin. As racial tensions heat up across the map (connecting the real life Notting Hill race riots of 1958), Colin attempts to break away from his peacefully wild life in the slums by rubbing up to some of the higher profile folks in the more "civilized" part of the city, including Mr. Bowie – who, sadly, does not sing his eponymous hit single on-screen. (Sad panda.)
James Fox, Bruce Payne, Sade, Gil Evans, Ray Davies, Mandy Rice-Davies, The Style Council, Lionel Blair, Steven Berkoff, and Alan Freeman also star and/or perform in this very enjoyable relic from the '80s time capsule. Sadly, the critics and audiences of 1986 felt otherwise about Absolute Beginners, and the film was a box office failure. This could be attributable to the film's very anachronistic mish-mash of '80s stylings/music and Broadway-style flare. Or the fact that it was a musical featuring David Bowie was released in 1986 (you wouldn't know it by its popularity and integration into society today, but Labyrinth also performed poorly at the box office upon its initial release). That, or they were just mad because they didn't have Tinder yet.
Whatever the case may be, it's nice to see this film get a beautiful HD release on Blu-ray courtesy the folks at MGM/UA. In addition to looking positively gorgeous, Twilight Time's modest offering of this minor cult classic also sports several audio options and removable (SDH) subtitles to select from. The feature film is served up with both 5.1 and 2.0 DTS-HD MA mixdowns, and a third selection – that of the movie's isolated score presented in 2.0 DTS-HD MA – is included as the only special feature on the disc itself, while Twilight Time's resident mistress of the written word, Ms. Julie Kirgo, pens the absolutely lovely liner notes for this limited edition release.
Moving on to yet another tale of a beginning, we find ourselves reeling in François Truffaut's 1969 engaging romantic neo-noir, Mississippi Mermaid. Here, the unbeatable combination of Jean-Paul Belmondo and Catherine Deneuve ignite the screen in exactly the same way Antonio Banderas and Angelina Jolie utterly failed to do when the film was unneededly remade in 2001 as the universally panned (and wholly unoriginal) Original Sin – a movie that surely could have benefited with the inclusion of at least one David Bowie song. The story here, for anyone who may have had the bad luck of Original Sin but who has been fortunate enough to forget it after a few years, finds Monsieur Belmondo corresponding with a young woman whom he has never met via mail.
When he does meet his mystery femme, however, Louis Mahé (Belmondo) discovers that she is, in fact, nothing like she originally advertised and presented herself to be. (Well, what do you know, I guess they did have Tinder back then!) That said, however, a mail-order bride like Julie Roussel (Ms. Deneuve) is hardly something most men attracted to the opposite sex would open an "Item Not as Described" claim on. At least, not at first. Alas, the old adage about there being no such thing as a free lunch holds tragically to be all too true with a hot dish like this, as well: there's way more to Julie than meets the eye. And with an eyeful like her, that can be a very dangerous thing indeed. But at least it's not as grim of a tale as Mermaid in a Manhole (and I should probably apologize here and now for even referencing that one, as I know someone is going to look it up out of idle curiosity now!).
Twilight Time brings us this acclaimed classic of French filmmaking to Blu-ray, once again thanks to the folks at MGM/UA. While the video quality of this release – which features a French 1.0 DTS-HD MA soundtrack and optional English subtitles – isn't quite as beautimous as some people might hope for and the film itself may be pretty dated for contemporary audiences (really, how many Millennials who rank Drag Me to Hell as a genuine classic do you think are going to be seeking this one out?), we still have to appreciate Mississippi Mermaid for all of its beauty. And Twilight Time's Nick Redman and Julie Kirgo are on-hand to do just that in the included audio commentary. The disc also boasts an isolated score in 2.0 DTS-HD MA, the movie's original (US) theatrical trailer, and liner notes by the aforementioned Ms. Kirgo.
Well, we've covered a couple of beginnings thus far, so how about we take a look at a few endings? And I think the perhaps the best place to start is the ending that paved the way for Absolute Beginners, since my thought process travels in a straight line like that and all. Yes, we are now on the subject of World War II, kids: that one war that they gave where everybody came, and which filmmakers are still finding minuscule excuses to make movies about to this day. This was even truer back in the 1950s, when everybody thought making films about the then-active Korean War would be in poor taste, so they presented numerous WWII tales as poignantly perceived parables (or just plain greedy ways to make some quick cash). Coincidentally, around that very same time, a craze of widescreen Hollywood epics began.
In the case of 1958's The Young Lions, we have a bit of both: it's a widescreen Hollywood WWII epic. Based on Irwin Shaw's novel from a decade before (which couldn't be officially transferred to the silver screen until another war broke out – it's a fact), the CinemaScope production from Twentieth Century-Fox wrangles in the talents of three hot commodities of the era: Marlon Brando, who was at the very beginning of his career; the already established Dean Martin – who was beginning anew after dissolving his partnership with funnyman Jerry Lewis; and the Tinseltown trainwreck of a tragedy, Montgomery Clift, who was at the very beginning of the very end of his all-too-brief career, following a completely life-altering car accident which began his slow suicidal descent into the world of painkillers and alcohol.
Here, Marlon Brando stars as – wait for it – a Nazi. Beginning with a brief pre-war romance between German ski instructor Christian Diestl (Brando) and American socialite Margaret Freemantle (Barbara Rush), we see a young German man join the army with the high hopes that that Hitler fellow can make the country – and the whole wide world around it – a much better place. Naturally, this results in their friendship ending faster than most Tinder relationships. Alas, once time – and Hitler – marches on, Christian begins to realize he may have crashed the wrong party, as he witnesses many a devastating change in his colleagues, including a captain (Maximilian Schell) who becomes obsessed with the German war machine; his captain's wife (May Britt), who has her minds on other strong things (with weak wills); and a sergeant friend (Parley Baer), who finds the whole thing even more distressing than Christian does.
Interjected within Christian's tale is that of a friendship born between two unlikely pals. Michael Whiteacre (Dean Martin) is a show business icon who can always be seen with a cigarette, a drink, and a babe. His current squeeze just happens to be Margaret Freemantle, and after a series of tests to prove his affection for her, the cowardly stage performer winds up enlisting. Noah Ackerman (Montgomery Clift), on the other hand, is the exact opposite of Michael: a younger man ready to start a family and with much to prove to the very type of people who are always bullying him because of his Jewish heritage. Michael invites the intriguing young fellow to one of his swingin' parties where Noah meets Hope Plowman (Hope Lange), whom he falls instantly, madly in love with. He's an absolute beginner, after all, and he absolutely loves her. (Thank you, David Bowie.)
Director Edward Dmytryk keeps his nearly three-hour-long tale moving swiftly with the watchful eye of cinematographer Joe Macdonald. A number of familiar faces pop up throughout, including Lee Van Cleef, L.Q. Jones, John Banner, and Arthur Franz. Hugo Friedhofer provides the film's score, which is available on this Twilight Time Blu-ray release as an isolated 2.0 DTS-HD MA track. The beautifully crisp black and white photography shines through this HD release on loan from 20th Century Fox, accompanied by a 5.1 DTS-HD MA soundtrack and (SDH) subtitles, which come in particularly handy when Brando's distinctive voice attempts a German accent. Twilight Time's disc includes a trailer and an audio commentary by Lem Dobbs, Nick Redman, and Julie Kirgo – the latter of whom also pens the liner notes for this release.
While The Young Lions theoretically shows us that "other side of World War II" films like Das Boot would later take credit for, our next feature – an odd little 1967 murder mystery entitled The Night of the Generals – shows us another side of the war altogether. Co-written by the great Paul Dehn, the vastly underrated mind who managed to resurrect Shakespeare, espionage, and mysteries during the '60s – and whose single-handed construction of the Planet of the Apes canon (beginning with the first sequel, Beneath the Planet of the Apes) is still being ignored today (seriously, Fox?) – The Night of the Generals is a murder mystery that begins within WWII Germany, as conducted by a German Abwehr(military intelligence) officer.
And it takes a man's man to play a WWII-era German soldier who is out to track down a deranged psychopath within his own race – particularly when we're talking about Nazis here. Thus, our detective is played by none other than the late great Omar Sharif – in a brilliant bit of casting that would only be upstaged by his tapped to play Che just two years later. Thanks to a (literal) eye-witness, Major Grau (Sharif) knows the man who brutally butchered a prostitute is in fact a general in Der Führer's army, and narrows his list of suspects down to three erratic, radical officers: General Tanz, brought to life by a truly manic, top-billed Peter O'Toole; General von Seydlitz-Gabler, as played by the great Charles Gray; and the quaint General Kahlenberg, portrayed by the one and only Donald Pleasence.
Yes, that's right, James Bond lovers: The Night of the Generals gives you two Blofelds for the price of one, along with the co-writer of Goldfinger (the aforementioned Mr. Dehn). Spanning across the decades in a non-linear fashion, Brit Dehn and his co-scriptwriter, Frenchman Joseph Kessel, weaves the real life Wehrmacht officers' plot to assassinate Hitler (with Gérard Buhr making a brief appearance as a war torn Col. von Stauffenberg) as Sharif and his attempts to pin the tail on the Nazi rat. Phillippe Noiret co-stars as an Interpol inspector who accumulates a life debt to pay off after the bitter ending of another character, Tom Courtenay is the cowardly soldier who discovers the shocking truth, Joanna Pettet is Charles Gray's hot daughter, and the great Christopher Plummer has a wonderful cameo as Field Marshal Rommel. Anatole Litvak pointed, Henri Decaë shot, and Maurice Jarre kept score.
Twilight Time has a real winner to offer here in terms of audio/video quality. The Night of the Generals looks as slick and as polished as Paul Dehn's Goldfinger, and the feature presentation includes a 1.0 DTS-HD MA soundtrack along with (SDH) subtitles. You know, just in case Donald Pleasence's mumbling gets the better of your failing ears. (Stop cranking up the Bowie so much and you might hear better!) Maurice Jarre's score is included as one of the disc's few extras (in 2.0 DTS-HD MA form), with the original (overhyped) US theatrical trailer (wherein distributor Columbia Pictures tried to promote the cinematic reunion of its acclaimed Lawrence of Arabia leads – five years after the fact – more than anything else) and Julie Kirgo's liner notes in accompaniment.
"And now," in the words of Paul Anka, "the end is near, and so I face the final curtain." Interesting factoid here, kiddies: David Bowie wanted to purchase the rights from the French melody Mr. Anka used to create "My Way," but the latter party beat him to it. In the end, Bowie wound up writing "Life on Mars?" instead. And if any of the movies I here had absolutely anything to do with Mars whatsoever, well then that would have just been that much cooler. But I suck, sorry. So, instead, permit me a state of grace. Or, rather, permit me to introduce you to State of Grace: the acclaimed 1990 Irish mafia crime drama starring the lethal acting combination of Sean Penn, Gary Oldman, Ed Harris, Robin Wright, John Turturro, John C. Reilly, Burgess Meredith, and Joe Viterelli.
Wait. What do you mean you've never heard of State of Grace? Well, you're not alone: I hadn't heard of the movie prior to this, either, but it could be because the film was unable to escape the shadow caused by the financial blockbuster Goodfellas the year it was released, while Sean Penn was still trying to break free from the shadow of having been married to Madonna in the eyes of most people at the time. Here, Mr. Penn plays a former member of an Irish mob in NYC's Hell's Kitchen, who returns to not only find his future real life bride (Robin Wright), but also the great overacting of one Gary Oldman – who is so crazy here, you'd think he was in a Tarantino film. Of course, State of Grace uses the F-word so many times, you might actually think it isa Tarantino film, other than the fact it isn't made up from bits and pieces of miscellaneous exploitation movies.
No, this one was actually penned (from an original idea) by playwright Dennis McIntyre and directed by U.S. music video director Phil Joanou. So anyway, Penn's Terry Noonan returns to NYC after a lengthy absence, and begins to fall back into his old habits: wreaking havoc with Jackie Flannery (Oldman), whose older – and wiser – brother, Frankie (Ed Harris), has moved up in the ranks to being boss man; whilst rekindling a long-extinguished flame with the Flannery boys' sister, Kathleen (Robin Wright). (Again, because Tinder didn't exist yet.) But things aren't entirely as they seem on the streets and in the darkened corners here, and it isn't long before the Irish kids are making waves within the waters of the city's established Italian mobsters. Partially based on Hell's Kitchen's own Irish gang The Westies, State of Grace greatly benefits from a score by Ennio Morricone, which sounds a lot like it could have come from The Untouchables.
Twilight Time presents this forgotten flick in High-Definition (via yet another loan from MGM/UA) in a nice looking transfer which features a 5.1 DTS-HD MA soundtrack and (SDH) subtitles. Naturally, Mr. Morricone's score gets an isolated track, which is done in 2.0 DTS-HD MA, and director Phil Joanou is joined by Twilight Time's own Nick Redman for a feature length audio commentary. The movie's theatrical trailer is also included, as are yet another set of stellar liner notes from Julie Kirgo. Each of the five Twilight Time releases covered in this article are limited to 3,000 units per title.