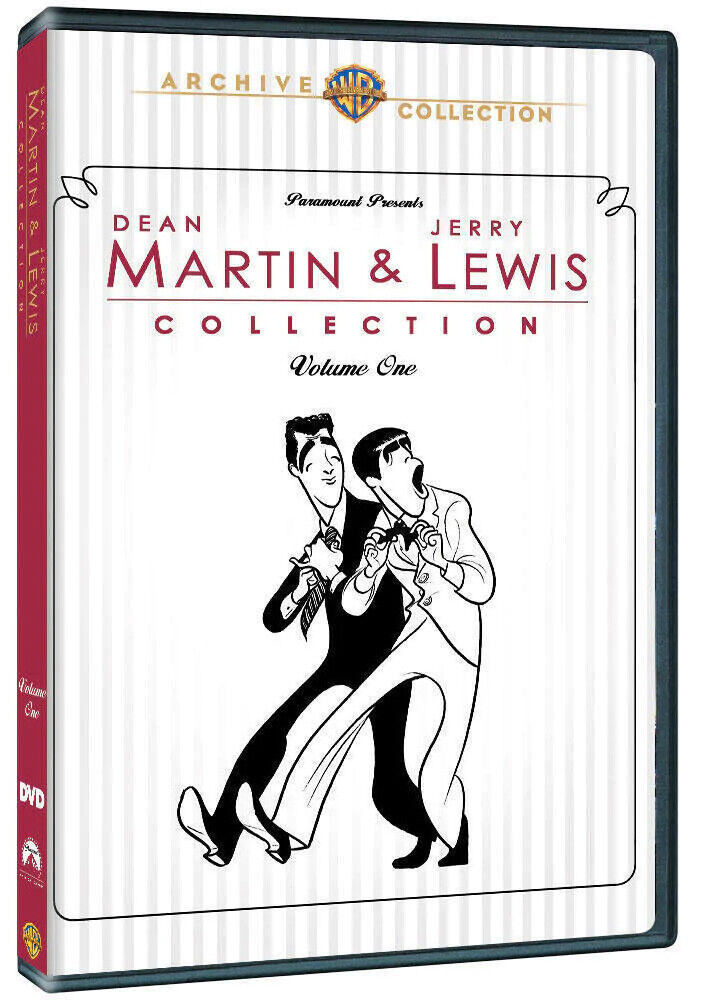 While they were once as easy to find as a pregnant woman in a maternity ward, the world of comedy duos has almost faded into obscurity since the latter part of the '50s. One one side of the ring, there were the reigning kings of comedy themselves, Bud Abbott and Lou Costello, who had served both their public and country alike during World War II by making a slew of patriotic wartime comedies while raising a whopping (estimated) $85 million in war bonds. Alas, a very poor choice in accountants found the Internal Revenue Service pursuing the long-standing, legendary two-man pairing, and the curtain came crashing down before the decade was over with.
Similarly, the last half of the 1950s also bade adieu to another comedy duo: that of crooning straight man Dean Martin and manic funnyman Jerry Lewis (who, much like Lou Costello, hailed from New Jersey – which serves as the butt of many a joke to begin with). Making their way into the spotlight from the swingin' club scene of the East Coast circa 1945, Martin and Lewis soon found themselves becoming radio personalities (as did Bud and Lou), eventually guest hosting The Colgate Comedy Hour in addition to Abbott and Costello themselves. In 1949, they debuted in their first feature film together: a big screen adaptation of the hit radio comedy My Friend Irma – albeit as supporting players who only go to steal the show (again, much like Abbott and Costello did in their debut, One Night in the Tropics).
In fact, were it not for Dean Martin and Jerry Lewis, My Friend Irma – the first film in the four-disc/eight-film Dean Martin & Jerry Lewis Collection, Vol. 1 – probably would have faded into obscurity a long time ago along with the very idea of comedy duos. The story finds a truly ditzy – but lovable – lass named Irma (the wonderful Marie Wilson), who is a venerable tornado of destruction for anything and everyone once she enters the room. At the eye of the storm is Irma's roomie and pal Jane (Diana Lynn) and Irma's shifty boyfriend Al (top-billed John Lund), whose shady get-rich-quick schemes are so numerous, one wonders if he worked as Bud Abbott and Lou Costello's accountant.
Dean and Jerry play Steve and Seymour (respectively), two orange juice stand operators who catch the eye of Al when he hears Steve sing, and promptly signs him on as his client to book at various restaurants and amusement parks (classy). The fivesome returned the following year in My Friend Irma Goes West, which basically brought audiences more of the same type of filmfare. It was the only time Martin and Lewis made a sequel, and chances are the film would not have been made were it not for them, since the two play a larger part of the story this time. My Friend Irma Goes West also marked one of two times French-born beauty Corinne Calvet joined the boys. Plus, it features bit parts by three of my favorite B movie actors: Kenneth Tobey, Frank Gerstle, and Harold Huber – so it's not that bad.
In fact, it's not that bad at all. And neither were many of the other early films starring Martin and Lewis, such as the college football yarn That's My Boy from 1951, and armed forces comedies Sailor Beware and Jumping Jacks from '52. (Another military comedy, At War with the Army, was made under Martin and Lewis' own production company, and has since fallen into public domain; thus, it is not included here.) The problem with these movies is that, much like certain motion picture works of Bud and Lou, the stories were recycled from plays or older films, re-written to tailor fit their stars from previously re-written tailor-made scripts (i.e. their popular Jerry heckling Dean while he tries to sing motif comes into play when Dean is suddenly asked to sing in a random location).
But it isn't until Dean and Jerry start up a boxing skit in Sailor Beware (which not only features Ms. Calvet again, but a then-unknown James Dean as a boxing attendant) that you can really see their genuine chemistry emerging. But for my money, things don't truly get rolling until the sixth movie in Vol. 1, the 1953 comedy/drama The Stooge – the tale of vaudeville performer Bill Miller (Martin) who reluctantly takes on an accident-prone kid named Ted (Lewis) as a partner at his agent's request. As it turns out, his newfound stooge winds up making the act, thus shooting Bill off to stardom – who refuses to give his saving grace any credit. Polly Bergen and Marion Marshall play the boys' respective love interests, and Aunt Bea herself, Frances Bavier, plays Jerry's mum (and mimics his laugh perfectly).
Interestingly, The Stooge – by and far the best Martin & Lewis film made, something even Jerry Lewis will attest to – was filmed before the last two movies, but withheld from release because the suits at Paramount weren't sure how the public would react to the way Martin's character treated Lewis' in the film. Ironically, the events of The Stooge would come true as Jerry Lewis became the "star" of the act, and Dean Martin – who had yet to hone his iconic singing style we all know and love today, 19 years after his death in 1995 – would find himself cast in bland romantic roles that required a song every other scene, while Lewis would get more screen time and all of the laughs.
Just like Abbott and Costello met a few ghosts in their day, Martin and Lewis wound up being Scared Stiff in 1953 in a comedy with some spooky goings on (though horror fans, note that: despite being filmed nine years after The Uninvited, this side of Hollywood still wasn't taking the supernatural seriously). Itself a reworking of a Bob Hope vehicle (The Ghost Breakers) that had already been filmed at least two times before, Scared Stiff is an enjoyable work overall. It also not only features the final film appearance of Carmen Miranda (whom Lewis gets to impersonate in one scene), as well as a quick, hilarious cameo by Bob Hope and his then comedy partner, Bing Crosby, which served as "payback" for Martin and Lewis popping up in Road to Bali the year before.
(While their brief gag in Road to Bali – which is not included in this set, for what should be completely obvious reasons – marked Martin and Lewis' debut in the wonderful world of Technicolor, it wasn't until 1953's Money from Home that they made their feature-length transition to color. And in 3-D even! Sadly, though, that film was not included in either Martin and Lewis Collection set, and only saw a limited released on DVD via Legend Films in 2008. It is not included in this re-release from the Warner Archive Collection because the rights are in different hands. So there.)
The year 1953 also brought audiences The Caddy – the last film in the Dean Martin & Jerry Lewis Collection, Vol. 1, and the second independently made comedy of the duo (distributed by Paramount Pictures). Another highlight in their career, The Caddy finds young golf genius Lewis afraid to perform in front of an audience, so he teams up with his fiancee's big brother (Martin) – another natural at the game – to make a splash at local competitions. Animosity eventually forms once more between the onscreen characters here that would later reflect the real life situation in years to follow. Donna Reed co-stars as Dean's love interest, and the film marks the first appearance of Martin's famous song "That's Amore" (the only song to go anywhere out of the numerous songs contained in the 16 movies the pair starred in together!).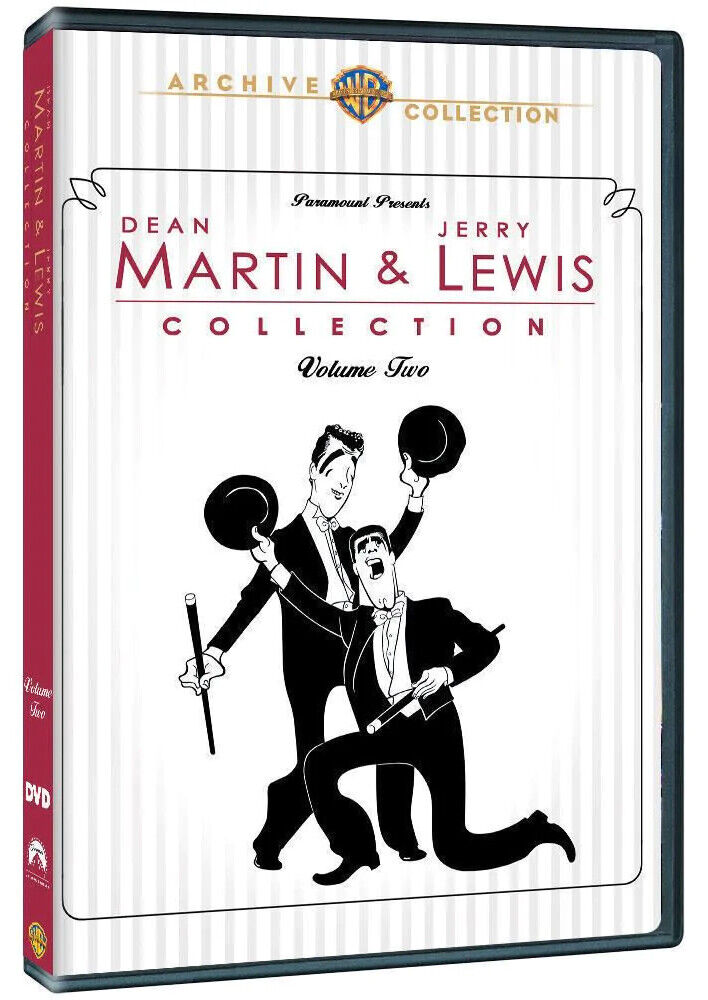 Diving into the three-disc/five-film Dean Martin & Jerry Lewis Collection, Vol. 2 set, we are privy to all color offerings of Martin and Lewis, even if the set is presented out-of-order and minus what has become something of a Holy Grail amongst fans, the elusive 3 Ring Circus, which has never shown up on home video in any form (also see The Day the Clown Cried; there's just something about Jerry Lewis in clown make-up, eh?). Instead, this set begins with Pardners, the penultimate film of these Paramount stars, originally released to theaters in 1956. A western of sorts, the tale opens with the coupling meeting their demise in a shoot-out. Years later, their sons unite, with Lewis' character naturally being the clumsy one.
(Pardners actually ends with Dean and Jer addressing the audience and each other, stating they're not ready for The End – just as the title cards read the same – shooting the letters off of the screen and saying they have enjoyed making movies together.)
The exact opposite occurred during Hollywood or Bust (1956), their very final film together, where it is said that neither performer spoke to the other in-between takes. The story here – which borders on being too ridiculous for its own good, and yes, I realize I'm saying that about a movie starring Jerry Lewis – has two men meeting up after conman Dean's scheme to win a car finds him sharing his ill-gotten prize with nice guy Jerry, and the two head out to California with Jerry's Great Dane, Mr. Bascomb, in tow. The lovely Pat Crowley is Dino's love interest here, while Anita Ekberg makes an appearance as herself (Lewis' character has a huge movie star crush on her, and essentially goes out west to stalk the actress), and Jewish boxing legend Maxie Rosenbloom also appears as Dean's bookie "pal".
Interestingly, Disc Two of Vol. 2 features only one film, which happens to be the first film of the set, chronologically speaking: 1954's Living It Up. Once again, instead of writing a script specifically for the talents of Dean Martin and Jerry Lewis, the powers that were decided to remake another old movie. In this case, they took the 1953 musical version of a comedy that had been inspired by a story and turned into the 1937 comedy Nothing Sacred (and it certainly wasn't!), which is exactly how a lot of the duo's other films came to be. Sad, isn't it? Anyway, here, Jerry stars as a hapless schmuck (what else?) in a tiny New Mexico trainstop of a town who has a radiation-poisoning scare when he winds up out on the government's atomic-testing grounds ("The Mouth of Yucca Flats"?).
He has just two wishes: one, that he won't die, and the second, that he may visit New York City before he does. Fortunately for him, both come true; first from the good word of his doctor and friend Dean, the second from when reporter Janet Leigh – who comes to take him on an all-expenses-paid vacation to the Big Apple courtesy her suffering editor (Fred Clark, playing a character named Oliver Stone!). Both intrigued by Leigh's beauty more than anything, both men decide to take advantage of the offer despite the fact that Jerry really isn't dying. Sig Ruman, a regular foil for the Marx Brothers, appears here as a medical expert (as do Richard Loo and Eduard Franz), and Fritz Feld and Bobby Barber (a regular Abbott and Costello cronie) pop up briefly.
The first title of Disc Three is 1955's You're Never Too Young, which, though being the second-to-last film of the Dean Martin & Jerry Lewis Collection, Vol. 2, is actually the fourth-from-last movie in the Martin & Lewis legacy in general (yes, things are getting confusing now, I know). Here, the writers decided to do a little classic role reversal in this remake of a movie based on a play based on a story. (Again. Really.) And whereas Billy Wilder's The Major and the Minor setup of a grown woman pretending to be a teenager in a girl's school was A-OK, seeing a grown-up Jerry Lewis masquerading as a young boy in girl's school in order to elude the murderous diamond thief Raymond Burr seems just a wee bit weird. Even by the sanitized, sex (and sex predator)-less standards of the 1950s.
Meanwhile, Dean Martin, a teacher at the school (and what young lass of the '50s wouldn't have wanted that?) romances leading lady Diana Lynn (who plays another instructor at the same institution). Jerry attempts to do the same, as well, but he'd have to let the cat out of the bag and confess to being an adult male pretending to be a young boy at an all-girl school… Yeah, awkward stuff there – especially when young Mitzi McCall sets her eyes on this "boy" of her dreams. Nina Foch, Nancy (Miss Hathaway) Kulp, Milton Frome, Hans Conried, and Bobby Barber (again) appear in minor – but sometimes prominently billed – parts. Ed Wood regular Tor Johnson was in one scene, but was removed from the final cut. His part did make the film's trailer, though. Sadly, both of Paramount's original sets neglected to include any trailers.
Finally, the entire 13-movie marathon concludes with 1955's Artists and Models, which throws in the beauty and talent of young Shirley MacLaine into the fray – who, naturally, steals many of her scenes from co-star Lewis. So much so, that you have to wonder who excised her final fight with the bad girl of the tale, but I'm getting ahead of myself there. Here, Dino and Jer are struggling artist/writer roomies who lose their jobs because of the potentially delusional Jerry's obsession with comic books. These dreaded books have damaged poor Jerry to the point where he barks out violent comic storylines in his sleep. As luck would have it, the artist and model of his absolute favorite comic character – "The Bat Lady" (paging DC's legal staff) – move in upstairs, represented by actresses Dorothy Malone and Ms. MacLaine.
Soon, thanks to some fairly rocky editing, Dean is romancing Malone whilst borrowing Jerry's shout out loud nightmares for his own comic series so they can keep bread on the table. Meanwhile, MacLaine pursues Jerry, who is unable to grasp that she is the same woman he saw posing in the Bat Lady outfit. The tale takes a complete 180 about thirty minutes towards the ending by introducing a group of foreign spies determined to steal a secret space station formula that Jerry conjured up in his dreams, but which also happens to be the real deal! (Quoi?) Eva Gabor and Jack Elam play two of the head villains, whom we never really get to know enough to care about. Anita Ekberg has a small part as a model, and there's a random Rear Window joke in there, too, for some reason.
After their highly-publicized and fairly nasty breakup in 1956, Dean Martin and Jerry Lewis went their separate ways. Martin would go on to join Frank Sinatra and become a film, television, and recording star of nearly legendary proportions, before passing away on Christmas Day, 1995. Lewis became the king of solo comedy on stage and screen alike during the '50s and '60s, serving as chairman for the Muscular Dystrophy Association from the 1950s to 2011. The pair finally made amends twenty years after their split, and a considerable number of Lewis' more "infamous" and/or "egotistical" moments in his career – such as onstage outbursts and the blacklisting of a certain look-a-like/would-be impersonator Sammy Petrillo – have paved the way for many parodies and unintentional laughs over the years. (Personally, I would have hired Petrillo to be my personal stuntman and kept him under contract for life, but that's just me.)
These Warner Archive re-releases (the first batch of which are traditionally replicated, instead of being burn on demand) present us with the same Paramount DVDs that have been out of print for years. The first volume presents all black-and-white features, while the second set is entirely in color. Alternate language options (and aspect ratios) vary from disc to disc, and there are, sadly, no special features included. But when you compare these re-issues to the outrageous prices of the original Paramount sets sellers are trying to squeeze from buyers on eBay and Amazon, you can't complain about the lack of a few trailers!
While both stars understandably did better without the assistance of a partner in the long run, the teaming of Martin and Lewis has nevertheless gone down in history as one of the great comic duos. Granted, many of their projects weren't as customized as they most assuredly should have been, and a number of their films show signs of heavy post-production editing that makes you wonder just what was left on the cutting room floor. That said, both volumes of the Dean Martin & Jerry Lewis Collection deliver us some genuinely classic moments overall. As such, these collections come with a hearty "Recommended" on them from yours truly. And with that holiday season now upon us, the timing of these Warner Archive sets couldn't be any better.