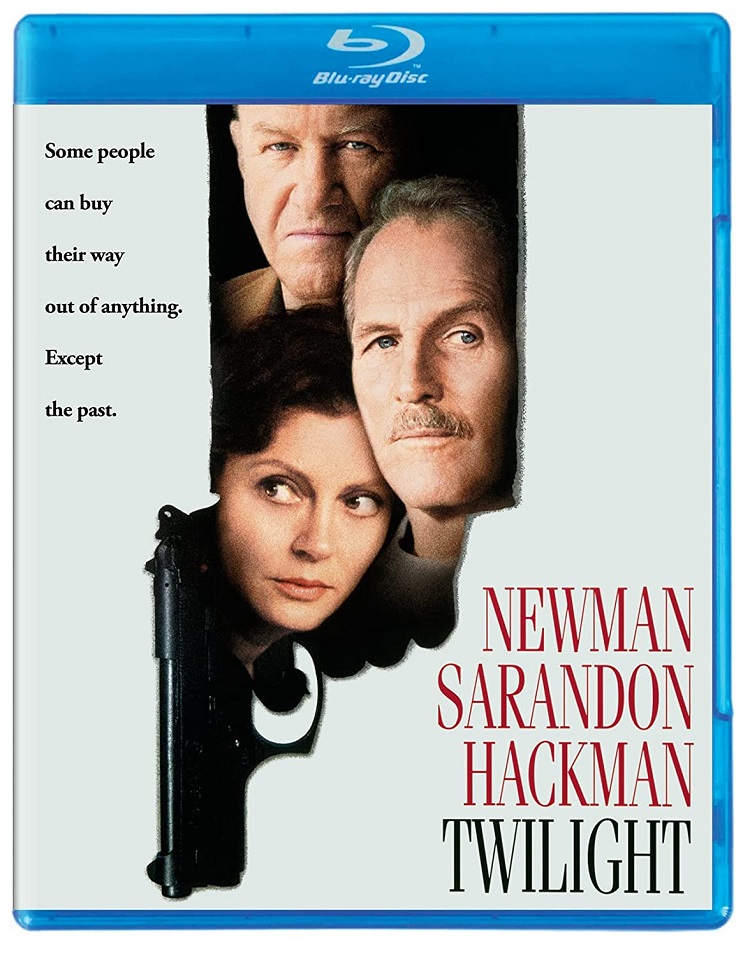 After adapting Richard Russo's Nobody's Fool (1994), starring Paul Newman, its screenwriter/director Robert Benton teamed with Russo to write the compelling neo-noir Twilight, which also stars Newman as former cop/former private investigator Harry Ross whose errand for a friend lands him in the middle of multiple murder investigations, from past and the present.
The film opens with Harry in Puerto Vallarta, Mexico to retrieve Mel (Reese Witherspoon), the underage daughter of actor Jack Ames (Gene Hackman), who is cavorting with Jeff (Liev Schreiber). During the assignment, Harry gets shot in the leg, though rumor has the location a more intimate location. This causes Harry to stop carrying a gun and give up investigation work and his license. Jack and his wife, actress Catherine (Susan Sarandon), take Harry on as a live-in handyman.
Two years later, Jack, now battling cancer, sends Harry to deliver a payoff. It's not the first time Harry has done this type of job for Jack, but it is the first time he is shot at by a dying man who has been shot himself. This leads Harry to reconnect with old friends at the LA police department, such as former partner/flame Lieutenant Verna Hollander (Stockard Channing) as the man is former homicide detective Lester Ivar (M. Emmet Walsh), who was still on the case of Catherine's ex-husband, Billy Sullivan, whose death was ruled a suicide although no body was ever found. At the station, Harry also reconnects with former cop/current fixer Raymond "Hotshot" Hope (James Garner), who checks on Harry at Jack's request. A second attempt to hand off the package and questions about why Ivar was killed lead to Harry getting attacked. It's clear there are questions people don't want answered and Harry means to get to the bottom of it.
Benton and Russo wrote an engaging screenplay. Harry is a good detective not a great one, which makes the story more compelling as his hunches don't always prove correct. All the characters are flawed, which make them more interesting. It also helps to have assembled a star-studded cast, including actors who would go on to become stars, so kudos to the casting director. Once the truth about what has been happening is revealed, the characters' actions make sense.
The video has been given a 1080p AVC/MPEG-4 encoded transfer displayed at an aspect ratio of 1.85:1. The colors look solid with a lot of rich earth tones in the production design. Whites are bright. Blacks are inky. Film grain is apparent and the image delivers fine texture details. The audio is available in DTS-HD MA 5.1 and 2.0, although there's not a great deal of difference. The track is front-speaker heavy with the most work for the surrounds is conveying composer Elmer Bernstein's score. Dialogue is consistently clear. Effects are sufficient to the task. Extras include an audio commentary by film critics Alain Silver and James Ursini, TV Spots and Trailer for Twilight and 12 other KLSC trailers, including Narrow Margin.
Mystery and noir fans should enjoy watching Twilight as should those interested in seeing one of Paul Newman's last leading roles as he effortlessly inhabits the world-weary Harry. Hopefully, Kino Lorber's new Blu-ray, which delivers a fine high-definition presentation, will help it find a much bigger and deserved audience.