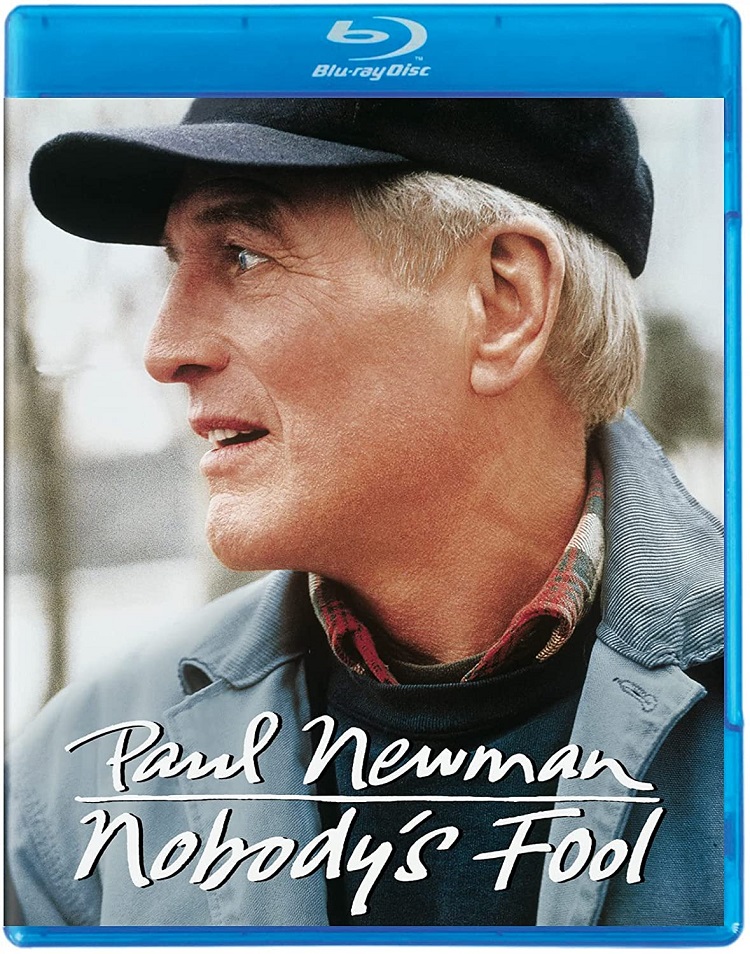 It takes a lot of confidence to make a movie in which nothing really happens. It does help to have someone like Paul Newman, working at the top of his game, as your star. It doesn't hurt to have folks like Jessica Tandy, Bruce Willis, Melanie Griffith, Margo Martindale, and Phillip Seymour Hoffman filling out your cast list. Still, plot is king for most viewers, and when you don't really have one, you are taking a bold risk.
It isn't that Nobody's Fool doesn't have a plot, lots of things happen in the film, it's just that it is so slight I'd be hard-pressed to tell you what it is. There isn't any kind of through line. Newman plays Donald "Sully" Sullivan, a rascal who walked out on his wife and young son many years prior. He's living in the same small town in upstate New York, periodically working construction jobs with his dim-witted friend Rub (Pruitt Taylor Vince). That is when he's not suing Carl (Willis), the only construction contractor who will still hire Sully, for back pay and disability. He never wins the suits as his one-legged lawyer Wirf (Gene Saks) is rather inept. Carl continues to hire Sully and they regularly play cards together.
That's the thing with Sully. He's not exactly a great guy, he gets by on his own terms, and damn you if you get in his way, but about everybody likes him. This includes Beryl (Tandy in her last performance), his landlady, who was also his eighth-grade teacher. God knows how he pays his rent on time, he probably doesn't, but he can help fix the guard rail to the steps and when a senile neighbor wanders out into the street, Beryl just has to bang a broom handle on her ceiling and Sully will come help.
He flirts with Carl's wife, Toby (Griffith), and she flirts back. She likes Sully's romantic nature and is tired of Carl's incessant cheating with his secretary. He drinks a lot and plays poker with the boys most nights. His life is not perfect or even all that great, but he's settled into it.
This changes when his son, Peter (Dylan Walsh), comes home for the holiday. They've hardly spoken since Sully left when he was just a kid. Peter is married now with two sons of his own. It is those kids, Sully's grandchildren, that seem to spark something inside of him. They act as a reminder of what he's lost and how much time has passed.
This is also an example of how the film curves reality a little bit. Sully's ex-wife, Peter's mother, still lives in this same small town. Growing up with his mother, Peter must have seen his father from time to time. That seems unavoidable. Even when Peter moved away, he presumably visited his mother regularly and surely would have at least seen his father around. But apparently, they haven't talked to each other until this moment.
In the same way, the movie has an idealized version of small-town life. Everybody knows each other. The local judge allows Sully to perpetually sue Carl though every time the case is quickly thrown out. Or when he punches a police officer (Hoffman) and lands in jail, the judge basically calls the officer an idiot and chastises the police chief for giving him a gun. That's not the way life works, even in a small town.
But it is all part of the film's charm. At the center of that charm is Paul Newman's performance. It is a lived-in, wonderfully natural performance. He makes it looks so easy you'd be tempted to think he's not acting at all. But it is all there if you pay attention. He completely embodies this character, and it is the character that makes the movie so wonderful. He is in nearly every scene and I never grew tired of him, not even once.
All of the other characters are secondary. Even Peter. He probably gets the most screen time behind Sully, but it isn't a close second. Peter's marriage is on the rocks and so he stays in town with his oldest son while his wife goes home with the youngest. He decides to do a little work with Sully and they have a reconciliation of sorts. There aren't a lot of words spoken about why Sully left, there aren't any real blow-ups or big important, emotional moments. They talk. They spend time together. There are questions about why, but no real explanations. Sully tries to be there for his grandson in ways he never was for Peter. But this isn't the sort of film where they have a big moment and suddenly things are set right.
All of the secondary cast is wonderful. It is a film full of small scenes and the cast feels like the sort of people you run into in real life.
Nobody's Fool is like a short story collection by an author who has spent his life with these characters and has honed his craft to cozy perfection.
Kino Lorber presents Nobody's Fool with a new 4K scan of the original 35mm negatives. Extras include audio commentary from filmmaker/film historian Jim Hemphill, an interview with writer Richard Russo and one with Catherine Dent (who plays Peter's wife) and the theatrical trailer