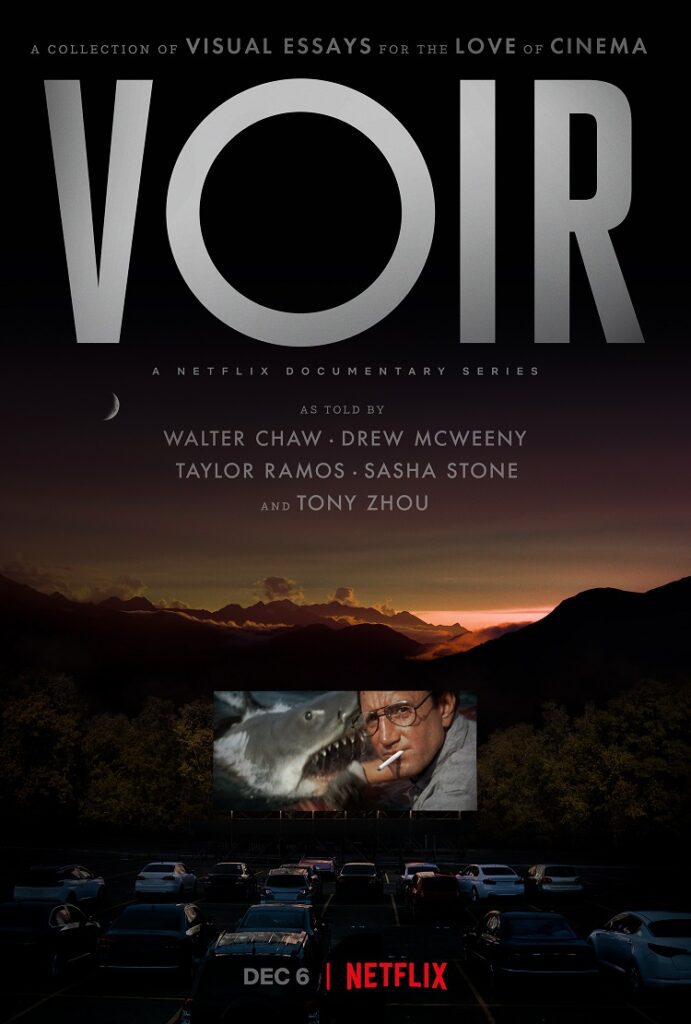 From executive producers David Fincher and David Prior comes VOIR. Season One of this new Netflix series is a collection of visual essays that honor film and cinema and also explore the personal connections we have with film. This series also does not shy away from the social and political issues that movies can bring to light. The first season of VOIR consists of six episodes which each address a different topic or theme in film.
Episode 1 "Summer of the Shark" (17 min) – Blogger, editor, and content creator Sasha Stone reflects on the summer Jaws came out and how this deadly shark helped she and her sister escape the horrors of home.
Episode 2 "The Ethics of Revenge" (18 min) – Editor and writer Tony Zhou explores tales of revenge in this essay and asks us to reflect on what we like about the idea of balancing out the unfairness of the world.
Episode 3 "But I Don't Like Him" (23 min) – Writer and actor Drew McWeeny contemplates the question of likability and asks, Do we need to like a character in order for them to make a powerful impact?
Episode 4 "The Duality of Appeal" (22 min) – Animators discuss how the idea of "appeal" also known as "harmony in design" works on a technical level, but also how this concept has led the male gaze to limit the kinds of female representation that comes to the screen.
Episode 5 "Film vs. Television" (20 min) – Editor and writer Taylor Ramos examines how the change to digital has made audiences reconsider the abilities film and television each have to capture their interest and keep them engaged over hours, years, and sometimes decades.
Episode 6 "Profane and Profound" (22 min) – Film critic and author Walter Chaw reflects on sneaking into 48 Hrs. as a kid and explores the racial dynamics of the film as an adult.
I really like this series and the reflections on both the personal and political ways that film can effect us. Stone's "Summer of the Shark" is a strong opener for this series, and Chaw's "Profane and Profound" closes out the season well and leaves the audiences thinking about how film continues to challenge our identities and prejudices.
My main gripe with the series is that it lacks overall consistency in style and format. Four of the six episodes (episodes 1-3 and 6) look like they are definitely from the same series, as they have the same look and feel. However, episode 4, "The Duality of Appeal" felt like it came from an entirely different series since it broke from the mold of the previous three episodes.
Episode 5, "Film vs. Television," begins to return to the style and format of the first three episodes, and then episode 6, "Profane and Profound," completely returns the look and feel of the initial three. And maybe this would have been less of an issue if the episode order was broken up differently, but the change was so drastic I honestly thought episode 4 had switched me to an entirely different show.
In addition to the formatting issues I had with episode 4, this episode felt more Disney than Netflix, and not just because it centered around topics in the world of animation. The creators ask questions about the male gaze, the patriarchy, and misogyny in the world of animation, but don't do much to answer them. Instead, they focus much more on the technical aspects of 2D vs. 3D animation and marketability.
Personally, I really like the more critical film studies lens that was applied to episodes 2, 3, and 6 that addresses issues of ethics, character, and race. But all six episodes definitely offer something for film lovers. I am looking forward to a season two.
The entire first season of VOIR is available now to stream Netflix.