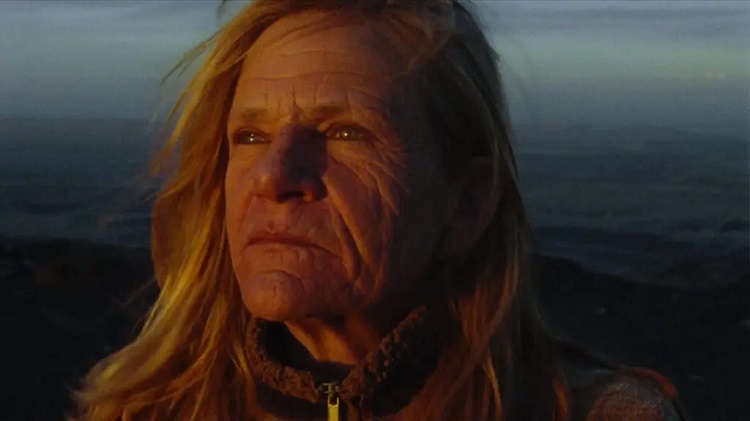 An unorthodox romance set in a beautiful, vast Colorado backdrop is at the center of Max Walker-Silverman's beguilingly unassuming directorial debut A Love Song, a minimalist but heartfelt drama of love that has seen it all but hasn't quite given up on it.
Terrific and hauntingly weathered character actress Dale Dickey plays Faye, a woman living on a campground in the West, awaiting alone for a long-lost love named Lito (fellow beloved character actor Wes Studi). They are both widowed and lonely but searching for communication and companionship. As he arrives with flowers, Faye isn't entirely sure of his overall intentions, but she's been without love for so long that she will open herself up to anything. As they share a peaceful night together, they share bygone memories, have intimate conversations, and think about what they want in the future. The next day, she wakes up to find him leaving and saying that he doesn't think that he can immediately give up his newfound freedom. Afterwards, she herself has to leave her campsite so people can dig there, but after she's given a letter with a picture that Lito had taken of her, Faye realizes that maybe that one night was more than enough to open up some new possibilities for her. Lito may not have been the one, but there are other fishes in the sea.
It's about damn time that Dickey was given a leading role after several stellar supporting one in films and TV, such as Winter's Bone, Hell or High Water, Sordid Lives, and My Name in Earl. Here, she gives a warm, experienced, and honest performance as the woman who still yearns for love, even if it has a tendency to shut her out. Her face and emotions express more than words can ever do. Hopefully, this will lead to more leading parts because she clearly has more than enough talent to carry a film. Studi is also amazing in a role that could have made him out to be a bad guy, but as he has so much likability and charisma, that you understand why his Lito isn't ready to quite settle down.
Silverman's direction is really competent and assured. He knows where to place his camera at just the right time, and he gets extraordinary shots (along with cinematographer Alfonso Herrera Salcedo) of the Colorado vastness. It's like the best film that Kelly Reitchardt never made because it easily looks like one of her great films.
This is a great character study of a woman just wanting to get a second chance at love and to be loved. You can't get a more impressively simple film than that. It's a must see in my opinion!