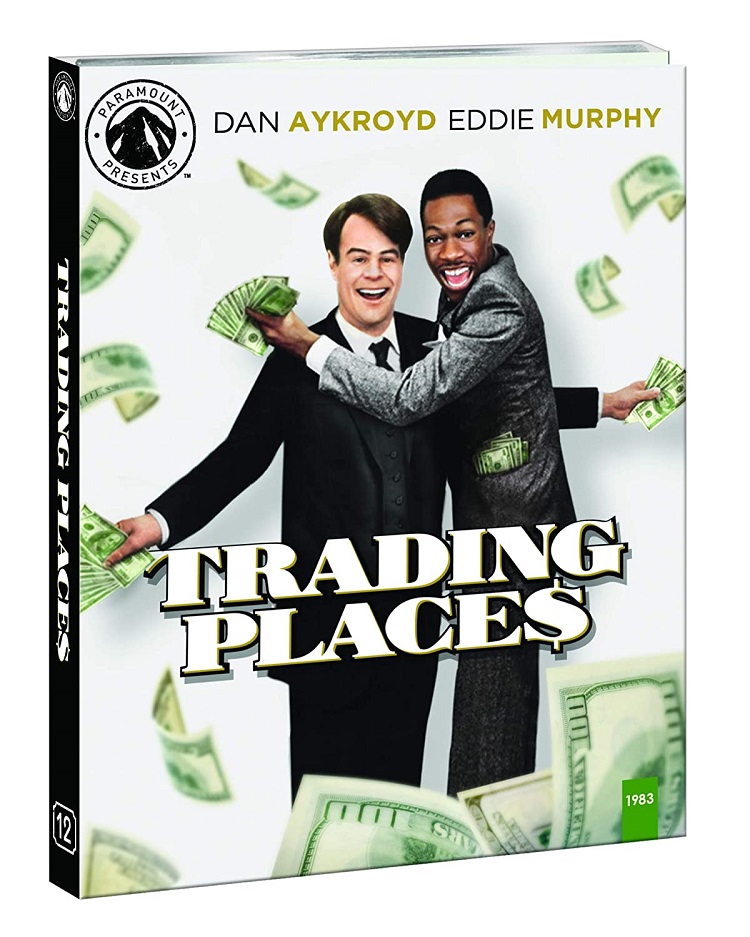 Paramount has recently released John Landis' Trading Places, a funny role-reversal story that's a throwback to the screwball comedies of the '30s and '40s, along with The Golden Child and 4K Ultra editions of Coming to America and Beverly Hills Cop.
The Duke brothers, Randolph and Mortimer (Ralph Bellamy and Don Ameche), are wealthy commodity brokers and terrible people. After disagreeing about whether heredity or environment is a prevailing factor in a person's life, they wager on trading the places of Louis Winthorpe III (Dan Aykroyd), an esteemed employee at the Dukes' brokerage firm, and street hustler Billy Ray Valentine (Eddie Murphy) to see how they respond to their new stations in life.
After Billy shows a strong aptitude for the commodity markets and Louis sinks to new lows, Randolph and Mortimer decide the wager settled. Billy overhears them talking about it and how they don't want either man running their firm now. This reveals how repugnant the brothers because why wouldn't they want men successful at making them money?
Billy explains what happened to Louis and they want revenge. At first, their plan involves their team wearing disguises, including Louis wearing blackface, in a plan one would expect to see in a corny sitcom. The film then climaxes on the New York Stock Exchange floor with a plan that sounds simple on the surface but the specifics might be hard to grasp as the scene is filled with a lot of shouting.
Screenwriters Timothy Harr & Herschel Weingrod set up funny situations, but the characters are awfully sleight. Landis assembled a talented cast to help in that area. This is Eddie Murphy's second movie. He brims with humor and charisma. Dan Aykroyd is solid as the straight man and has a few humorous scenes of his own. Bellamy and Ameche seem to relish playing villains, although Mortimer's racist language is a tad jarring. While it speaks to his character, it wasn't necessary, which is the same reaction I had to the nudity.
The video has been 1080p/MPEG-4 AVC encoded transfer displayed an aspect ratio of 1.85:1. Earth tones are rich, especially the browns, and the primary colors are bright as seen in the Christmas and New Year's Eve celebrations. Blacks are inky and whites are bright without blooming. The overall image is a tad dark and the image is not very sharp. There's a noticeable film grain that doesn't distract.
The audio is available in Dolby TrueHD 5.1. The dialogue is clear throughout. Elmer Bernstein's majestic score fills the surrounds and there's an isolated score option. Ambiance augments the scenes, from a hard rain to the cacophony of the NY Stock Exchange.
Special features are in SD unless noted:
Filmmaker Focus: Director John Landis on Trading Places (HD, 9 min) is a new featurette where the director reflects.
Deleted Scenes (3 min) shows how Beeks got the report. And a shorter cut with (2 min) commentary by Executive Producer George Folsey, Jr.
Insider Trading: The Making of Trading Place (18 min) – Landis, main cast, and writers talk about the film.
Dressing the Part (7 min) – Costume designer Deborah Nadoolman talks about wardrobe.
The Trade in Trading Places (5 min) – Traders explain the climax.
Trading Stories (8 min) – Interviews during UK publicity with some odd questions from interviewer.
Industry Promotional Piece (4 min) – Landis introduces an improvised piece made for theater exhibitors at Show West
Theatrical Trailer
Trading Places is an enjoyable comedy that for the most part holds up in this era. It is notable for being one of box office hits in the early careers of both Landis and Murphy, who would reteam on Coming to America and Beverly Hills Cop III. The Blu-ray delivers a satisfying high-def experience.