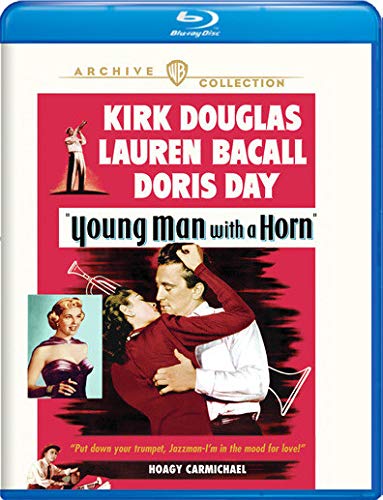 Kirk Douglas was a force in Hollywood for so many decades that it's easy to forget that he was a struggling young actor at one point. Only a few years into his career, he landed his second top-billed role in this stirring drama, bringing effortless cool to the story of a rising jazz musician. With massive assists from legendary leading ladies Doris Day and Lauren Bacall, along with direction by Casablanca helmer Michael Curtiz, Douglas ushered in the 1950s with this genre-defying film, helping to move Hollywood from the era of formulaic musicals and superficial, slick actors to something with more than a hint of danger and authenticity.
Douglas plays an aspiring trumpet player named Rick, an orphan who fell in love with jazz while sneaking out to watch club performances as a young boy. His only goal in life is to get better at his horn, but as he ages and begins to find work in jazz bands and orchestras, his innovative freestyle approach is generally at odds with the strict big band format of his employers. Luckily, he has an outlet for his artistry at an after-hours club, playing for free with his childhood mentor's band after he's wrapped up his straight-laced paying gigs.
With such singular focus on his craft, it's no surprise that he fails to notice the great potential relationship presented by Doris Day's sweet singer character, Jo. She's so pure and kind she's practically angelic, the kind of girl you definitely do take home to mama. Although she's fond of him, for some unexplained and unbelievable reason she introduces him to her friend, an icy heiress named Amy (Lauren Bacall). Of course Rick and Amy hit it off, leading to a rushed wedding, marital grief, and the only impediment to Rick's otherwise singular drive. It's during these dark days that the wheels start to fall off his dream, leaving the last act to explore his final destiny.
While the movie has lots of songs, both jazz instrumentals and solos by Day, it doesn't feel like a musical, with the performances primarily functioning as checkpoints in Rick's artistic progression. Day is easily the most conventional actor in the film in her conformist role that could have been plucked from any old-school musical, well before she gained acclaim as a comedic actress. Bacall is incredibly striking and brings a simmering intensity to the femme fatale role, making it easy to see why she made such an impact in Hollywood at this fairly early stage of her career. The film belongs to Douglas though, and he delivers a soaring performance that clearly cemented his status as a handsome and extremely talented leading man.
Although the film has been available on DVD from Warner Archive for a few years, the new Blu-ray features a new 1080p HD remaster from a 4K scan of original nitrate elements, and it is a wonder to behold. One would expect a lesser-known film like this to suffer some quality limitations, but that's not at all the case here as the print is absolutely flawless with exceptional contrast that highlights the stunning cinematography. The soundtrack is DTS HD-Master Audio 2.0 with some noticeable but unobjectionable hiss.
The extras directly related to the film are a bit sparse, with just a trailer and an hour-long radio version of the film from 1952 (also starring Douglas). However, the bonus features are padded out a bit more with a whopping three classic Bugs Bunny cartoons, all of them well worth rewatching.
Young Man with a Horn arrives on Blu-ray on December 15th. For more information and a great gallery of stills and lobby cards from the film, visit Warner Archive.