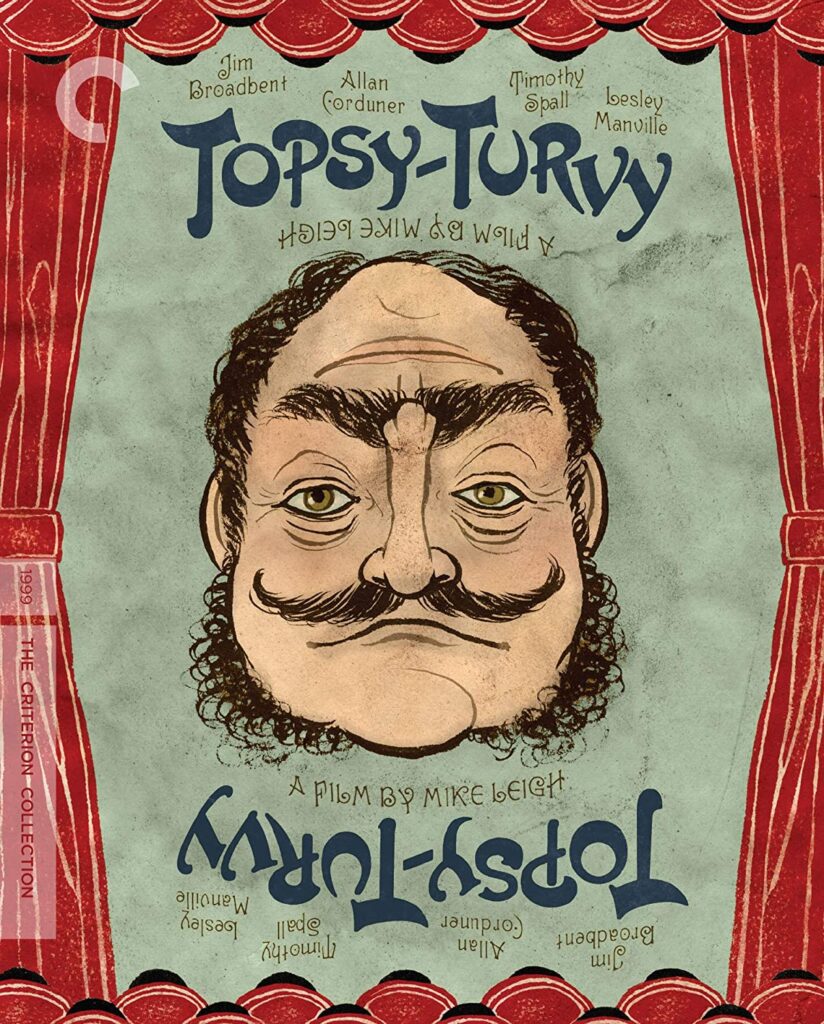 After five films, Mike Leigh took a break from modern-day kitchen-sick dramas and created Topsy-Turvy, a marvelous historical biopic about W. S. Gilbert and Arthur Sullivan's creation of the comic opera The Mikado. Though dealing with a different class of folks, the struggles of Gilbert and Sullivan, and those involved with them, in successfully creating art are no less vital to their lives than the issues faced by the working-class characters from Leigh's other work.
Topsy-Turvy opens in London on January 5, 1884 as their opera Princess Ida debuts at Richard D'Oyly Carte's (Ron Cook) Savoy Theatre. It struggles at the box office, as does the partnership between Gilbert (Jim Broadbent) and Sullivan (Allan Corduner), who appear an odd couple from the outside. Gilbert is married to Lucy (Lesley Manville), though he is distant from her, and shuns the spotlight. Sullivan has a mistress Fanny (Eleanor David), risks his health to conduct on opening night, and enjoys the spoils of success. Where they come together is in committed work ethic and talent in their respective fields.
Sullivan wants to go solo and create more serious work but remains under contract. D'Oyly Carte requests a new opera to replace Ida, but Sullivan can't compose because he finds Gilbert's material too repetitious of his past work. Gilbert disagrees and the two men are at an impasse. That is until his wife gets Gilbert to accompany her to an expedition in London that presents the Japanese lifestyle through different demonstrations. Though hesitant to go at first, Gilbert is overwhelmed by inspiration as he soaks it all in and writes the libretto for The Mikado.
Rehearsals become the main focus for Gilbert and Sullivan and of the film. Everything else in their lives becomes secondary as they work to perfect the piece and the audience gets to watch and enjoy the process unfold. Rather than concluding with The Mikado, whose great success is already known, musical numbers are interspersed throughout. Topsy-Turvy concludes with an epilogue of sorts as the two women in their lives reveal their struggles, in part because the men have ignored them.
Leigh and his cast and crew, who include costume designer Lindy Hemming and make-up artists Christine Blundell and Trefor Proud, Academy Award-winners for their work here, create both an impressive opera and film. Leigh creates a great balance between history and a perspective into an artistic community, which makes the story very accessible.
The video is presented with a 1080p/MPEG-4 AVC encoded transfer displayed at 1.78:1. The image is impressive from the start as the strong hues can be seen in the Savoy's red walls and blue seats. The colors in the costumes and everything on stage related to The Mikado are gorgeous and vibrant. Black are deep and rich. Very fine details can be seen in the textures of costume fabrics and the lines of make-up seen in close-ups.
The audio comes in DTS-HD Master Audio 5.1. Although clear and understandable for much of it, the dialogue got too quiet at times. The track offers great clarity in the instruments of the orchestra. The surrounds fill with ambiance, especially in the Savoy where the scenes make great use of the rears as they fill with music from orchestra, voices of the chorus, and applause from audience. There is also positioning on effect as Louie can be heard off to right side when helping Sullivan in a later scene.
Criterion offers some features to enhance the film. Leigh delivers an informative commentary where he talks about the making of the film and the ideas involved in it. "Mike Leigh and Gary Yershon" (HD, 38 min) is new for the Blu-ray. The film's director and musical director discuss working on the film, the reason behind different choices, and offer some history about Gilbert and Sullivan. Would have liked a feature devoted solely to the latter. Four "Deleted Scenes" (1080i, 15 min) were cut from the final cut due to film's length and have been taken from a work copy so the quality is poor. Footage from the movie is included for context. Written by Jim Broadbent and directed by Leigh, "A Sense of History" (1080i, 27 min) is a 1992 shortstarring Broadbent as the 23rd Earl of Leete, who takes a film crew around his estate. The monologue and Broadbent's performance are hysterical as this upper class twit reveals an amazing family history. A basic "Featurette (1080i, 10min)where the cast and crew talk about the film. The is also a Trailer (HD, 3 min); TV spots (1080i, 3 min), including one for the soundtrack; and an 18-page booklet containing Amy Taubin's essay "Great Performances."
Mike Leigh's Topsy-Turvy is an extremely well-made film, built on strong performances by the leads, and Criterion reveals it to be very well suited to high definition.