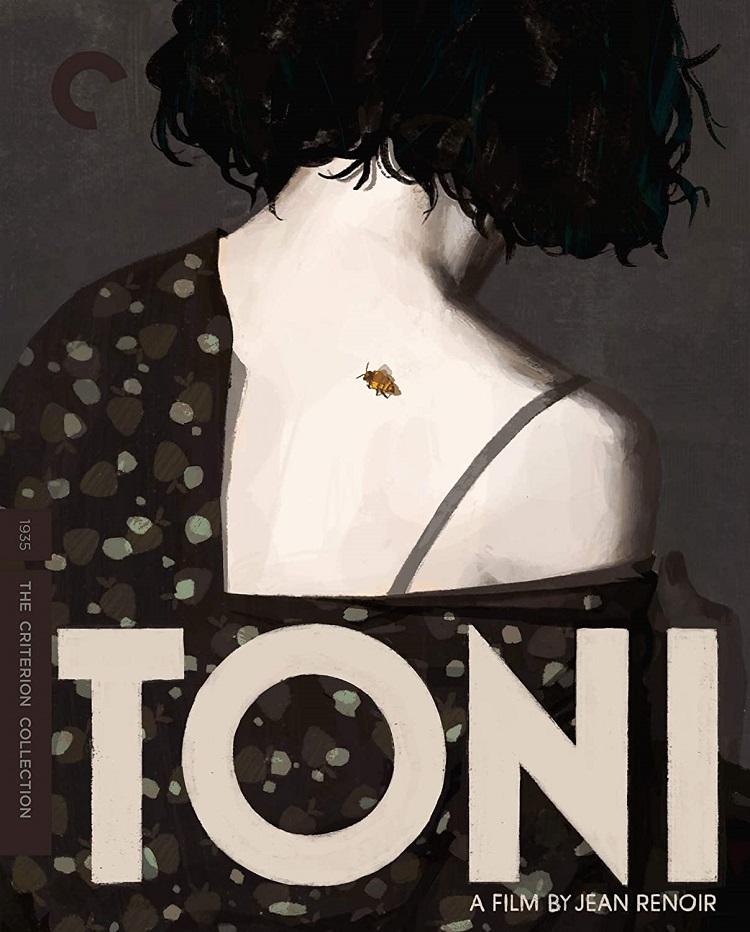 In 1934, acclaimed French director Jean Renoir left the studio in Paris and headed for the countryside in the south of France. There, he hired non-actors and inexperienced ones to shoot Toni, a naturalistic melodrama about immigrants, their work, their lives, and their romances. He used mostly natural lighting and filmed mostly on location. The actors didn't use makeup and spoke in regional dialects. It did poorly at the box office but was beloved by the French New Wave and helped create Italian Neo-Realism (Luchino Visconti, one of that movement's greatest directors, was an assistant on Toni). It is, in a word, hugely influential. It is also, well, I don't want to say boring or dull, so let's just say it isn't all that exciting to watch outside of a film historian's perspective.
The film begins with a train pulling into town. Migrant workers from all over France and immigrants from across Europe pour into the countryside. They are looking for work. They are looking for a better life. They are full of hope. The film ends with a train pulling into town. It is full of different migrant workers all looking for the same thing. All full of that same hope. It is as if the film is saying this story isn't unique. It will be played out over and over again throughout time.
On the first train is a man named Toni (Charles Blavette). He gets a job at the local quarry. He rents a room from Marie (Jenny Hélia). They become lovers. We find them sometime later. She chastises him for sleeping so late. She fusses that he no longer kisses her the moment he awakes. They constantly quarrel. A Spanish guestworker comes to town. Her name is Josefa (Celia Montalván). She is exotic and beautiful. Toni longs to be with her. One day, he offers to carry her cart while walking to work. She asks him to pick her some grapes. There is a bee hidden in the fruit. It stings her on the back. He unbuttons her blouse and pulls the stinger out with a knife. He sucks the poison out with his mouth. She asks him to do it again. They both enjoy the sensual moment. He goes for a third time. She tells him to stop. But she's in his blood now.
He asks her uncle for his permission to court her. He says yes. But then Albert (Max Dalban), a foreman at the quarry, someone who has some wealth, visits the uncle. He offers to buy part of the uncle's farm if he will give him her hand in marriage. The uncle agrees. Albert is a petty, mean man. We see him push a man down who stood in his way. He beats on Josefa. Renoir filmed a scene where he rapes her, but the censors made him excise it. She gets pregnant so he starts cheating on her.
Meanwhile, Toni and Marie continue living together. And quarreling. When the uncle, knowing how poorly Albert treats Josefa, asks Toni to look after her and her child when he dies, Marie becomes insanely jealous. Especially since Toni is more than happy to do it. Their quarreling reaching a fever pitch. She asks him to leave. He lives up high on the hill, sleeping in a barn.
A crime happens. One that was based on a true story as told to Renoir, which made him interested in making this film. It happens just as naturalistically as the rest of the film. At times, the script can get a little melodramatic and the amateur actors struggle more than a little, but the story has the ring of truth to it. Wide-angle lenses give it a documentary-style realism. Much of it is shot outdoors with natural lighting. Toni wasn't the first film to apply such things to a movie, but it became the most influential. I can see the appeal of it. Films, especially those made at this time, have an artificiality to it. They feel theatrical, stylized. Making a film more true to life can be exhilarating. I can also see why it bombed on its initial run. Who wants realism when you've just gone through a World War and are currently in the midst of a great depression?
It is a beautiful looking film. The French countryside is framed magnificently. The naturalism is like fresh air. Personally, I found the story a bit slow. It felt like so many other stories. It is a film where I can appreciate the making of it, where I can find interest in its influence and historical importance. But also one I doubt I'll return to very often.
The Criterion release comes with a new 4K digital restoration, with uncompressed monaural soundtrack. Plus an introduction by Jean Renior; audio commentary from 2006 featuring critics Kent Jones and Phillip Lopate; an episode of Cinéastes de notre temps from 1967 on Renoir, directed by Jacques Rivette and featuring a conversation with actor Charles Blavette about the film; and a new video essay from film scholar Christopher Faulkner. The subtitles have received a new English translation and there is an essay by film scholar Ginette Vincendeau in the booklet.