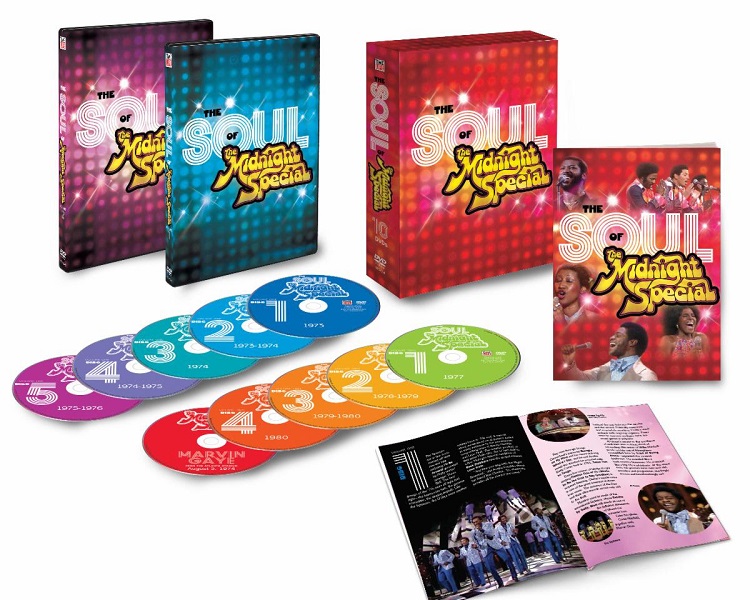 The '70s was a special time for soul music, a decade filled with legendary artists like Al Green, Teddy Pendergrass, The O'Jays, Marvin Gaye, The Stylistics and so many more. And for home viewers, it was also a boon, as week after week, Burt Sugarman's The Midnight Special – television's very first live music show – made it a point to feature soul artists performing their biggest hits live and uncut in the prime of their careers. While "Soul Train" also featured these acts, only The Midnight Special gave viewers actual live performances instead of lip sync, treating them to virtual front row seats for performances by the most talented soul singers of the time.
Available for the first time at retail, the greatest performances from The Midnight Special featured in one spectacular 10-disc DVD collection: Burt Sugarman's THE SOUL OF THE MIDNIGHT SPECIAL. Fans of '70s soul will thrill to an unforgettable line-up of legendary soul artists performing their greatest hits uncut and unedited — just straight-from-the-heart singing with live musicians in front of a live audience. And now, Time Life delivers a singular set featuring a collection of more than 130 live, uncut performances from 1972-1980 – many not seen since their original broadcast!
All-time classic soul hits in The Soul of The Midnight Special include love songs like "Betcha by Golly, Wow" by the Stylistics and "You're The Best Thing That Ever Happened To Me" by Gladys Knight and The Pips and dance grooves like Sly & the Family Stone's "Dance to the Music," Ohio Players' "Fire," and Chic's "Good Times." Also included are chart toppers and fan favorites such as "Back Stabbers" by the O'Jays, "Tired of Being Alone" by Al Green, "Could It Be I'm Falling in Love" by Spinners, "Lean on Me" by Bill Withers, "The Love I Lost" by Harold Melvin and the Blue Notes, "I Want to Take You Higher" by Sly & the Family Stone, "Shining Star" by Earth, Wind & Fire, "I've Got Love on My Mind" by Natalie Cole, "Just to Be Close to You" by Commodores, "I've Got to Use My Imagination" by Gladys Knight & the Pips, "You'll Never Find Another Love Like Mine" by Lou Rawls, "Special Lady" by Ray, Goodman & Brown, and "Something He Can Feel" by Aretha Franklin.
In addition, Time Life is including a bonus DVD featuring "The Midnight Special Presents Marvin Gaye In Concert From The Atlantic Stadium," a rare, historic live concert performance filmed exclusively for The Midnight Special in 1974 and available for the very first time anywhere. Also included in this completist's set are 18 Bonus Interviews with top soul stars including The O'Jays, Gladys Knight, Bobby Womack, Patti LaBelle, George Benson, James Brown, Lou Rawls, Teddy Pendergrass, Quincy Jones and more, along with a collectible 40-page book, jam-packed with archival photos and stories about the stars.