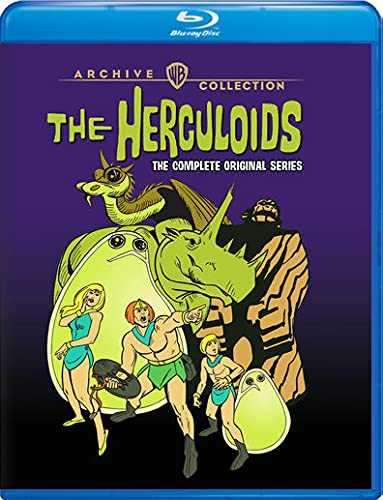 The Warner Archive Collection continues to upgrade Hanna Barbera cartoons to high definition with the release of The Herculoids: The Complete Original Series on Blu-ray. Blending science fiction and fantasy, this Saturday-morning adventure series debuted on September 9, 1967 and ran for 18 weeks, with each episode containing two 10-minute stories.
Alex Toth designed the characters and the titular octet is comprised of humanoid Zandor (Mike Road, who HB fans will recognize as Race Bannon from Jonny Quest), his wife Tara (Virginia Gregg), their son Dorno (Ted Eccles), and five creatures: Zok, a flying dragon who shoots lasers out of its eyes and tail; Igoo, a giant ape made of rock; Tundro, a cross between a rhino, a triceratops, and an armadillo, who can shoot exploding rocks out of a horn on its face; and Gloop and Gleep, a pair of shape-shifting protoplasms. Road also voices the first three creatures while the legendary Don Messick, known as the voice of Scooby-Doo, Bamm-Bamm Rubble, and Boo-Boo Bear to name a few, voices the protoplasms.
"Somewhere out in space" as Zandor's opening narration reveals, the Herculoids are usually minding their own business when they are attacked by some menace, either native to their planet or aliens. Sta'Lak from "The Raiders," the Pirates from the episode of the same name, and Torrak from "Tiny World of Terror" are the only villains who make return appearances. In "Return of Sta-Lak," he comes with mechanoid versions of the Herculoid creatures.
The video has been given a 1080p/MPEG-4 AVC encoded transfer displayed at the original aspect ratio of 1.33:1. The colors appear in strong hues and blacks are inky. Film grain is slight The image looks clean but there are occasional white specks and black smudges seen. Depth is created through the perspective of the art.
The audio is available in DTS-HD Master Audio 2.0 mono. The track is filled with dialogue, sound effects, and music throughout the episode by composer Ted Nichols. Although compressed together in mono, they deliver an adequate, authentic audio experience of the source material. Didn't hear any sign of hiss or damage.
The lone Special Feature is "The Herculoids: First Family of Planet Quasar" (SD, 5 min) – Appearing to be a segment from a longer featurette about Saturday morning cartoons of the '60s, a group of interviewees, which included Jerry Beck and Paul Dini, talk about the series, such as how the monsters were influenced by the work of special effects artist Ray Harryhausen.
Although the stories stick to a basic premise, The Herculoids: The Complete Original Series is an entertaining adventure that blends the future and the past. The animators' creativity and talent is apparent in the settings, the characters, and the Herculoids in action, and the high-definition video showcases their work.