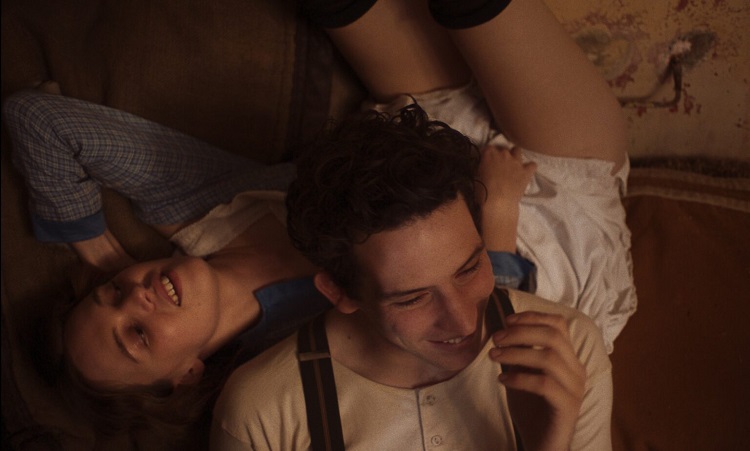 After scripting the BBC miniseries Normal People which was cited for its frank portrayal of sexual intimacy, screenwriter Alice Birch writes another meditation on sensual desire. Based on the novel of the same name by Graham Swift, Mothering Sunday follows the before, during, and after of a passionate affair and casts a dizzying spell that is dizzying to the degree where it can become disorienting due to its nonlinear narrative and frenetic camera work, yet still captivating.
The "during" part of the affair is where the spell's magic is at its most potent. House servant Jane Fairchild (Odessa Young), who serves the affluent Nivens (Colin Firth and Olivia Colman), has the day off on Mothering Sunday (aka British Mother's Day) and decides to spend it with Paul Sharingham (Josh O'Connor), the son of the Nivens' neighbors. As Paul prepares for his marriage to another woman, he spends one last, long moment of erotic bliss with Jane.
Although that one pivotal sequence is nearly hindered by the hasty cutaways to what transpired before and after, the chemistry between its two leads, especially Josh O'Connor, still gives it the sensual power it aims for. With his piercing gazes as he chain smokes and the way he speaks in a low, cavernous voice as Paul calls Jane, asking her to come over his place, the aura that O'Connor presents has one fixated on him the way Jane is. Wondrous as O'Connor is, though, Odessa Young remains the true star of the show.
Young plays Jane as if she's two separate entities. The felicitous, lovelorn Jane we meet in the beginning and middle part of her affair is a stark contrast to the Jane we see after the affair who's more neurotic and hard-hitted as she tries making her way as a writer. Despite her supportive partner Donald (Sope Dirisu) being there to give her proper encouragement, the rumination of her past becomes a deep hurdle as she tries jotting words down. Young carries the picture with ease while the older supporting actors make the most of their limited screen time. Colin Firth impresses as Mr. Niven, a balmy father figure for the orphaned Jane while Olivia Colman is her reliably amazing self as Mrs. Niven, mapping out her shattering grief of losing her son during WWI within the constraints of her small role.
Great as it is to see the esteemed Oscar winners appear and do their thing, Mothering Sunday belongs to its two young leads. When we follow them in the beginning and near end of their passionate love affair, the film becomes the successful exercise in romance and intimacy that Alice Birch and director Eva Husson aim for it to be. What happens after does make the film an interesting dive into the nature of memory and how memories, both painful and blissful, can come flooding back with haste in fragments. Yet, because we're so hastily taken from the past to the present, it nearly loses its desired emotional punch.