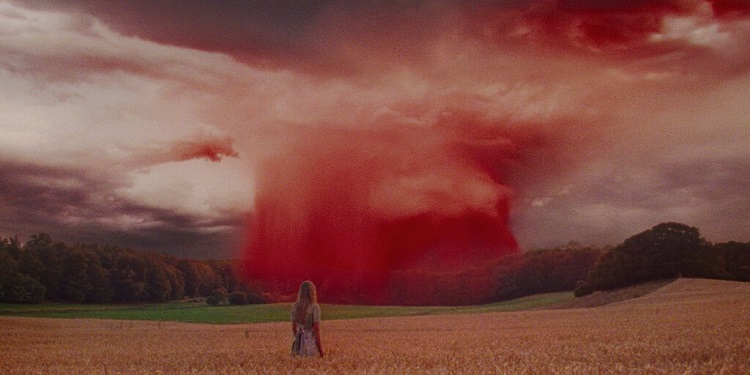 Tea Lindeburg's feature directorial debut As in Heaven isn't exactly categorized as a horror film, yet it almost feels like one. However, instead of Biblical demons or Beelzebub himself, it is religious dogma that serves as the picture's antagonist. A community of people abusing their set of doctrines in order to "possess" those within it and warp their perception of reality.
The central protagonist Lise (Flora Ofelia Hofmann Lindahl) becomes susceptible to such distortion. A teenage girl with dreams of leaving her isolated Danish commune, Lise sees her plans come to a grinding halt once her mother experiences pregnancy complications. Eventually, her devotion and sanity become called into question once she fears that her mother's condition is due to God punishing her for her actions, like losing her mother's hairpiece, and a superstition shared by those in her community possibly comes through.
Although the whole debacle involving Lise's mother's hairpiece might seem ridiculous on paper, it still shows how much weight she feels over committing the smallest fallacy. By doing one small selfish act, Lise suddenly fears she may be a corrupt woman to the degree where she toys with giving up her aspirations if it means pledging to be more pure and saving her mother's life. By sending a prayer up above and being able to complete the Lord's Prayer that she struggles reciting, Lise would also be satisfying devotees like Klog Sine (Kristen Olesen) who see prayer as more valuable treatment than doctoral medicine.
With just the use of her expressive face, Flora Ofelia Hofmann Lindahl is able to etch out Lise's conflict in faith and desperation mixed with her eagerness to please those around her. Even if the film initially takes a while to get going, Lindahl's screen presence makes it watchable.
Meanwhile, DP Marcel Zyskind serves as the film's co-MVP thanks to his vivid camera work. His use of the color red in sequences like the opening, where Lise dreams that she's walking through the meadows and sees a red cloud in the sky, paints an evocative portrait that some might view as heavy-handed due to red being a symbol of impending doom. The cloud shown in the opening dream sequence being a blood red shade may only further those potential on-the-nose criticisms.
Regardless, Zyskind's use of color still creates an appealing visual aesthetic for this unsettling interweaving of adolescence and religious ideology. One with a close proximity to the horror genre thanks to its eerie isolated setting and depiction of a young female protagonist at odds with her gaslighting community. While it may be too much of a slow-burn at times, As in Heaven still remains a lingering effort.