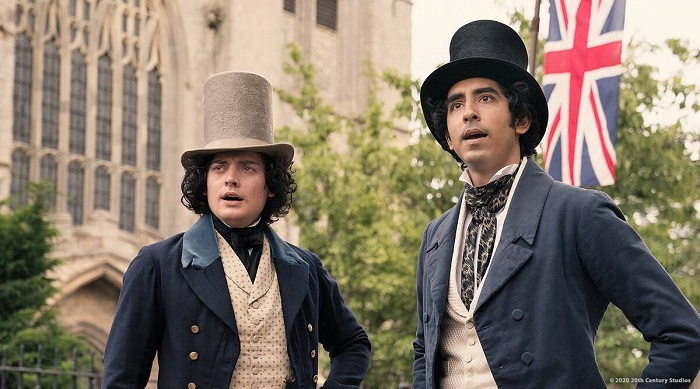 One way to describe The Personal History of David Copperfield is that it's a change of pace. It's a stretch for director Armando Ianucci who is best known for his razor sharp satire. Also, it features color-blind casting that should set a new template for period dramas going forward. It's an old-fashioned story about a man whose ordinary life became an extraordinary tale. Yet, it proves to be effective while properly utilizing the star power of lead actor Dev Patel.
Based on the acclaimed novel by Charles Dickens, The Personal History of David Copperfield follows the titular protagonist from his youth to adulthood. When he was a child, he lived under the same roof as his mother and stepfather, the abusive Edward Murdstone (Darren Boyd). As David makes his own way into the world, he reunites with his great-aunt Betsey Trotwood (Tilda Swinton) while crossing paths with Uriah Heep (Ben Whishaw), a fellow boarding school student turned adversary.
As the title character, Patel is a source of constant charm and wit. While David Copperfield goes through his life journey, facing trials and tribulations in the process, Patel guides his journey with wondrous and pragmatic eyes. Similar to this year's The Wedding Guest, The Personal History of David Copperfield is a practical PSA that Patel is a genuine leading man.
The rest of the ensemble proves to be quite aces, though. Tilda Swinton is a hoot as David's acerbic, donkey-hating great-aunt Betsey Trotwood; As the unassumingly sinister Uriah Heep, Ben Whishaw plays a perfect foil to David; Peter Capaldi is a source of unflinching optimism as the eccentric Mr. Macawber whom David befriends as a child; and Hugh Laurie shines as Mr. Dick, Betsey's equally acerbic partner. Meanwhile, Rosalind Eleazar is a breakout as David's friend and eventual love interest, Agnes Wickfield.
All the actors marvelously bring the characters from the words of Charles Dickens to life and act as the film's strong center. Credit for the acuity the actors bring also goes to the writing from Simon Blackwell and Armando Ianucci. Their screenplay is a fine example of keeping the spirit of the source material while still letting glimpses of their peculiar vision shine through.
Both crowd pleasing and inclusive, The Personal History of David Copperfield is a masterful delight. It features colorful performances from its main cast, especially Dev Patel, and features a heartwarming story about the extraordinary people in our lives that can make life spectacular. Even for those who may not be a fan of the source material, this could easily be a winner.