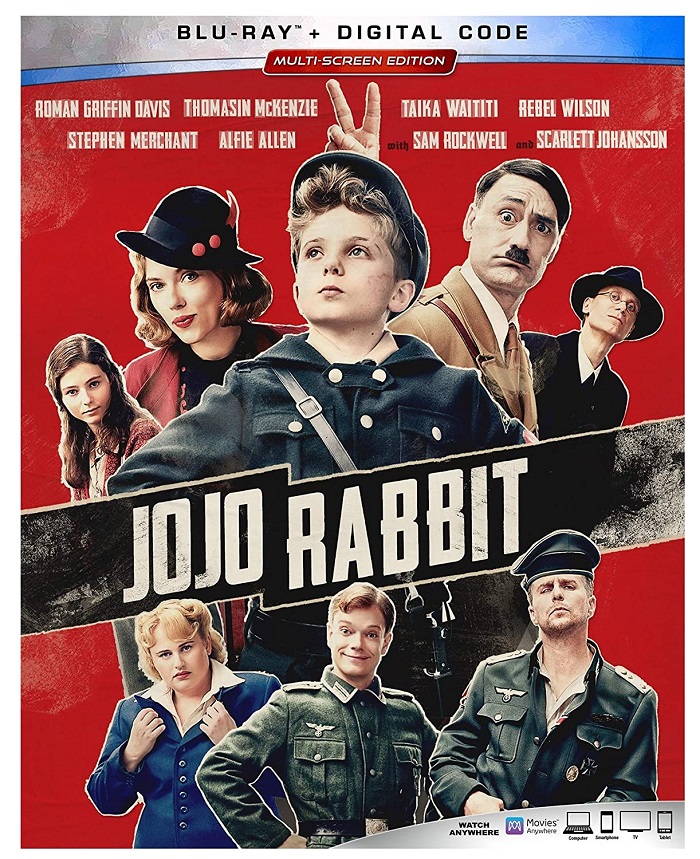 One major plus of being in a franchise is using your clout to make bold, original material. Whether you're an actor or a director, getting involved in a tentpole property gives you enough cache to make a smaller passion project, allowing the "one for them, one for me" model to continuously formulate. Interestingly, two of the last three films I saw at Toronto involved directors doing just that. Thankfully, both pictures had pretty spectacular results.
First off is the WWII satire Jojo Rabbit directed by Taika Waititi. Helming the comical Thor: Ragnarok allowed Waititi to make a satire that walks a thin balance between absurdist humor and poignancy. The Third Reich is no laughing matter yet Waititi is somehow able to make a successful farce about the systemic nature of evil. It goes far enough to depict young children in the Hitler Youth organization to demonstrate how early hatred can be learned.
Once Jojo Betzler (Roman Griffin Davis) gets trained by Nazis, he's excited to join even though there are signs that he's not meant to exude such hate. His views become even more challenged when his mother Rosie (Scarlett Johansson) has a Jewish girl named Elsa (Thomasin McKenzie) seek refuge in their attic. As Jojo and Elsa form a reluctant friendship, an imaginary version of Adolf Hitler (Taika Waititi) acts as the devil on Jojo's shoulders.
Although Hitler is portrayed as a farce, Waititi still never makes light of him. The Hitler in this film is still a sadistic, genocidal maniac, but played as a caricature to sync in with the picture's satirical notions. Along with Waititi, Thomasin McKenzie is another acting standout as the affable Elsa, doing a slight 180 from her breakout turn as the demure Tom in last year's Leave No Trace.
Of course, lead actor Roman Griffin Davis is terrific and navigates the film's balance of poignancy and humor with ease. In addition, Scarlett Johansson is incredibly nuanced as Rosie, showing an impish sternness used to get Jojo to snap out of his morbid idealism. Names like Sam Rockwell, Rebel Wilson, and Stephen Merchant impress as well and make wonders with their smaller roles.
Understandably, Jojo Rabbit won't be for everyone. As tricky as satire is, the subject matter of Jojo Rabbit will cause some to think it's too much of a button pusher. But for those willing to check it out and see it for the anti-hate message it attempts to convey, it's a worthy watch. Both heart-rending and hilarious with a dash of horror elements, Jojo Rabbit is easily one of the year's best films.
If you want a black comedy with less heavy subject matter, though, Knives Out could be up your alley. After Star Wars: The Last Jedi grossed a billion dollars, its success allowed director Rian Johnson to make an old school Agatha Christie-esque whodunit. Knives Out provides mysterious thrills while offering a timely critique of entitled white privilege.
After Harlan Thrombey (Christopher Plummer) is found dead at his birthday party, Detective Benoit Blanc (Daniel Craig) investigates his death. As Harlan's family members become suspects, they slowly turn on each other. Meanwhile, Harlan's caretaker Marta (Ana de Armas) becomes an observer and a key component to the ongoing case. Her influence also leads the Thrombeys to reveal themselves to be more close-minded than they like to think they are due to her immigrant status.
Once the Thrombeys jump at each other's throats, it becomes a colorful clashing of personalities and the actors playing them wonderfully sell the dysfunctional chaos that ensues. Chris Evans plays against type as Harlan's black sheep grandson, Ransom, while Toni Collette brings hilarity as Joni, an airheaded lifestyle guru who's Harlan's daughter-in-law. Meanwhile, as Benoit Blanc, Daniel Craig plays an amusing retread of his Logan Lucky character. That being said, it's Ana de Armas who's the acting MVP as Marta. De Armas is a source of silent, moral authenticity amidst a group of actors playing elitists with larger-than-life personas.
As previously mentioned, Knives Out offers the best of both worlds. It offers sociopolitical commentary under the guise of a crowd pleasing popcorn mystery. The killer ensemble cast, which includes established actors shedding their franchise personas, is another reason to buy a ticket.