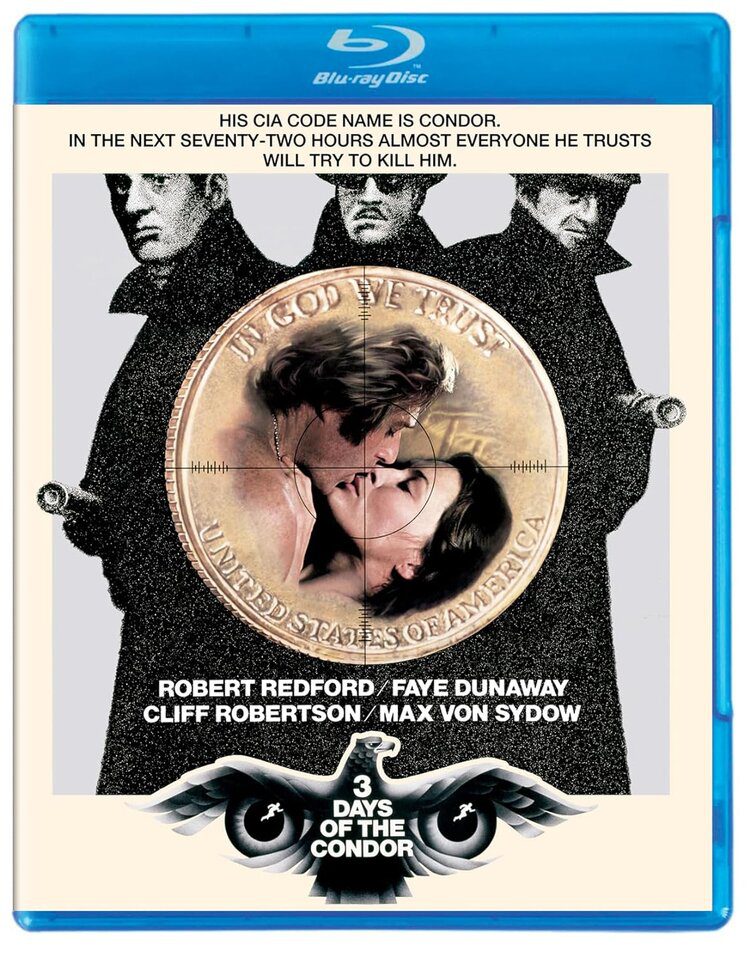 As far as paranoid '70s thrillers go, Sydney Pollack's Three Days of the Condor—about Joe Turner (Robert Redford), a hip reader of books for a CIA front who questions the organization after strange personnel kill his colleagues while he's away, fetching lunch—is enjoyable, slick entertainment.
Turner, a government functionary, realizes he's in over his head and will do whatever it takes to survive. He's somewhat of an inverse James Bond. He's quick-witted, sure—a brain who can defend himself in various situations. To evade, much less slay, a cadre of assassins, though—that's a whole other deal.
Yet after the opening massacre (a chilling sequence that Condor builds in expert fashion, and which the movie can't match), Condor becomes only semi-taut.
As one of Turner's bosses, Cliff Robertson conveys a beady-eyed impersonality. Max von Sydow plays an icy but polite hitman. Their relative dispassion—professional but clinical to a fault—seems right to us. The movie gives Faye Dunaway (stunning and a genius of anxious emoting in this era) a near-thankless part. She plays a photographer that Turner kidnaps and seduces.
I like Condor. It's got a swingy, literate, wintry vibe, and (as a post-Watergate spy film) it has the ring of plausibility. It was evident by the mid-70s that the Nixon administration had engaged in illegal actions. Americans' distrust in their government was at an all-time high. Condor also came out when Redford was at the height of his matinee idol fame. He lifts the movie beyond mere watchability. As Turner, he's believable—alert, worried, always thinking. He wants to trust but knows he can't. I also like the movie's willingness to give him a hard edge—as a guy who, on the run for his life, becomes cruel in ways he wishes he didn't have to but knows are there, right below the surface.
Three Days of the Condor is a solid conspiracy thriller. For me, though, it's mid-tier—too much so to invite a more invested, excited reaction. Were it grimmer—or more rousing—and Dunaway had a stronger part (I'm ambivalent about her character's submissiveness to Turner, a la the Stockholm Syndrome), I might rate the movie higher.
I viewed the new Kino Lorber Studio Classics Blu-ray of the film. The transfer does the job. Special features include audio commentary by film historians Steve Mitchell and Nathaniel Thompson, and by Pollack. Alongside theatrical trailers, the Blu-ray includes two featurettes—one is a documentary about Pollack, the other a closer look at Condor with interviews featuring Redford and Pollack.