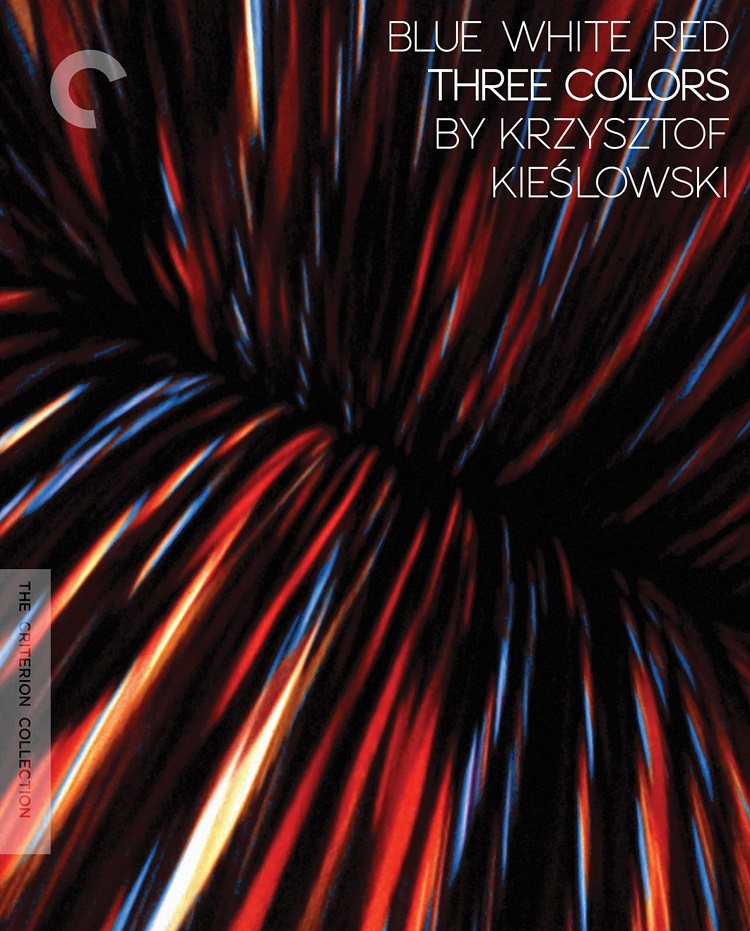 I fell in love with the beautiful and moving Three Colors (Trios Couleurs) trilogy when it first came to video in the late 1990s. When this set from Criterion arrived, I felt like it was early Christmas. This newly improved collection of the trilogy does not disappoint.
Blue (Bleu) is the story of Julie (Juliette Binoche), a woman who loses both her husband and daughter in a horrific car accident. Though Julie tries to isolate herself from her pain and the rest of the world, the door to her emotions and to others cannot remain shut forever. Her story is not told as much in dialogue as it is told through music, lighting, and symbolism. Blue is a moving story of grief and reluctant healing.
White (Blanc) follows Karol Karol (Zbigniew Zamachowski), a Polish man living in France who decides to return to his native Poland after his beautiful and unsatisfied wife Dominique (Julie Delpy) sues him for a divorce. Through a chance encounter with a stranger and fellow native of Warsaw, Karol begins to engage in odd jobs, both legal and not, in order to earn fast money to take revenge on his wife.
Red (Rouge) is two stories tied by proximity and unlikely connections. The first is the story of Valentine (Irene Jacob) who forges an unlikely relationship with a retired judge named Joseph (Jean-Louis Trintignant) after accidentally hitting his dog. Meanwhile just down the street from Valentine's apartment, Auguste (Jean-Pierre Lorit) is trying to reconnect with his lover Karin (Federique Feder). What unfolds between them is the peril that jealousy and betrayal breed. Though neither story fully intersects in this film, they do come together in a way in the end.
Although you can watch all of these films on their own, watching them consecutively allows the real film geek to come out. The subtle ties to one another make for a gentle connection and the reoccurring themes in each film are moving in their own ways. I feel like every time you watch each film, you will discover something new like I do.
The folks at Criterion really put a lot into this set. Each DVD is full of great bonus material.
Blue features a new video essay by film studies professor Annette Insdorf, a new interview with Three Colors composer Zbigniew Preisner, selected scene commentary with Binoche, and an interview program, Reflections on "Blue", featuring Binoche, film critic Geoff Andrew, filmmaker Agnieska Holland, cinematographer Stawomir Idziak, Insdorf, and editor Jaques Witta.
White features a new video essay by film critic Tony Ryans; two new interview programs, one with Three Colors co-writer Krzysztof Pieciewicz and one with White actors Zamachowski and Delpy; and a short documentary on the making of White.
The extras for Red are contained on two discs. Accompanying the film are a new video essay by film writer Dennis Lim, a new interview with actor Irene Jacob and interviews with producer Marin Karmitz and editor Jaques Witta, and a short documentary on the film's world premiere at Cannes. The second disc offers Kieslowski: The Early Years; three short Kieslowski films: "The Tram," "Seven Women of Different Ages," and "Talking Heads;" theatrical trailers for each of the Three Colors films; a short film entitled "The Face" starring Kieslowski; behind-the-scenes footage from Red; Krzysztof Kieslowski: I'm So-So, a feature length documentray where Kieslowski discusses his life and work.
All three films features new high-definition restorations as well as new and improved English subtitles. and on each film DVD there is a cinema lesson with Kieslowski. There in also a beautiful full color booklet included in the set. It covers the casts and credits of all three films. There are also essays on each film as well as Kieslowski writing about the trilogy. It finishes with notes on shooting each film and on the transfers.
For a fan of these films this is a gift that keeps on giving. I have so enjoyed getting to look at all the extras especially the short films and documentaries. This a Criterion set that you want to keep coming back to and exploring time and time again. There seems to be new insights and discoveries around every turn.
These are the last films that Kieslowski made; they are timeless and beautiful. Whether you are new to foreign cinema or a longtime lover, this DVD set is a must.