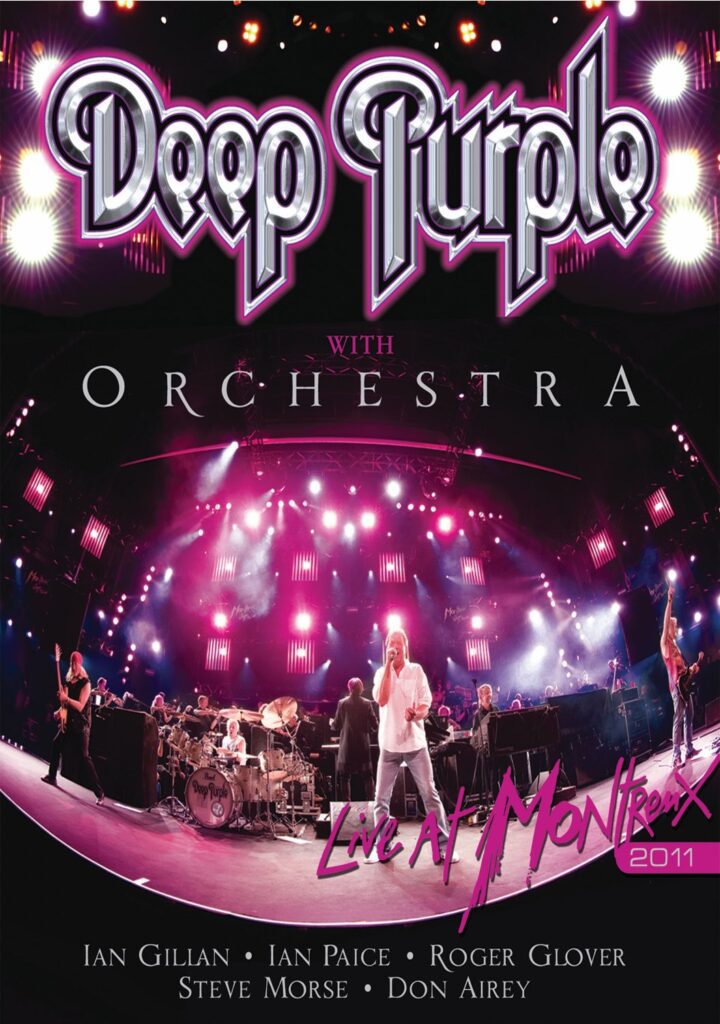 Written by Greg Barbrick
It certainly makes sense for Deep Purple to record a concert live at Montreux, Switzerland. After all, the opening line of their most famous song goes; "We all came out to Montreux, on the Lake Geneva shoreline." The track is of course, "Smoke On The Water," a blow-by-blow account of how the band lost all of their equipment in a fire there – set to one of the most monster riffs of all time. That was back in 1972, on the Machine Head album. Nearly 40 years later they have returned with a couple of different members and an orchestra. The scene has changed to be sure – but the band retains a powerful onstage presence even after all this time.
Deep Purple have gone through so many personnel changes over the course of their career that I doubt if even stalwart drummer Ian Paice (the only remaining original member of the band) could name them all. Besides Paice, the lineup that recorded Live at Montreux 2011 featured Roger Glover (bass), Don Airey (keyboards), Steve Morse (guitar), and Ian Gillan (vocals). Airey and Morse replace Jon Lord and Ritchie Blackmore respectively from the classic Mark II edition of the group that recorded Machine Head. There is no question that both are excellent musicians, but I do miss the showmanship of Lord and Blackmore at times.
When it comes to songs such as "Highway Star," "Woman From Tokyo," and the later "Knockin' At Your Back Door," the crucial element is the voice of Ian Gillan. As is all too evident during the opening "Highway Star," 40 years is a long time. He gallantly tries to hit the high notes though, and most of the time acquits himself quite well. The more disconcerting sign of age is the way Gillan looks now. From wild heavy metal pioneer to a style that could best be described as "hip, aging stockbroker," Gillan has certainly changed with the times. Not so with Roger Glover, who favors the "old pirate" look so popular among old Brit rockers.
Promoter Claude Nobs founded the Montruex Jazz Festival in 1967. In the seventies, he began to broaden the scope to include pop and rock artists, but the foundation has remained based on the spirit of jazz, if not always the form. The addition of the orchestra to Deep Purple adds a great deal to the jazz dimension they wished to honor here. Former keyboardist Jon Lord always had classical music pretentions, most notably on the group's
infamous 1969 LP Concerto For Group and Orchestra. Rather than go that route, conductor Stephen Bentley-Klein has arranged the orchestra's contributions to add a jazz flavor to the songs. This is not Metallica goes to the symphony; it is much closer to something like Count Basie in Rock, at least in parts. Make no mistake though, this is a Deep Purple show – and their brand of early seventies hard rock with flourishes is what it is all
about.
Two of the orchestra's most notable contributions come during the Steve Morse guitar extravaganzas "Contact Lost," and "The Well Dressed Guitar." Their dramatic appearances during both punctuate his playing quite effectively. Their replication of the original studio introduction to "Knockin' At Your Back Door" is also a welcome touch.
Don Airey is one of those players who is widely respected among other musicians, but not very well known to the general public. His credits speak for themselves though, as he has played with Rainbow, Ozzy Osbourne, and Whitesnake among many others over the years. Airey has been with Deep Purple since Jon Lord's retirement in 2002. His big solo turn comes during the imaginatively titled "Don Airey Solo." Actually, I think his introduction to
the old warhorse "Lazy" is pretty great too, even if Jon Lord originated it. In fact, the entire band shines on this Machine Head track, and conductor Stephen Bentley-Klein offers up a rambunctious violin solo to close the song out.
All of this is great fun, and one gets a feel for just how many classic Deep Purple tunes there are as they cruise through "Space Truckin'," "Perfect Strangers," and "Hush." But nobody is going anywhere until the anthemic "Smoke On The Water" is played. Every aspiring teenage guitar player on the planet has probably mastered this simple, monster riff. There really isn't any question that this is Ritchie Blackmore's signature song, yet somehow Steve Morse manages to make it his with a highly original solo. One of the most imaginative and powerful elements of Purple has always been their combination of guitar and organ. Morse and Airey do a great job playing together during "Smoke," and the addition of the orchestra adds even more depth.
The concert closes with "Black Night," which Roger Glover kicks off with a sharp bass solo. The song has an interesting history. It was released as a single between the albums In Rock and Fireball back in 1970, and remains the band's highest-charting U.K. single, peaking at number two. Steve Morse steals the spotlight (again) with his solo, and has a great time quoting "Spirit In The Sky" and "La Grange" along the way. The audience eats it up, and after nearly two hours of music the night is over.
The DVD extras are simple and effective. They consist of individual interviews with each of the five members of Deep Purple. There are no ground-breaking revelations or anything, but it is kind of fun hearing their impressions of the show, and of the current band. All together the interviews add up to nearly an hour.
What they really had to say was in the music, and the pairing with an orchestra was much more than just a stunt. It works very well, and adds a whole new dimension to these classic songs. As I have discovered by sampling a few of the Montreux concerts that Eagle Rock are releasing, the venue brings out the very best in the performers Claude Nobs invites. Deep Purple are no exception, and put on one hell of a show last summer. Deep Purple with Orchestra Live at Montreux 2011 is one of the rare music DVDs that stands up to repeated viewings, for it really was an outstanding night for everyone involved.