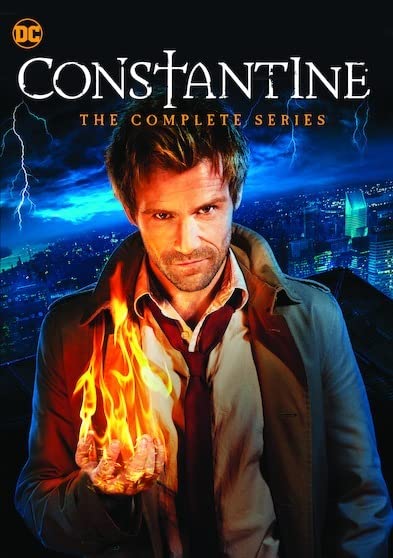 In which Shawn (@genx13) and Kim (@kimfreakinb) riff on some recent TV thingies…
Shawn: It's been far too long since we caught up. So I've got a few thoughts to spray out regarding some of the TV you may or may not have been watching.
American Crime (ABC): One episode in and I'm interested. I think it's going to run a fine line for me. I see parts of the show like the parents dealing with the death of their son (two strong actors there – I especially like Timothy Hutton) to play out in ways that we don't always see on Network TV. But in the previews I get a sense that there may be more sensationalistic stories that try to play against recent news events. I like my TV stories to exist in separate universes from reality. A show like True Detective was wonderful for being in the U.S. and yet almost in a made up world. Modesto is a great setting because it can be AnyTown, USA. I don't need it to be Ferguson. I'm curious to get more backstory on our heroin loving couple.
Constantine (NBC): You pushed me a little on this show. I was a little slow to catch on to it. I liked the cast. But the stories just rambled for me to start the season. But they really found their legs by "The Saint of Last Resorts," and by the time the season ended, I think they had their best two episodes. We're certainly left hanging with Manny that I hope is reason enough to warrant a second season. But I think they have lots of room to develop a great show just revolving around John, Zed, and Chas.
The Walking Dead (AMC): We're at the halfway point of this group of episodes. I hate to mention that we only have four more episodes to wrap up this season. There's so much going on here that I could go on for pages but my thoughts right now revolve around a few things. I'm almost growing to love Carol. Since her actions at Terminus, she's been on a roll and her interactions with Daryl are always my favorite. She's up to something and I'm excited to see. I also miss Tyreese already. He was one of the glues to the series for me. He had a good head on his shoulders and loved those babies. His death was one of the harder ones for me to get over.
The other thing I'm missing is evolving dead. I got this feeling in the first season that the dead were somehow evolving and learning to work together. For example, the ability to hunt in packs. The dead we see today haven't changed much since the early seasons. I'd like some more attention to the title characters.
Arrow (The CW): I've said this since the start but I don't know if there's a more exciting show on TV. And I don't know if there's one with any hokier dialog. Yet I get more joy out of this hour of TV each week than almost any other. We've got about eight episodes left to figure out how to get Oliver out of this dilemma with Ra's and the League of Assassins. I think he agrees to become the new leader and then betrays them at the end of the season. The good news is that Felicity slept with Ray and the orgasm was powerful enough to propel the ATOM suit into flight. This is the craziest show and yet I can't say I look forward to any other as much (except probably TWD).
Stalker (CBS): On paper it all sounded so perfect. The beautiful Dylan McDermott and the equally hot Maggie Q in a procedural show about stalkers. The trailers looked spooky. And it's on CBS so it's likely to get a full season. Well, I'm about six episodes behind and I'm not sure I can finish it. As nice as the cast is to look at – it has none of the fun that the above shows have for me. I like good stories and some action and maybe some laughs along the way. This show is not really heavy on any of those. The stories have already started to feel repetitive and the ongoing stories haven't caught me. But the worst part? It's the slowed-down acoustic versions of songs at the end of each episode. Alright already, we get it. Slow down any song and it seems spooky and creepy…"Oh please say to me / You'll let me be your man / And please say to me / You'll let me hold your hand / I'll let you hold my hand / I wanna hold your hand." Congratulations, you just made the Beatles sound creepy. You can do it with any song and it doesn't impress me. In fact, it annoys me to the point that I don't want to finish any off the episodes. I might be out on this one unless I hear of upcoming nude scenes.
What's floating your boat?
Kim: It really has been a while. I'll comment on a couple of things you've mentioned, throw some new stuff into the mix and then I'll arm wrestle you to see who is buying the first round next time we meet.
American Crime (ABC): I haven't watched this yet. I'm kind of on the fence about starting it. There have been some not-so-positive reviews and I'm concerned about those. I do like Felicity Huffman a whole lot, so she's definitely a draw for me. It kind of reminds me of the feelings I had about Low Winter Sun when it was getting ready to come out. I loved the idea, hated the roll of the show and I didn't finish that season. It's on my "maybe" list – maybe after The Walking Dead ends for the season.
Constantine (NBC): Like Firefly before it, Constantine instantly sucked me in with likable characters and out of the ordinary stories, but was constantly hounded by a really shitty time slot. I've never read any of the Hellblazer comics, so I waltzed in here completely blind. It reminded me of a cross between Buffy The Vampire Slayer and Angel, minus the cheese. Mind you, I loved both of those shows, so I'm okay with campy. I don't like being left hanging, not sure if there will even be a second season, sad that it was cut short at 13 episodes. The problem is the time slot. Friday nights are simply not a good slot. I think the first half of the year it came on at 10pm, then they moved it to 8pm. I am happy to see Matt Ryan any old time, smoking his cigs and generally not giving a shit who agreed with his tactics. He got the job done. Throw in the beautiful Zed so we all have someone to crush over and you've got something that I want to see more of. I don't feel good about its chances though.
The Walking Dead (AMC): Quite simply, the best show on TV. This season has a bit of a different feel, and why I didn't care for the acid trip of the first episode after the break, I still find this story compelling. I still love the characters and watching them evolve. I like seeing them now as kind of the group people fear instead of the group that fears others. I'm looking forward to seeing what they do in Alexandria and what kind of evil is lurking beyond, or possibly within, those walls.
Two thumbs up to the gay couple, though. There was so much fallout from homophobic people complaining that their children saw it and they were offended. Seriously? They've seen several beheadings, entrails ripped out and a whole lot of cussing this season, and you're worried about people expressing their love because they're both dudes? I mean, did these people have an issue when Abraham and Rosita were getting it on? I'm not going to turn this into a debate about morality or equality or anything, but this is the kind of thing that one would naturally see in a post-apocalyptic world. Get over it. Enjoy the show. Let's see those two shagging in bed one night and weed out the rest of the naysayers. I am constantly left wanting more from this show, so it obviously still holds its appeal for me.
Arrow (The CW): Can we please have more Stephen Amell shirtless? I mean, come on. I keep reminding myself that this program is aimed at a younger generation – no self-respecting person over the age of 30 would be okay with any of the dialogue and relationship portrayals in this show. However, I'm completely sold. So sold that I bought the first two seasons on DVD even though they are still on Netflix, just to stare at the packaging. I love the guys in this show (mostly) but don't care for any of the female characters, except Felicity. I don't think that's a function of acting or jealousy. They're all very pleasant to look at, but we need to have better dialogue and maybe a shirt for Thea that covers her midriff. I'll keep watching though because it's fun and entertaining, and I could look at those very pretty people all day long.
Stalker (CBS): Don't get me started. McDermott, I love the shit out of you and I will watch just about anything you are in. Hell, I put up with Hostages just to see your face. This one though – I've taken to muting the entire episode and it's just as enjoyable as it would be if I heard them speak. In fact, if you watch the show while playing old Metallica albums, it almost feels like a perfect fit. This one is solely scenery for me. It's a background show for me. It's on my DVR and I put it on when I have things to do and want something nice to look at. That's it.
What did you miss?
Agents of S.H.I.E.L.D. & Agent Carter (ABC): Now that it's back from its very long break, I'm having trouble getting back into it. I think the timing of the Agent Carter miniseries was a mistake. So much so that I only watched the first night of that show, then longed for S.H.I.E.L.D. to be back and never gazed at Agent Carter again. Now that it's back, I feel very disconnected from it and honestly couldn't remember where they had left off. Timing is everything and with this entire franchise (Marvel) I think they need to be a little more careful about how they lay things out. For me the stark differences between Carter and S.H.I.E.L.D. were enough for me not to even associate the two, and I'm sure that was never intended. I'll stick with S.H.I.E.L.D. though because there is plenty of eye candy on that show and I truly enjoy the dialogue and relationships that we see.
The Following (FOX): Not even going to go there this season. Not even one episode. I watched the first season, very hopeful. The second season I watched because I felt I needed closure and I'm just not giving this one any more of my time. Sorry, Kevin Bacon. You're dead to me now.
So, there you have it. My lineup of shows pretty much owned by hot men: Matt Ryan, Norman Reedus, Andrew Lincoln, Stephen Amell, David Ramsey, Dylan McDermott, Brett Dalton, Henry Simmons, and Nick Blood. What more could a girl ask for? Maybe for Sons of Anarchy to not be over. Yeah, that.