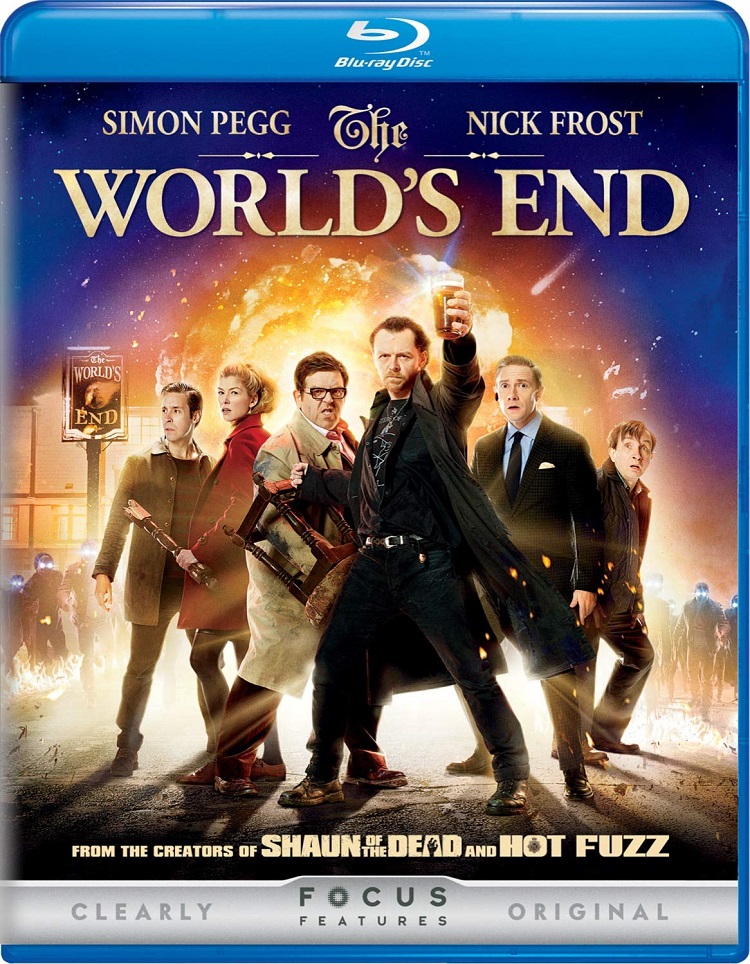 On June 22, 1990, a group of young men attempted a heroic feat in their small town of Newton Haven. They attempted to walk the Golden Mile, which meant drinking a pint of beer at 12 different taverns along the way that ended at the front door of the pub known as The World's End. But the journey they embarked upon 23 years ago ended in failure. Not only did some of them not have the stamina to make the journey, but they also lost focus and found themselves easily distracted.
After that fateful day, the five men slowly grew apart and began to have lives of their own. They got jobs, got married, and started families. The foolish dreams of youth are far behind them and not a single one of them would ever consider taking up the elusive quest that had slipped through their fingers.
Everyone that is except for Gary King (Simon Pegg), the leader of the group, who decides to reunite the band for one last shot at the Golden Mile. It takes a bit of conniving and manipulating but he finally manages to convince them all to give it another try.
While the guys reluctantly agree to follow their once fearless leader along his pub crawl, things quickly go south as they begin to see how stuck in the past he is. He's still driving the same car he did in high school, does the same things he always did, and is totally immature. By the time they've hit only a handful of pubs along the trail, they realize how pathetic he is and are ready to abandon the venture.
But before they can leave all hell breaks loose. Gary decides to take a quick trip to the bathroom where he picks a fight with a young kid who he finds out is a robot after smashing the kid's head against the urinal and decapitating him. When his buddies come looking for him, they find him holding a head and covered in blue goo. At first, they are horrified but suddenly find themselves fighting for their lives as the headless body continues to fight them and is soon followed by more robots.
After the encounter in the restroom, the group notices that everyone in the town seems to be acting strangely and comes to the realization that all of them may be robots. And in order to throw off suspicion Gary manages to convince them that they need to go on like nothing happened and finish the Golden Mile.
The Blu-ray is presented in 1080p High-Definition Widescreen with a 2.35:1 ratio and a DTS-HD Master Audio 5.1 soundtrack. The video is clear and sharp, which may or may not be a good thing as it makes Pegg look a lot older and worn out than he normally appears. The audio is a mixed bag. It's got good quality, but the mixing of the sounds feels a bit noisy, which doesn't help as there is a lot of mumbling going on with British accents that makes it difficult to follow the dialogue at times.
The Blu-ray combo pack comes with a DVD version and a downloadable digital version. There are over three hours of bonus features including commentaries, gag reels, deleted scenes, featurettes, and storyboarding. Unfortunately, most of them are rather dry and really aren't that interesting.
Of course, that may also be because the film itself was not that entertaining. The first half was rather boring, and there was little character development to give the audience anything to connect with. Then suddenly halfway through it morphs into some science-fiction mess that made little sense and was just weird. Both previous films that starred Simon Pegg and Nick Frost Shaun of the Dead and Hot Fuzz were far superior.
Granted the only real connection between the films making them a so-called trilogy was supposedly the Cornetto references in each, but one of the special features demonstrated how some of the same lines and actions were used in all three films. This intentional connection did little to help this final film as it made it feel rehashed. It's difficult to believe that even hardcore fans of the first two films would find this satisfying and be willing to put down good money to own it.