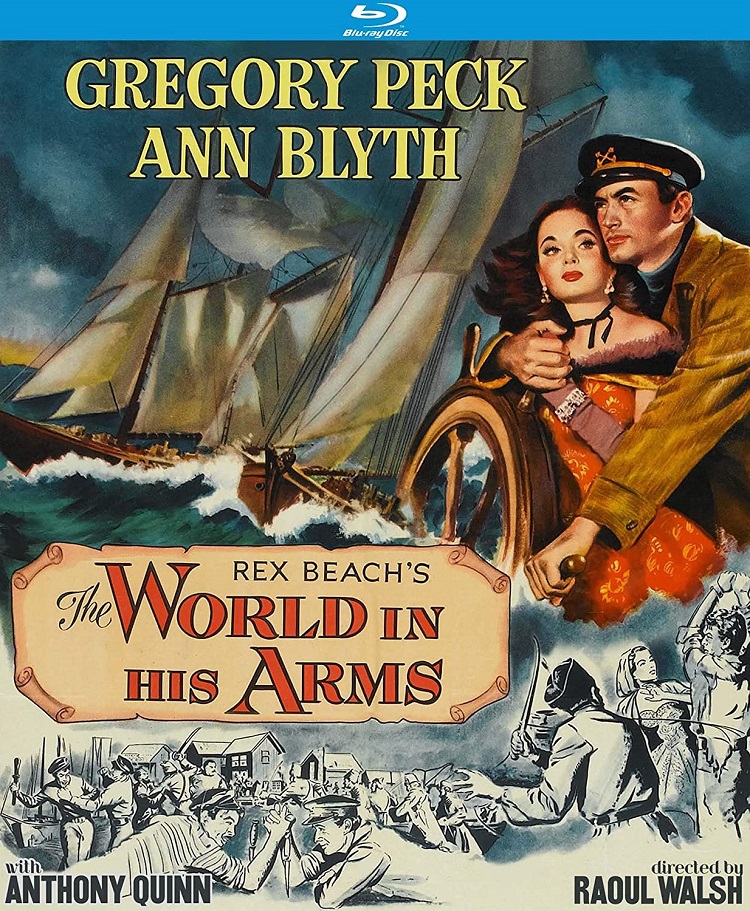 Last week I watched three films that are part of Kino Lorber's ongoing Film Noir: The Dark Side of Cinema collection. After watching the first two, I threw in what I thought was the third film and laid back to watch it. Gregory Peck played a ship's captain come to port in 1850s San Francisco. It was a very jaunty film. He gets into a couple of fights, meets a girl, and wait a minute…this is a strange kind of film noir. Those types of films usually take place in the 1940s or 1950s. And this movie is awfully goofy for a genre that tends to be darkly cynical. And it is in color. Not just color but glorious Technicolor. What are the folks over at Kino Lorber thinking calling this film noir?
Wait. Did I grab the right movie?
Of course what I had actually grabbed was Raoul Walsh's 1952 adventure film The World in His Arms, not Six Bridges to Cross, the third film in the film noir set. Once realizing my mistake, I switched the movies out and finished out the Noir collection. I then returned to The World in His Arms the next day. Watching it with the understanding that it has been labeled by exactly nobody as a film noir allowed me to enjoy the film on its own terms. It's pretty good.
Gregory Peck plays Captain Jonathan Clark, "The Boston Man" who has been hunting seals in Alaska, much to the chagrin of the Russians who still owned the great northern wilderness at the time. He sells the seals and sets up his rough and rowdy crew in a posh motel, much to the chagrin of its rather prim and pompous manager. Flush with cash, he throws a raucous party filled with women, wine, and dancing.
Anthony Quinn plays Portugee, a rival sailor who initially stole Captain Clark's crew out from under him in order to sail some Russian aristocrats to Sitka. But when Clark steals his men back, the Russians find themselves without a boat. Countess Marina Selanova (Ann Blythe) is desperate to get to Sitka for there her uncle can protect her from an arranged marriage with an awful prince. Pretending to be the Countess's companion, she heads to the party in hopes she can convince Captain Clark to take her to Sitka.
Clark hates the Russians but he loves pretty girls and so he's easily persuaded. It is easy to see how Raoul Walsh was more interested in the adventure part of this story rather than the romance as he spends just a few minutes having them fall in love and a good twenty on the sea race between Portugee and Captain Clark. The romance consists of a few sweet words spoken on Captain Clark's boat at sunset. The race is filled with big waves, high winds, broken sails and a near-collision between the two boats.
When word gets back to the Countess's people that she's fallen in love with a commoner (an American! and one who steals from the Russians!), they quickly whisk her back to Russia. Or rather, the evil prince shows up in San Francisco and takes her away. Captain Clark learns that the Countess's companion is actually the Countess and that she's been stolen from him, which inevitably leads to a showdown and one more two-fisted brawl, and the happy ending we all knew was coming.
It was very strange coming to this film expecting a shadowy, cynical film noir and finding a bright, colorful, romp. Once I realized what I was watching, I was able to settle into its delights and enjoy myself. I'd still consider this a slightly second-tier adventure film. It is fun but forgettable. Gregory Peck is always good, but I have trouble enjoying him in this light-hearted sort of film. He has such gravitas as an actor it is difficult to picture him as a carefree adventurer. Ann Blythe is fine as the countess, and Anthony Quinn is clearly having a blast. Really, it is a fun little romp with plenty to enjoy, but not enough to catapult it into greatness.
Kino Lorber Studio Classics has given it a nice 1080p transfer. It comes with the usual trailers and a nice audio commentary from film critic Nick Pinkerton.