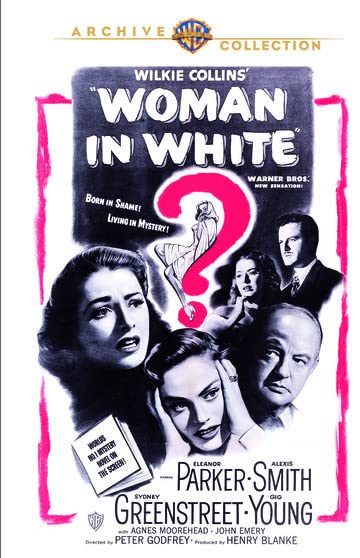 As the type of fellow who regularly attracts women on the verge of a nervous breakdown (or at least helps them get their start), I have grown very accustomed to recognizing the proverbial warning signs from men and women alike when it comes to being cray-cray. Prior to the days of mental illnesses actually being recognized as mental illnesses, however, things worked a little differently: you were either with it or you weren't. It was perhaps the worst for the ladies, who were still being committed to insane asylums for having menstrual cycles up until the beginning of the 20th Century. It wasn't until the middle of the century that things started to improve slightly, wherein even Hollywood began to shed a little (low) light on the subject for the public.
And while mental illness isn't necessarily the subject of our first feature here, 1948's The Woman in White, it does show us a fine example of how unfairly men treated women at one point in time. Based on the 1859 novel by Wilkie Collins ‒ itself a "culturally significant" (take that, failed Ghostbusters reboot!) addition to the literary world, serving as not only one of the first mysteries ever penned, but as the first sensation novel ever written as well ‒ The Woman in White is also the first of two movies starring Eleanor Parker to depict two entirely different views of the mental barrier. Here, the late Ms. Parker plays two different roles as delicate young flower named Laura Fairlie, and a mysterious mentally unfit lass clad in white.
But the latter Parker isn't the only one whose front porch light has burned out here. There's also a loco invalid elder ‒ an Uncle Frederick ‒ attached to the Fairlie Estate, brilliantly brought to eccentrically fussy life by John Abbott. As if two nutters in the household weren't enough, the manor also has a very peculiar guest in the guise of Count Alesandro Fosco (a lovingly nefarious Sydney Greenstreet), who is not only keeping a sharp eye out for that mysterious Woman in White, but who has also mentally dominated Uncle Frederick, his staff, and has a lot of negative influence of Laura's newfound fiancé, Sir Percival Glyde (John Emery). Fosco also has a powerful mental grip on his own wife, as played by a subtly magnificent Agnes Moorehead.
Oddly enough, despite everything that is happening to Eleanor Parker in this film, she isn't the actual star of the program. Instead, the honor of top-billing goes to Alexis Smith, who portrays Parker's gorgeous cousin. Gig Young is the story's hero, who arrives to teach Laura a thing or two about art, but instead learns all about gaslighting. German-born character actor Curt Bois (Casablanca, Wings of Desire) is John Abbott's suffering butler, and Emma Dunn also stars in this compelling, well-made Warner Bros. offering from director Peter Godfrey, who had previously directed Sydney Greenstreet in Christmas in Connecticut and Ms. Parker in Escape Me Never with Errol Flynn and Ida Lupino (which also featured Gig Young).
Nine years after The Woman in White gave us Eleanor Parker in multiple roles, Hugo Haas directed a minor drama featuring the late great actress as a woman with multiple personalities. Beating the better-known 20th Century Fox hit The Three Faces of Eve to the screen by more than five months, 1957's Lizzie was one of the first motion pictures to publicly acknowledge dissociative identity disorders as fact ‒ a far cry from the, unfair and (sadly) all-too-common labeling it as "Jekyll and Hyde" syndrome most storytellers (even scientists!) employed. Also based on a novel (1954's The Bird's Nest by Shirley Jackson), Lizzie finds Ms. Parker in the lead as Elizabeth Richmond: a meager, mousy receptionist with a few issues.
For one thing, poor Elizabeth suffers from severe headaches and insomnia. But this pales in comparison to the weird, written death threats she receives from a woman calling herself Lizzie, who somehow manages to slip the anti-love notes into Elizabeth's purse unseen. Concerned, kindly next-door neighbor Walter (Hugo Haas, wisely saving what little money the low-budget feature was allotted by playing co-star and director) recommends Elizabeth see a psychiatrist ‒ not just for her own well-being, but that of Elizabeth's alcoholic Aunt Morgan (Joan Blondell, doing a great job of giving it her all), too. Of course, Aunt Morgan is just upset that someone ‒ and I think we both know very well who ‒ keeps making her booze vanish for some strange reason.
Speaking of alcoholics and missing booze, the film's psychiatric hero is portrayed by none other than Have Gun, Will Travel's Richard Boone. In what could very well be his most subdued performance ever (um, I think I may have sussed out who's been drinking Aunt Morgan's booze!), Boone is quick to discover dangerous Lizzie is really inside Elizabeth's head. But that's not all, folks: Miss Richmond's noggin also hosts a third persona: Beth, the gentle and happy gal Elizabeth was supposed to become before the wiring upstairs went south. A young Johnny Mathis gets his first gig here as a lounge singer in this early plea for assistance on the behalf of us crazy folk. Naturally, this '50s McCarthy era ditty, complete with unnecessary romantic subplot, puts more faith in faith itself than in science.
While The Woman in White is the surefire best of the two, Lizzie still triumphs as an entertaining ‒ if not entirely medically accurate ‒ melodrama (or a "mellow drama," if you will). The MGM production initially failed to make an impact on audiences back in '57, as men were too busy stuffing tranquilizers in their wives at the time to let them go out to the movies. The two movies and the five different roles from Eleanor Parker they contain arrive on MOD DVD-R from the Warner Archive Collection, making their official home video debuts after having been sedated and locked away for decades. The Woman in White is presented in its original 1.37:1 aspect ratio; Lizzie is preserved in a matted widescreen transfer.
Break out the crazy pills and enjoy, kids.