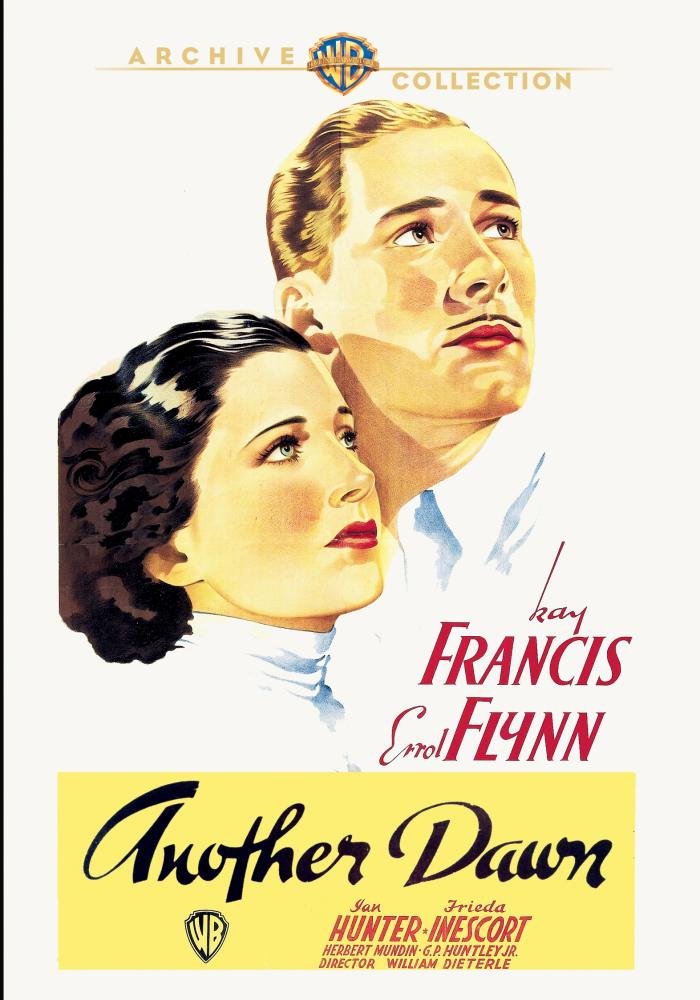 From his breakout starring role in 1935's Captain Blood, it was quite apparent that Errol Flynn was the sort of dashing daredevil leading man who would live on forever in the hearts of film lovers around the world. And indeed he has, though he is mostly known today for his more famous work, such as his aforementioned debut and the subsequent swashbuckling adventures that followed, and even more so for his eponymous portrayal in The Adventures of Robin Hood. But, much like every recording artist/group has a number of singles to stage a Saturday night venue at a bar with, each actor/actress has a heap of photoplays lining their résumé that go largely unnoticed by people other than those who happen to catch them during their irregularly scheduled late-night broadcasts on TCM.
Thankfully, the folks at the Warner Archive Collection have rectified the scarcity of some of the lesser-known Flynn flicks with the recent lineup of three starring-role vehicles. Spanning three decades, this trio of dramatic filmfare includes the sweeping 1937 romantic epic Another Dawn, 1947's heavy Escape Me Never, and the UK-made 1955 feature, The Warriors. Yes, boys and girls, here's your chance to engage in a threesome with Errol Flynn at long last. (And who would say no to that?)
Another Dawn finds Flynn, just a year away from his crowning achievement as Robin Hood, in terrain vastly different than that of Sherwood Forest. The action here takes place in Mesopotamia, where British Captain Roark (Flynn) is under the command of his friend, Colonel Wister (Ian Hunter). Wister's a swell Englishman all the way and prone to giving everyone a second chance – such as his personal valet, who once ran away in battle, thus making way for much abuse from his fellow soldiers. But the sporting Wister insists there's something good in every man, which is something he learns can be far too true when he meets marvelous widow Julia Ashton (top-billed Kay Francis) and marries her – knowing full well he'll never equal up to her long-lost husband.
Well, as luck would have it, Captain Roark is just the type of guy that will equal up to the dead man's standards. And everyone knows it, too – especially as emotions begin to rise and tensions both on and off the battlefield begin to mount, but they are all far too English to do terribly much about it (Hunter delivers a wonderful line about the the intentions of his onscreen wife and pal being too honorable for him to get upset about it). Likewise, Roark's sister Grace (Frieda Inescort) has been in love with the colonel for years, but has never been able to reach him, so she advises her brother to learn how to love the object of his affection from afar. ("Stalking" as we call it today.) Herbert Mundin is perfect as Hunter's cowardly valet, while Billy Bevan, Clyde Cook, and Richard Powell play soldiers in William Dieterle's uncredited adaptation of a W. Somerset Maugham story.
Awkward love equations figure their way into the next Flynn entry, the 1947 drama Escape Me Never. If you've ever wanted to see Errol Flynn and Gig Young portray brothers, here's your golden chance. Sebastian Durok (Flynn) is the talented musician of the siblinghood, though he is prone to being more of a bohemian than his e'er-do-well brother Caryl (Young), who has his sights on something more than just music. But both men have their eyes on love: Caryl is pursuing rich society gal Fenella (Eleanor Parker), while Sebastian is prone to pursuing anything with a pulse – something his poor widowed mother of a partner-in-crime Gemma (the great Ida Lupino) highly disapproves of, as she wants Sebastian for herself. After Gemma's introduction to Fenella's folks leads everyone to the wrong conclusion (they think she's the mistress of the wrong Durok), the brothers and Gemma – along with Gemma's small child, Piccolo – pack up their belongings and being a trek over the mountains to catch up with Caryl's love.
But, as Fate would have it, things just aren't as easy as touring Europe cross-country on foot with a baby in a sling – and soon, Flynn is philandering about with Fenella, who just loves artsy folk. This of course, makes for a complicated love story and an ending that just can't be a happy one no matter what. Reginald Denny and Isobel Elsom plays Parker's parents, and character actor Anthony Caruso has a brief uncredited bit as a baker in Venice, and twin brothers David and Michael Chubb portrayed baby Piccolo (also uncredited, oddly enough) in this vehicle from Peter Godfrey. The whole beginning of the movie reminded me heavily of The Beast with Five Fingers, and looks like it may have been filmed on the same Warner Brothers "Italian" set.
Lastly, we travel to England for some actual location shooting in one of Flynn's final starring vehicles, The Dark Avenger – which was retitled The Warriors for its American release for some reason. Sadly, the seemingly-ageless Flynn (who was in a bit of a pickle both publicly and privately at the time) does not get to utter the line "Warriors, come out to pla-ay!" here, but he does get to portray Edward, Prince of Wales – aka The Black Prince – in this period piece. Assigned to govern over Aquitainia immediately following the Edwardian Era War (the first phase of the Hundred Years' War, for you non-history buffs), Prince Edward (Flynn) discovers local count de Ville (Peter Finch) is dead-set on keeping France French – and soon the two meet on the battlefield, only to have Edward and his trusted aide Sir John (Rupert Davies) escape whilst the rest of the Prince's men are slaughtered.
Unable to return to his castle and determined to save the story's love interest (Joanne Dru), Edward instead heads directly to de Ville's community, where he poses as a wandering knight in order to win the upper-hand with his enemy. Robert Urquhart and a then-unknown (and as such, uncredited) Christopher Lee also appear (the two would later star together in The Curse of Frankenstein with Peter Cushing), and Lee sustained permanent injury to his hand in a sword fighting scene with Flynn. Patrick McGoohan (also uncredited) has a brief bit as an English soldier, and future 007 "M" Robert Brown also co-stars in this CinemaScope Technicolor – but nevertheless rather boring – epic co-produced by Allied Artists, as brought to us by director Henry Levin (1959's Journey to the Center of the Earth) and writer Daniel B. Ullman (see: the Bill Elliott Detective Mysteries).
With the exception of Another Dawn, the titles in this Errol Flynn threesome have been newly remastered. For my money, Escape Me Never is the finest-looking film in the bunch, and the widescreen The Warriors – the only color film of the lot – is thankfully given to us in an anamorphic presentation. The mono soundtracks for all three titles are perfectly clear for the most part (there are brief moments of minor distortion aurally and visually in Another Dawn, though they shouldn't distract from anyone's enjoyment of the film), and trailers accompany the two older black-and-white movies. All three MOD DVDs are available exclusively from the Warner Archive Collection.
Enjoy.