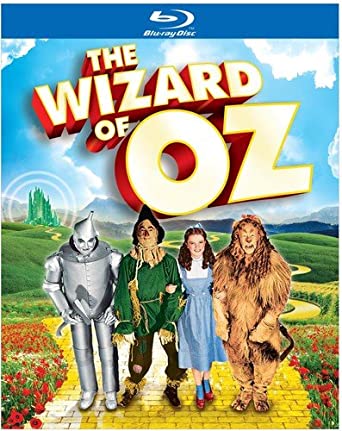 I want to say that it is impossible to hate The Wizard of Oz, but if the internet has taught us anything it is that there is always someone around who hates everything. If you browse the message boards of IMDB at all, you'll quickly see detractors calling whatever movie you are looking at stupid, boring, pointless, plotless, and without merit. Of course there are then always fans of said film who will call the detractor things like neanderthal, brutish, stupid, and will make suggestions that this moron go back to the message boards of lesser films like Transformers. I always wonder do the fans of Transformers tell the detractors to go back to the Ingmar Bergman boards or is there something even less snobbish than movies about children's toys? Someday I'll have to check that out. Or not.
The Wizard of Oz is a classic of course, and brilliant. The fact that a few faceless interneters don't like it only proves that there is no accounting for taste (or that movies, like any art are a very subjective media.) I have very fond memories of watching it as a kid (I used to close my eyes and hide in my mother's lap anytime the Wicked Witch of the West appeared) and I look forward to watching it with my two-year-old when she gets old enough to hide her own eyes in my lap.
Pages and pages, books and books have been written on the film. It is interesting to note that while it did decent business when it first hit theaters it wasn't considered the smash hit we think of it as now. It took television, and the many repeated showings on it to turn it into the classic hit has become.
There are already a variety of versions of the film out on DVD and Blu-ray, which makes this 75th Anniversary Edition not exactly a must-have, but it is a pretty impressive set and one that die-hards will likely be willing to lay down more money on, and those who have yet to buy it can be proud of.
Even this set has several different versions – the most expansive of which comes with the Blu-ray 3-D, regular Blu-ray, DVD, and Ultra Violet digital copies. Plus an Amazon exclusive commemorative flags drive. Plus hours of new documentaries a 52-page hardcover photo book, a ruby slippers sparkle globe, a collectible award pin, a journal, and a map of Oz suitable for framing.
I feel a little bad about promoting this disk as, again, there have been so many different releases of this movie. At some point you realize they are just milking the customers over and over again. Five years ago, there was a 70th Anniversary Edition, in another five there will be an 80th Anniversary Edition. Surely by now they've found everything they are ever going to find related to the movie, said everything there is left to say, and cleaned up the picture and sound as much as they will ever be able to.
Which makes it seem like they are simply tacking on extras that don't necessarily say all that much new. This set contains numerous featurettes and documentaries which no doubt has different people saying different things, but are they really saying anything new? Doubtful. Then of course their is the souvenir type stuff that's fun but not really necessary. I guess what I'm really saying is that it would be nice if they would sell that stuff separately so that those of us who already own the movie (sometimes multiple times over) could get any extras that look interesting without having to drop more money for the film.
Okay, rant over. Setting those complaints aside this really is a nice set and the movie is truly a classic. Which is why it still gets my Pick of the Week.
Also out this week that looks interesting:
This Is the End: I'm not really a fan of most of the actors in this movie (James Franco, Jonah Hill, Seth Rogen, etc.) but the premise in which they all essentially play themselves, skewering their perceived persons in an end-of-the-world comedy sounds really interesting.
The Little Mermaid: Disney's classic tale comes to Blu-ray. The way Disney controls their own releases keeps their DVD and Blu-ray prices ridiculously high, which in turn makes me scour the VHS bin at Goodwill. Still, as my daughter grows older she's learning to enjoy these films more and at some point the tapes start to wear down. I might just have to start kicking in for the Blus.
From Here to Eternity: I've never seen this classic save for that famous scene on the beach. This week it gets its Blu-ray debut with a new making-of featurettes and talent files.
New Girl: The Complete Second Season: I love me some Zooey Deschanel whether she's singing with m. ward or playing against Will Ferrell's elf. Thus I want to love this show. I've only seen a few episodes here and there, and while its cute, it's never managed to pull me in.
Frozen Ground: An under the radar thriller with Nicholas Cage and John Cusack set in Alaska. Those two have bad track records with thrillers, but I'm willing to give it a chance.
Magnum P.I.: The Complete Series: For whatever reason I never watched this show though I was the right age for it and presumably I would have loved it. I keep thinking I should go back and watch it and now maybe I will.
The Amityville Horror Trilogy: The first movie wasn't all that good and I don't expect the sequels got any better, but I still have a certain affection for haunted-house movies. The trilogy has received a Blu-ray upgrade and a few new extras including a documentary with James Brolin and Margot Kidder.
Bond 50: Celebrating Five Decades of Bond with Skyfall: This appears to be the same set they released a year ago except now it includes Skyfall. It won my Pick of the Week back then and now it gets a mention.
Doctor Who: The Doctors Revisited 5-8: Featuring one series from the last four Doctors (Peter Davison, Colin Baker, Sylvester McCoy and Paul McGann) before the new series. Plus there are documentaries about each of those Doctors including interviews with all of them and more.