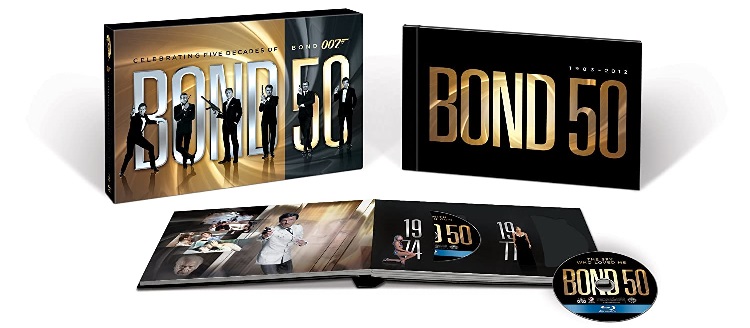 I've always had something of an odd relationship with James Bond. My parents were never huge fans of the franchise so I didn't necessarily grow up watching him. I think I discovered the films during my pubescence at say 12 or 13 years of age but at that point I mostly watched for the girls. I can remember staring longingly at the opening sequences with their naked silhouettes and strategically placed lettering, but then the actual films tended to bore me. Well at least until some Bond girl showed up in a bikini and then I was all eyes again.
During my teen years, I learned to look past the voluptuousness and enjoy the action, suspense, and double entendres. We were big Remington Steele fans in my house and so we were very excited to see Pierce Brosnan taking on the lead role, a part he was born to play. Yet by the time my college years ended and I had learned to take film seriously as an art form, I began finding the films dull and uninspired once again. It probably didn't help that the last couple of Brosnan films are some of the worst in the entire franchise. In recent years I have again rediscovered the series, and while it certainly isn't high art or great cinema, there is a great deal of guilty pleasure in watching this super spy kill the bad guy, get the girl, and drink lots of martinis.
Now I can go back and watch all of the films in chronological order and in high definition with the release of Bond 50: The Complete 22 Film Collection on Blu-ray and regular DVD. The set contains 23 disks including all of the official Bond films from Dr. No to Quantum of Solace plus an extra disk of bonus material including two lengthy documentaries on the look and style of the films and then on the various actors who have played the iconic character.
Nine of the titles are available on Blu-ray for the first time ever. The other films appear to include the same special features on them as they did in their original Blu-ray releases. All in all, this is an incredibly nice set for any fan of the franchise and it is also my Pick of the Week.
Also out this week that looks interesting:
The Avengers: Over the last few years, I've decided that I do not like comic book movies. It usually goes like this: a film comes out and the fanboys and girls get crazy excited hyping the film and so I go see it, and with few exceptions I am disappointed. The problem is that I've increasingly grown weary of action films – explosions, car chases, and big fight scenes just don't do it for me anymore – and I'm not at all familiar with the source material. I'm not a comic book geek. So I've learned to more or less ignore the genre. I would have skipped The Avengers too but a good friend of mine was desperate to see it and his wife wasn't interested so he asked me to come along. I enjoyed it much more than expected. Joss Whedon does a good job of keeping the action tight and the scenes are filled with humor and it never takes its self too seriously. I doubt I'll buy the DVD but I know lots people who will. Extras include commentary from Whedon, a second screen experience where users can access character databases on their mobile devices. a short film with loose ties to the main features starring Jesse Bradford and Lizzy Caplan, a gag reel, deleted and extended scenes, a couple of featurettes and the music video to Soundgarden's "Live to Rise."
Batman: The Dark Knight Returns, Part 1: An animated adaptation of the popular Frank Miller graphic novel.
American Horror Story – The Complete First Season: I've not seen any of this yet, but I'm a pretty big horror fan so I'm excited to see a series devoted to telling those types of stories.
Wallander – Season 3: An Event in Autumn / Dogs of Riga / Before the Frost: I'd not heard of this BBC/PBS series until a few nights ago when the new one aired. Unfortunately, I was too busy at the time to catch much of it but I like Kenneth Branagh very much and PBS rarely goes wrong with their mystery programs so I'm looking forward to spending time with it in the future.

Lone Wolf and Cub Complete (Blu-ray): I'm only familiar with this series as a partial inspiration for the Kill Bill movies but that alone is enough to get me interested.
Desperate Housewives, Charlie's Angels, and Rescue Me – The Complete Series: No these aren't being bundled together but each series is getting big boxed sets of every episode and I've not watched any of them to completion but I figure they are worth a mention here.