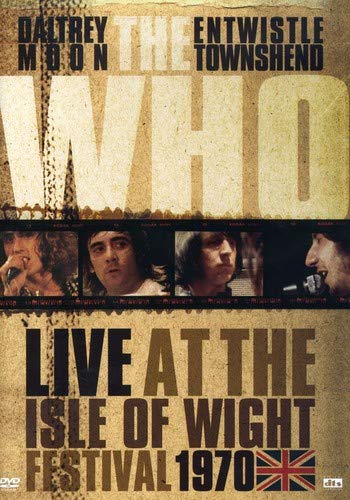 Throughout the ages, humanity has struggled to find the answers to great philosophical questions in the hopes of making sense of the universe. Although there are no absolute truths, many take a firm position in their beliefs to create order and meaning in the universe, which serves a dual purpose of providing comfort and keeping the abyss at bay. Responses to three of the most important define who a person is. They are: What is the meaning of life? Is there a supreme being? Who's the greatest rock and roll band of all time? This DVD may make a case for all three.
On August 30, 1970 at 2 am, The Who played a very compelling set in front of 600,000 people at the third, and what was the last for over 30 years, Isle of Wight Festival. The legendary quartet was at the peak of its powers and all four contributed to the band's greatness. The focal point was Pete Townshend, guitarist and main songwriter, whose tales of teenage strife have struck a chord with many a young man over the decades. He is a talented musician who, even with all the accolades bestowed on him, doesn't get his full due. While not as flashy a player as Jimi Hendrix and Eddie Van Halen or as proficient as Eric Clapton and David Gilmour, very few equaled the number of popular rock guitar riffs he created.
The stories of angst and anger Townshend detailed were given voice by Roger Daltrey, who belted out the tunes that evening through a lion's mane of curly blond locks. Bassist John Entwistle, who was dressed in a skeleton costume, stood almost motionless. His fingers delivered surprisingly strong bass lines considering how lightly he tickled the strings. Keith Moon was such a force that he played lead drums. He was a sight to see as he played with such reckless abandon. It's surprising when he doesn't lose his way within a song. His wild antics are an obvious model for the Muppet, Animal. From this performance alone you can see the influence The Who had on heavy metal and punk rock.
The band played their first hit single, "I Can't Explain." Then, Roger introduced "I Don't Even Know Myself" as a new number off an upcoming album that never materialized. It was so new he got the title wrong. "Water," a motif Townshend used often, was also a new one, but it could have been an old blues number with its lyrics about down-on-their-luck characters and the salacious need for somebody's daughter. They played some covers and a few hits before concluding with an abbreviated version of Tommy. "Tommy Can You Hear Me?" is played over the credits as the band leaves the stage and Moon hams it up earlier in the day backstage.
The performance is absolutely brilliant and a pleasure to behold. Purists may rightly complain about the songs being presented out of order and some being incomplete; however, the concert works as director Murray Lerner presents it. Only someone aware and looking for jump cuts would notice them. The CD soundtrack presents the show in its entirety and proper running order.
Live at The Isle of Wight Festival 1970 has previously been released on VHS in 1996 and on DVD in 1998 and 2004. The packaging for this edition is misleading because it states the film was restored and remixed and includes a "brand new exclusive" interview of Townshend. These are the same claims made on the 2004 edition, and fans are posting online that they don't notice a difference. Upon further review, the packaging still has a 2004 copyright. What is definitely new on the 2006 edition is the inclusion of two previously unseen tracks, "Substitute" and "Naked Eye." However, it makes no sense why they weren't inserted into the film instead of making the viewer access them separately.