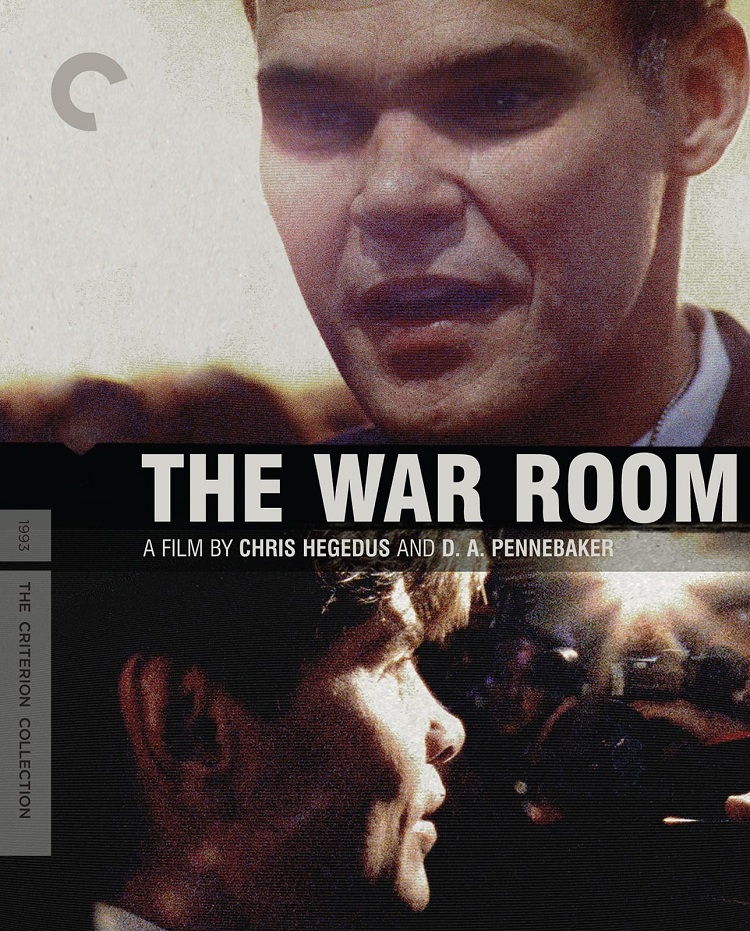 It takes a lot to out-charisma Bill Clinton, but legendary political strategist James Carville does it in The War Room, the gripping documentary about the 1992 presidential campaign, now on DVD from Criterion.
Chris Hegedus and D.A. Pennebaker's seminal documentary tells the story of the "brilliant, aggressive, unconventional" (in the candidate's words) political geniuses that took a pathologically foot-shooting good ole boy from the Arkansas governor's mansion and put him in the White House.
If you enjoy Sunday morning TV, you'll recognize most of the major players here: campaign director Carville, a CNN contributor; communications director George Stephanopolous, current host of both Good Morning America and This Week on ABC; chief strategist Paul Begala, who later co-hosted CNN's Crossfire with Carville; and Republican mastermind Mary Matalin, who married Carville the year after his candidate beat hers in the general election. Oh, drama!
And, if you're a political junkie, the list of famous faces goes even deeper: Dee Dee Myers, who became the new administration's first press secretary; Harold Ickes, Clinton's future deputy chief of staff; Mark Halperin, later ABC News political director; and of course Bill, Hillary, Chelsea, Al, and Tipper. (Sadly, Socks the cat does not make an appearance.)
Interestingly, the candidate himself is not a huge presence in the film. He appears occasionally, chomping on a bowl of cereal here, sitting around in a baggy t-shirt and shorts there, but the majority of his appearances are culled from televised speeches, debates or campaign stops. According to the excellent liner notes by Louis Menand, neither he nor the future vice president granted special access to the filmmakers, which left the documentarians with something of a dilemma: what if Clinton lost?
He didn't, of course, though part of the narrative drama of the film comes from reliving the bumps along the road to 1600 Pennsylvania Avenue. Gennifer Flowers? How could we forget that hot mess, even if we tried? The moment where "Stuttering John" Melendez from The Howard Stern Show asks Clinton's supposed paramour if the candidate "used a condom" is truly a watershed in the history of American political media.
There are many priceless moments in The War Room, but most come from the so-called Ragin' Cajun himself. Carville is such a fascinating character, a youthful 46-year-old who wears his emotions on his sleeve and gawks like a schoolboy when he interacts with schoolyard crush Matalin. He laughs, he cries, he loves, and he inspires the troops with speeches that burn with the fire of true, non-cynical ideology. He believes what he's fighting for and his passion is infectious.
But Hegedus and Pennebaker avoid taking sides. There is no point of view to this documentary, beside the assumption of a certain "liberal media bias" simply because of their selection of subject matter.
This is not the Michael Moore/Morgan Spurlock school of documentary. This is classic Direct Cinema, as originated by Pennebaker and his colleagues at Drew Associates, the collective that made their first big splash with another political documentary, 1960s Primary. The brilliance of Pennebaker and his wife and co-director Chris Hegedus is in their camera placement. We're at the table next to Carville as he reads the morning papers, on the phone next to Stephanopolous as he works his tightly-controlled charm on a political adversary. Fly-on-the-wall documentaries such as this lack the context provided by on-camera interviews, but they also benefit from the lack of spin. No doubt there's plenty of spinning in this film, but we watch the campaign do it to others, we don't have to endure them doing it to us. For the most part, this is unvarnished, pre-Reality TV reality. Remember that?
The quality of Criterion's transfer is excellent, and the film appears to have undergone a fairly extensive cleanup, compared to other editions I've seen in past years. And the special features are typically rich, with an entire second disc devoted to supplements: the 2008 made-for-Sundance Channel follow-up doc Return of the War Room deserves special mention, because it's just as long and substantial a work as its predecessor and, in many ways, just as interesting. What Return does well is expand the storytelling from coverage of a liberal-minded campaign to an exploration of the paradigm that Carville and company created back in '92, and how that is the norm on both sides of the political fence now.
There's also a fascinating interview with pollster Stanley Greenberg that does a great job of explaining the history of political polling and the integrel role it has played (and continues to play) in modern campaigns. Plus, there's a 40-minute he said, she said, he said, she said interview with the filmmakers that plays like the best film school symposium I never had.
The subjects of The War Room were young, idealistic, and fascinated by the political process in 1992, and they remain so. So was I, and so do I. What a treat it was to take this trip down Memory Lane.