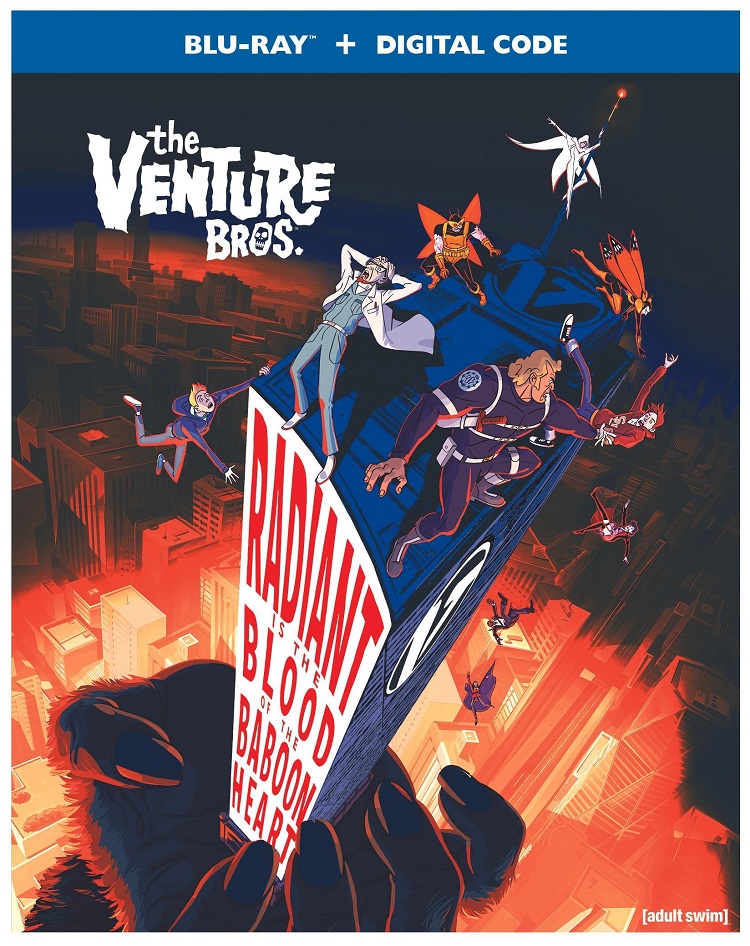 Get ready as The Venture Bros. are back in an all-new original movie picking up right after the events from the shocking season 7 finale! Based off one of Adult Swim's longest-running, award-winning original adult animated series, The Venture Bros.: Radiant is the Blood of the Baboon Heart will be available to purchase Digitally on July 21, 2023 and on Blu-ray Disc on July 25, 2023.
Returning in their original series roles are James Urbaniak (The Fabelmans) as Dr. Venture, Patrick Warburton (Lemony Snicket's A Series of Unfortunate Events) as Brock Samson, Michael Sinterniklaas (Teenage Mutant Ninja Turtles) as Dean Venture, Chris McCulloch (Superjail!) as Hank Venture and Doc Hammer as Dr. Mrs. The Monarch.
Also featured in the voice cast are Nina Arianda (Being the Ricardos) as Mantilla, Clancy Brown (John Wick: Chapter 4) as Red Death, John Hodgman (Up Here) as Snoopy, Hal Lublin (Welcome to Night Vale) as Clayton, Jane Lynch (Glee) as Bobbi St. Simone, Charles Parnell (Top Gun: Maverick) as Jefferson Twilight, Jay Pharoah (Spinning Gold) as Nuno Blood, Steven Rattazzi (New Amsterdam) as Dr. Orpheus, JK Simmons (Whiplash) as Ben and Dana Snyder (Aqua Teen Hunger Force) as The Alchemist.
From Adult Swim, Warner Bros. Discovery Home Entertainment, and Titmouse, series creators Doc Hammer and Jackson Publick wrote and executive produced, and Publick directed. Executive producers also include Chris Prynoski (The Legend of Vox Machina), Shannon Prynoski (Fairfax), Antonio Canobbio (Arlo the Alligator Boy), and Ben Kalina (Big Mouth).
The Venture Bros. originally premiered on Adult Swim August 7, 2004 and ran for seven seasons winning numerous awards including Best Animated TV Series Award at Cineme 2003 at the Chicago International Animated Film Festival.
The Venture Bros. Radiant is the Blood of the Baboon Heart will be available on July 21, 2023 to purchase Digitally from Amazon Prime Video, AppleTV, Google Play, Vudu and more. Blu-ray Disc will be available July 25, 2023 to purchase online and in-store at major retailers. Pre-order your copy now.
Catch up ahead of the movie with The Venture Bros.: The Complete Series. Release will be available to purchase Digitally and on DVD June 20, 2023 and includes all 82 episodes from the 7-season run of the action-packed series.
SYNOPSIS:
Doc's latest invention will either bankrupt Team Venture or launch them to new heights, as Hank searches for himself, Dean searches for Hank, The Monarch searches for answers, and a mysterious woman from their pasts threatens to bring their entire world crashing down on them.
SPECIAL FEATURES INCLUDE:
Commentary by co-creators Jackson Publick and Doc Hammer
Jackson and Doc Answer Fan Questions (Commentary)
Hodgman and Friends (Featurette) – John Hodgman digs deep with Jackson Publick and Doc Hammer to learn more about the making of Radiant Is the Blood of the Baboon Heart and untold tales about their series.