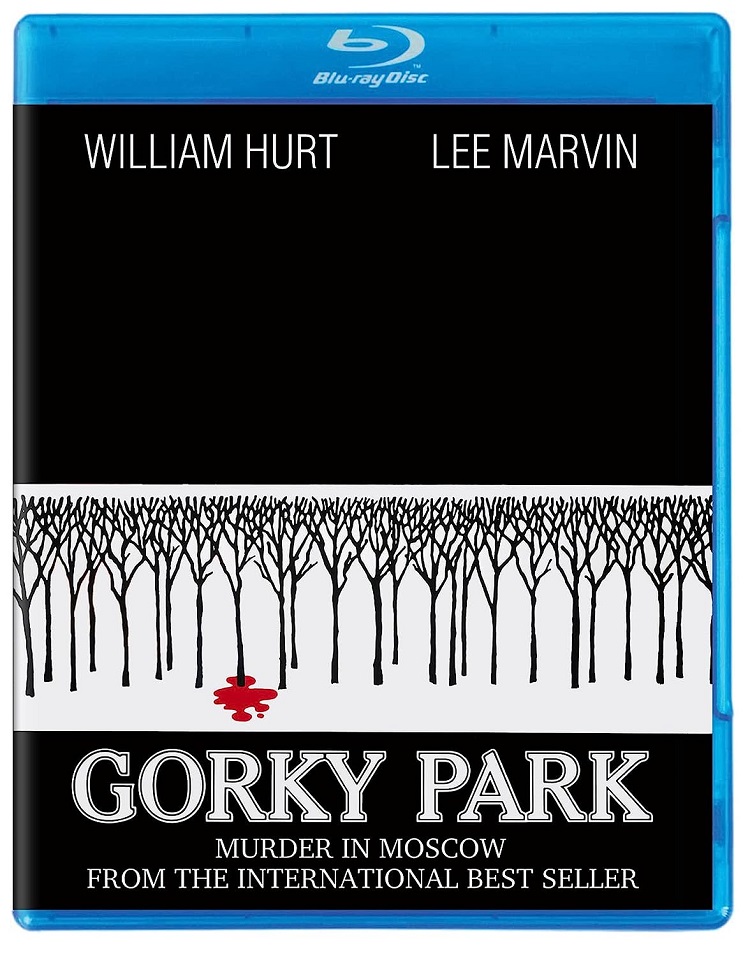 Gorky Park (1983), starring William Hurt, Lee Marvin, Joanna Pacula, and Brian Dennehy, is a thriller set in Cold War Russia and Stockholm and directed by Michael Apted. The story begins with a gruesome discovery in a secluded forest near an ice rink in Gorky Park, Moscow. Three bodies have been discovered buried in the fresh snow: All three victims have been shot, and their faces and fingertips removed to hinder identification.
Chief investigator Arkady Renko (Hurt) oversees the investigation but has severe misgivings because he believes the KGB is somehow entwined in the murders. He soon meets Irina Asanova (Pacula in her first movie role), a friend of the three victims who refuses to believe they are dead. Renko also meets American millionaire, KGB informant, and sable fur merchant Jack Osborne (Marvin). One of the bodies is quickly identified and his brother (played by Dennehy), a New York Police detective, also becomes involved and is one of the few people Renko assumes he can trust. Renko must find a way to identify the corpses, and Ian McDiarmid has a great time playing a scientist who takes his work seriously as he oversees some of the darkest, most macabre scenes in the film.
This is a police procedural through and through and it is fun to follow the clues along with the characters. Of course, Renko and Asanova become lovers, and of course that love will be put to the test. There are romances, friendships, and dark betrayals to navigate throughout this capable thriller.
The direction is generally spot on, and Apted keeps the procedural moments moving smoothly and consistently. Apted also made a very odd choice in regards to handling the Russian language and accents throughout the film. He made the decision that all actors portraying Russians would speak in English with a British accent. Americans speak with an American accent as a way to differentiate the two. But then comes William Hurt, an American playing a Russian with a British accent. Fine, as far as characterization goes, Americans are Americans and Brits or Brits. But Apted meets Joanna Pacula who can barely speak English and is from Poland. Apted decides that he will let Pacula use her birth accent. So, there are scenes where an American plays an American (Marvin) and an actress plays a Russian with a Polish accent (Pacula), while another American speaks with a British accent to show that he is Russian (Hurt). Adding to the complexity is that we are led to believe that Brian Dennehy's character speaks fluent Russian which should mean he speaks in a British accent; however, he is an American character and gets to keep his typical accent. It is a convoluted mess that hurts every single scene.
Lee Marvin supplies weight to the production. His presence looms large, and his booming voice comes off as insistent and dangerous. Brian Dennehy plays his part with just a tiny bit of oafishness that works well with this grieving detective.
The music by James Horner is an odd mix. Often dark and foreboding, but sometimes a simple scene with two friends discussing the case will get the same treatment. There were several points where the music led me to believe there was some action coming that never coalesced. The music was what I don't think it meant to be: a roller coaster.
Extras: The disc includes the theatrical trailer, a theatrical teaser, and TV spots. All of these feel outdated and are mostly interesting as a slice of history. There is also an interview with director Michael Apted where he comes off as sort of gleeful that the movie is receiving any attention at all. All in all, Gorky Park deserves attention.