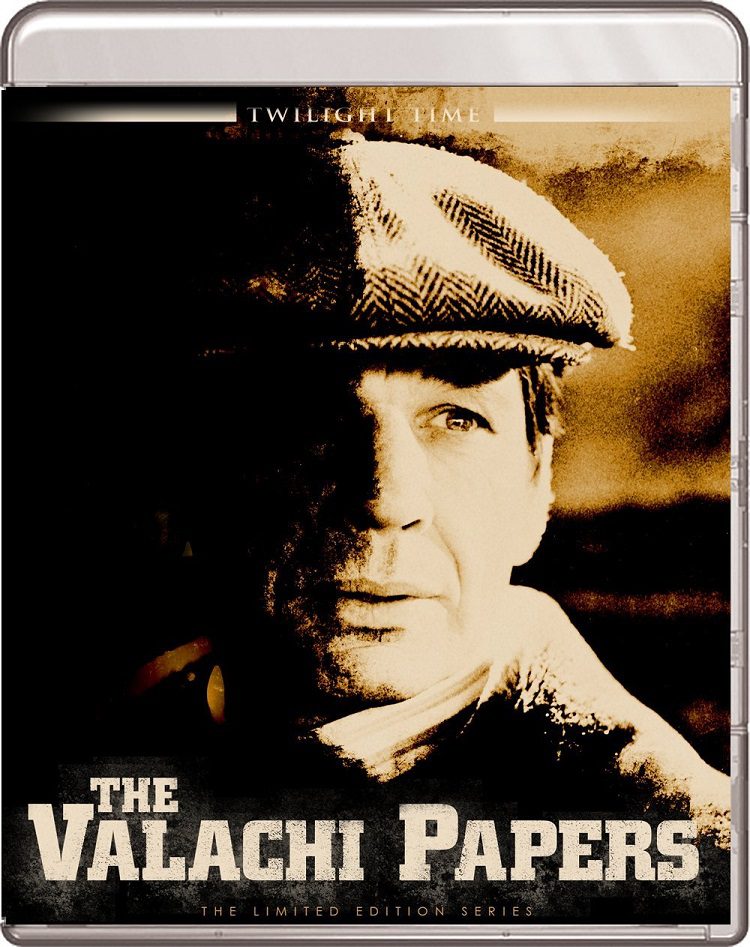 While it may have debuted in its native Europe more than two months before Francis Ford Coppola's The Godfather forever changed the face of mobster movies, Terence (Young's half-exploitation feature The Valachi Papers didn't see a stateside release until many months after the fact. By that time, however, full-time exploitation artists like Duke Mitchell had already cranked out or had started work on their very own low-budget rip-off of homage to Coppola's flick, thus ensuring The Valachi Papers didn't see a lot of action. The fact Charles Bronson would later be quoted as saying The Godfather "was the shittiest movie I've ever seen in my entire life" may not have helped any in the long run.
Interestingly, both movies were based on novels published in 1969, although Peter Maas' The Valachi Papers was the only one of the two to be based entirely on fact. And while there is little doubt that Young's lesser-known film was only rushed into production once word about The Godfather got out ‒ as producer Dino De Laurentiis was not the sort of feller to sit down and remain quiet when someone else was geared to make a buck ‒ we have to give The Valachi Papers credit for that merit alone. As far as the storytelling process goes, this, one of the last European productions to star retro action cinema icon Charles Bronson, ain't half bad ‒ even with all of those very noticeable and amusing anachronisms!
Here, Chuck plays Joe Valachi himself ‒ a mob figure to publicly admit there was such thing as the mafia. And it is those papers we find ourselves rummaging through, beginning with aged inmate Valachi called to the cell of his former mob boss, Vito Genovese (Lino Ventura), wherein he receives the dreaded Kiss of Death. But it's Charles Bronson, so he gives him the same kiss right back before becoming a paranoid prisoner carrying a pipe, leading to a long series of flashbacks as he relays his entire life story to the feds. Featuring a score by the great Riz Ortolani, the film also stars Bronson's real life wife Jill Ireland (naturally), and two of Young's Dr. No villains, Joseph Wiseman and Anthony Dawson ‒ all cast as Italians!
Generally ignored upon being released in the United States, the few people who saw The Valachi Papers then tended to not like it very much, mostly because it seemed to ignore the truth depicted in Maas' best-selling book, instead taking the very Dino De Laurentiis-ish approach to filmmaking: Give them what you think they want. To this extent, we get a surprisingly competent (given all of the chronological errors and questionable casting choices) and fairly violent film which novelist Peter Maas would ironically condemn as "one of the worst movies ever made" ‒ making for one mighty darn fine contrast to Bronson's printed opinion of the film it more than likely tried to mimic. As subtly as a French/Italian co-production can, that is.
The Valachi Papers was probably the only Charles Bronson movie from that era to never receive so much as a videocassette release in the U.S. during the analog era. In fact, we had to wait until 2006 ‒ three years after Charles Bronson's death at the age of 81 ‒ to finally see a domestic home video release of The Valachi Papers. By this time, America had once again become obsessed with mafia tales thanks largely to the popular cable TV series The Sopranos, and there were far worse rip-offs and clones floating about the home video market. Thus, Bronson's little forgotten flick finally earned the chance to be seen without the heavy-handed critiquing it had received 30 years before. Because nothing is as important as timing.
Thankfully, any and all interested parties (even the ones who suddenly felt offended by the Bronson quote at the beginning of this article) can see and judge The Valachi Papers for themselves thanks to this beautiful new Limited Edition Blu-ray release from Twilight Time. Encoded in MPEG-4 AVC and presented in 1080p HD, Terence Young's The Valachi Papers is shown in a 1.78:1 aspect ratio. Visually, this little gem from Twilight Time is quite superb, showing virtually no sign of wear and tear, and the accompanying DTS-HD MA 2.0 Mono soundtrack delivers the goods admirably. English (SDH) subtitles are included with this release, as is a partial isolated Riz Ortolani score in DTS-HD MA 2.0 Stereo.
Apparently, Sony didn't have any archival goodies to loan Twilight Time for this otherwise marvelous Blu-ray release, which is limited to only 3,000 copies. As such, we don't even get to see how Columbia Pictures may have marketed this one for is domestic debut back in the fall of '72. What we do get, however, is an essay by Twilight Time's Julie Kirgo in the included collectible booklet. But then, when you've got the chance to see another Charles Bronson classic on Blu-ray, well, let's just say this is one offer you shouldn't refuse.