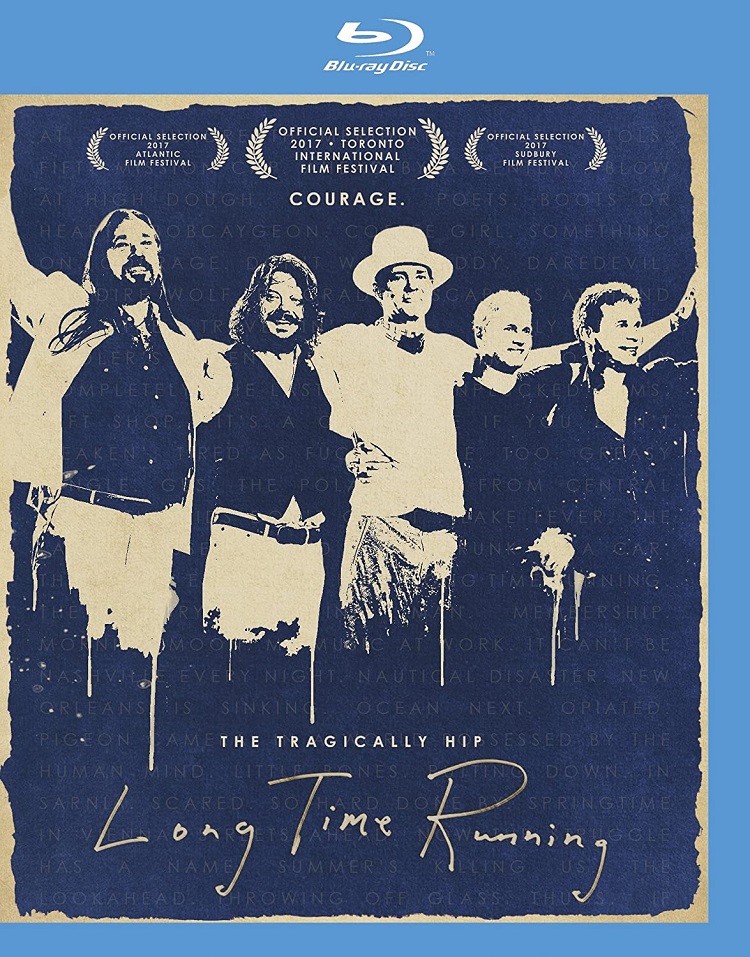 On May 24, 2016, it was announced that The Tragically Hip's lead singer Gord Downie had incurable brain cancer. In spite of that, they intended to tour in support their thirteenth studio album, Man Machine Poem, set for release a few weeks later. They played 15 shows across Canada in just under a month, concluding with a hometown show on August 20, 2016, at the Rogers K-Rock Centre in Kingston, Ontario. It was an unofficial, though presumed, farewell tour, which became official with the passing of Downie on October 17, 2017. The final concert was broadcast to nearly 12 million people across the CBC's distribution platforms and is being released on DVD and Blu-ray, titled National Celebration. Long Time Running is a great companion piece that offers a fantastic behind-the-scenes look at how the band, their team, and their fans dealt with this tour.
Downie, guitarist Rob Baker, bassist Gord Sinclair, and drummer Johnny Fay formed the Hip in 1984 with guitarist Paul Langlois joining in 1986. Although interviewed separately, they clearly have a tight bond that goes beyond the music. They are a family not just business partners with some friendships that began before high school, and it's interesting to learn their history. There's a beauty in their brotherhood that frequently corrodes over time with bands.
They all speak frankly about what it took for this final tour to occur. Sharing their doubts that it would happen at all, or again after that first night in Victoria, BC was completed. Downie was clearly driven to do it, even though he needed six monitors to help him with the lyrics as a result of his condition. They were all willing to make the journey with him, which required playing deep cuts they hadn't played in a while. Sinclair even said he would have been fine walking off in the middle of a concert if Downie couldn't continue, which makes clear they level of his commitment.
While Rush is considered the biggest band from Canada, the Hip appears to be the biggest Canadian band, thanks in part to songs with Canadian references like the town of "Bobcaygeon" and "Courage (for Hugh MacLennan)", a popular writer. It may also have helped that they never broke out big in the United States, aside from maybe Buffalo, New York, allowing fans to believe the band belong to them and their fellow countrymen. Through interviews as well as shots of people in the audience, it's clear how deeply beloved they were.
The video has been given a 1080p/MPEG-4 AVC encoded transfer. The picture presents sharp edges on objects and great depth with focus occassionally slipping because of movement of objects and the camera. Colors appear in bright, vibrant hues, especially Downie's on-stage outfits. Blacks are inky and there's good separation. The audio is 5.1 Dolby Digital. The performances sound very good with the track filling the surrounds and offering strong bass. There's a great balance in the mix with Downie and the instruments. But it is a tad restarined. Hoping for more from the concert release.
The Bonus Features are Musicianship Featurette (HD, 9 min), what seems like a deleted segment of the band talking about how they work together and an appreciation by fans, and Original Theatrical Trailer. The booklet includes all the set lists.
Long Time Running tells the story of The Tragically Hip and their career, which one can appreciate without being a fan, although it will certainly leave one curious to know more about them. All the different performances presented from throughout the tour and during rehearsals should leave fans eager to get the soon-to-be-released National Celebration.